Ramakrishnan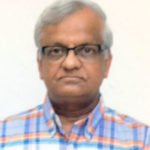 (aka 'Rama') is a versatile, knowledgeable and competent professional with over 35 years of management experience in the manufacturing sectors pertaining to food, pharmaceutical and dietary supplement industries. He has wide ranging experience in designing, developing, guiding and auditing customized and standard product safety and quality system standards. His 'think outside the box' approach to solving complicated technical issues and problems enables novel solutions for clients. He is a frequent invited speaker in the area of product safety (food, pharmaceutical and dietary supplements) in international and domestic conferences.
[Cosmetics, Dietary Supplements, Drugs, Foods, Medical Devices]
Posted in Who's Who at EAS and tagged Rama Narasimhan.