November 6, 2019 from 9:00 AM – 5:00 PM
Presented by Ronald Levine, EAS Consulting Group Independent Consultant and General Counsel with Herrick, Feinstein, LLP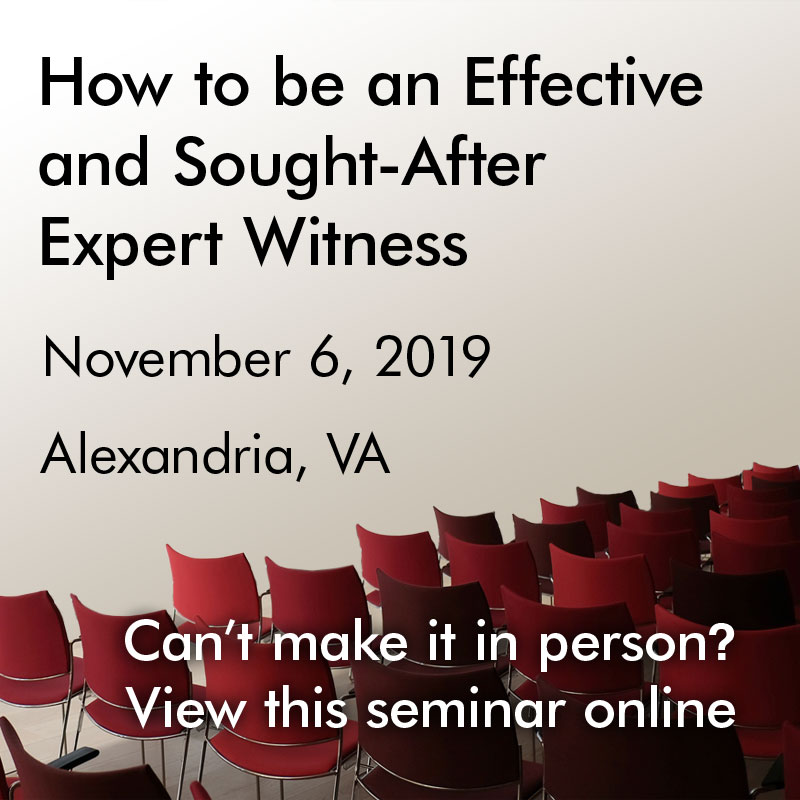 As highly regulated industries are subject to more claims and litigations, and with growing agency challenges to ingredients, processes and branding, the target company's regulatory compliance is often a key issue in presenting a successful defense. An expert witness' opinion, report and testimony will play an essential role in mounting the response.
For attorneys, choosing a knowledgeable and experienced expert witness is of paramount importance. Unlike attorneys who are schooled in the world of litigation, experts often come from academia, the government and industry, and are not familiar with the unique skills required to be an effective witness.
Join EAS Consulting Group's Independent Consultant and General Counsel at Herrick Feinstein LLP, Ronald J. Levine, for a one-day seminar on the role, expectations and skills for being an effective expert witness. Serving as an expert can be a part-time or full-time career. Whether you are just starting as an expert, or are looking to improve your skills, this seminar is meant to help to arm you for the important role you will be playing. We will also be discussing how to craft your resume and promote yourself with an aim of increasing opportunities to serve as an expert.
Additional seminar topics include:
Understanding the discovery process and the role of the expert
The engagement process of becoming an expert
How experts are utilized in investigations, trials, and arbitrations
Projecting expertise as part of written reports and oral testimony
The business of being an expert witness
Two options for attendance
1700 Diagonal Road, Suite 750
Alexandria, VA 22314
(register early, seating is limited)
$695 (early-bird – register before September 1, 2019)
$795 (September 2)
$695 (early-bird – register before September 1, 2019)
$795 (September 2)
About the Presenter:
Ron Levine has 40 years of experience advising consumer products companies in complex commercial matters. In addition to providing consulting services for EAS, he serves as the General Counsel of Herrick, Feinstein LLP, a law firm with offices in New York and Newark, NJ. He has practiced with Herrick since 1984, where he was a partner from 1985-2018. He served as Chair of the firm's Litigation Department for 15 years.
A pragmatic advisor who helps clients anticipate, minimize and resolve the financial and reputational damage arising from claims and potential claims, Ron specializes in crisis management, for food and beverage manufacturers, and advises on class action litigations and investigations, including serving as an expert witness, related to labeling, the Food Safety Modernization Act (FSMA), advertising claims, product recalls, FDA regulations and other concerns.
The EAS Expert Witness team is greatly enhanced with the addition of Ron. By strategically matching the regulatory purview of the case at hand with our former high-level FDA and industry executives, EAS offers in-depth analysis of FDA and other Federal and state laws as well as standard industry best practices. Ron, along with Steve Armstrong, EAS Independent Advisor for Food Law and Regulation and former Chief Counsel for Campbell Soup Company and Bruce Silverglade, an EAS Independent Consultant and a Principal with the law firm Olsson Frank and Weeda Terman Matz, PC, lead the EAS Expert Witness team of consultants providing detailed and critical services to firms in all FDA commodity areas.