April 16, 2019, 1:00 PM Eastern
Presented by: EAS Independent Consultants Heather Fairman & Maury Bandurraga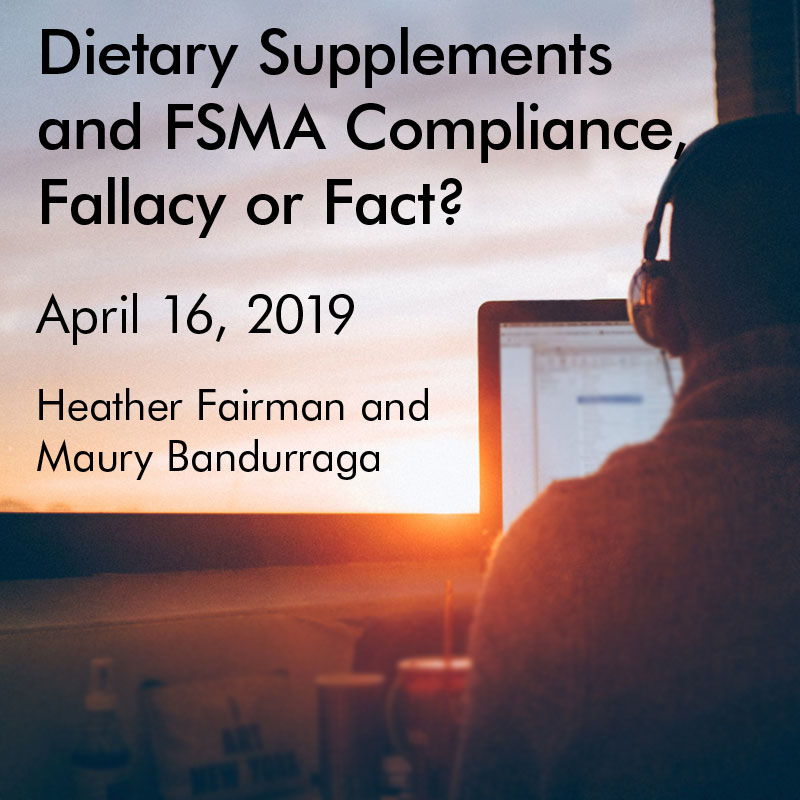 In 1994 the Dietary Supplement Health and Education Act (DSHEA) created a new, legal class of products, called "Dietary Supplements", which are regulated by the FDA as a subcategory of foods. Since DHSEA, the Food Safety Modernization Act (FSMA) of 2011 was passed, and as a category of foods, dietary supplements are now subject to many aspects of the Seven major regulations that were issued by FDA to support enforcement of FSMA. One of the most important of these regulations being 21 CFR 117, Current Good Manufacturing Practice (cGMP) and Hazard Analysis and Risk-Based Preventative Controls for Human Food (PCHF), which requires, among other things, that a Preventive Controls Qualified Individual (PCQI) develop a food safety plan. Another FSMA requirement is the need for a Foreign Supplier Verification Program (FSVP) when materials are sourced internationally which has been estimated to be more than half of all dietary supplement ingredients. Unfortunately, the dietary supplement industry is plagued by lack of compliance with these critical FSMA requirements and the FDA is beginning to crack down on firms with increased enforcement actions.
How does the dietary supplement industry including raw material manufacturers and suppliers, dietary supplement manufacturers, and dietary supplement brand owners referred to as Own Label Distributors (OLDs) avoid these enforcement actions? What aspects of FSMA's Preventive Controls for Human Foods, 21 CFR 117, apply? What about other FSMA responsibilities like FSVP?

Join EAS Consulting Group's FSMA and Dietary Supplement experts Heather Fairman and Maury Bandurraga for an overview of the FSMA regulation and a deeper dive into those aspects which specifically apply to dietary supplements. Learn the crucial steps to compliance, including what must be included in a food safety plan and what qualifications the PCQI must have in order to be qualified to create and oversee the program, and what is needed to develop an FSVP.
Dietary Supplement OLDs, manufacturers and raw material suppliers all have an obligation to protect public safety and ensure compliance with all the applicable regulations. Understanding these FSMA requirements and their role in the supply-chain are key to ensuring compliance.
About the Presenters
Heather Fairman, EAS Independent Consultant
Heather Fairman brings 30 years of experience in QA/QC and regulatory compliance from her leadership roles in FDA regulated industries. She was formerly director of Corporate QA and regulatory compliance and the chief safety officer at Natural Organics, Inc., a New York based dietary supplement manufacturer. She has vast experience in establishing, reviewing and executing thorough SOPs, and in handling FDA audits, issues and responses. In addition to consulting, Ms. Fairman is a technical advisor to SIDS DOCK IWON herbal/raw material ingredient supply chain portfolio projects. SIDS (Small Island Development States) DOCK Island Women Open Network (IWON), is a Sustainable Energy and Climate Resilience Organization, that is the only small island intergovernmental organization vested with the full powers of the United Nations (UN), comprising almost 40 sovereign countries or one-fifth of the UN membership. Heather is a PCQI and was trained in FSMA-PCHF (Preventive Controls for Human Food) through the FDA accredited FSPCA program. She helps both dietary ingredient suppliers and finished product manufacturers meet compliance.
Maury Bandurraga, EAS Independent Consultant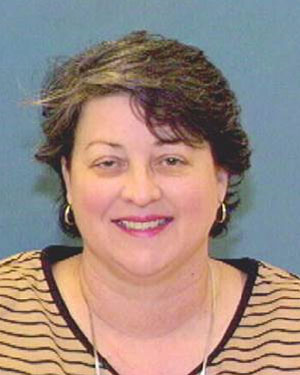 Maury Bandurraga has in-depth expertise in quality assurance in a variety of FDA regulated product categories including packaging, food safety and quality, supply chain, labeling and claims. Prior to consulting she was the Food Safety and Quality Assurance Principal Scientist at Kelloggs and Food Supply Chain Food Safety and Quality Assurance Section Head at Procter & Gamble. Maury is both an FSMA and FSVP lead instructor through the FDA accredited FSPCA program and helps food and dietary supplement companies and their supply chains maintain vigilance of safety and compliance with Federal regulations.