USDA Regulatory Requirements for Food Safety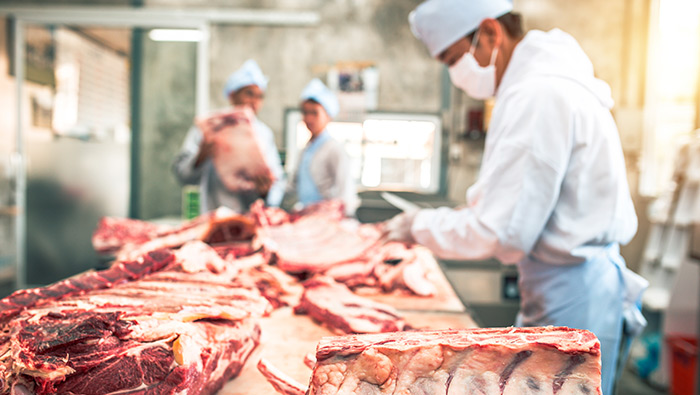 Instructor EAS Independent Consultant Armia Tawadrous, DVM
A 12-hour seminar in three-parts, taking place 
June 14, 16, 18, 2021 From 11am-3pm eastern each day
The sensitivity of meat and poultry products to microorganism contamination by bacteria, viruses and parasites renders them an excellent environment for bacterial growth and food-borne illness.
Food safety standards under USDA Food Safety and Inspection Service (FSIS) facilitate design of safe handling and processing of raw, grounded, mechanically separated, thermally processed, irradiated, and shelf-stable meat, poultry and egg products, however the wide variety of products under USDA's oversight creates a mix of rules and regulations that can challenge the ability to set up effective safety system.
Have your food safety programs been designed with critical control points in mind? How do you verify and validate your pathogen testing and reduction programs? How should in-process and finished goods testing differ?
Join EAS for an in-depth three-day seminar on USDA Food Safety Regulatory Requirements that covers the basic aspects of program design.
June 14, 2021: USDA FSIS Regulatory Update with Focus on Appendix A and B – Product Stabilization
USDA FSIS Regulatory Update
Focus on Appendix A & B – Product Stabilization
Protecting Against Salmonella and Other Pathogens in RTE Products
Developing Safe Cooling and Hot-Holding Methods for Heated Meat and Poultry Products
June 16, 2021: Rules of Practice and Post Lethality
Understanding where pathogens are likely to be found is the key to controlling them in a post-lethality environment
June 18, 2021: Creating HACCP Validation and Sanitation Programs
How do you conduct on-going Hazard Analyses?
What is a critical control point?
How should ongoing monitoring be verified through HACCP teams?
All seminar registrations are per person.
Discounts
Federal and State Employees may use GOV50 at checkout for a 50% discount.
Two or more employees from the same firm may use GROUP10 for a 10% discount.
* Only one discount code per transaction
Cancellations
EAS reserves the right to cancel the seminar if a minimum participation has not been met by June 1, 2021. All registrations will be refunded in full.
Cancellations will be refunded minus a $95 processing fee up to June 1, 2021. After this dates no refunds will be given.
Terms and Conditions
By submitting this form you will be joining the nearly 20,000 who receive the monthly EASeNews regulatory newsletter. Please note EAS never shares your information and you may unsubscribe at any time.
Armia Tawadrous, DVM
EAS Independent Consultant, Armia Tawadrous, DVM, is an expert in foods, animal feed, pet foods, meat and poultry. He is a former Executive Associate for Regulatory Operations (EARO) with the USDA's Food Safety and Inspection Service Office of Field Operations. In this role he was a SME for the implementation of that HACCP Based Inspection Models Project, HIMP, in Poultry and Hogs slaughter establishments as well as a modernized "New Poultry Inspection System", NPIS. He also coordinated with FSIS Office of Public Health Science and CDC tracebacks, investigations and subsequent sample collections for foodborne diseases possibly associated with meat, eggs and poultry products. In addition to training for EAS clients, Dr. Tawadrous develops HACCP programs, SOPs and assists with recall planning and execution.
Posted in Event, Foods, Seminar and tagged Armia Tawadrous.