Hygienic Equipment Sanitation – Best Practices for Food Safety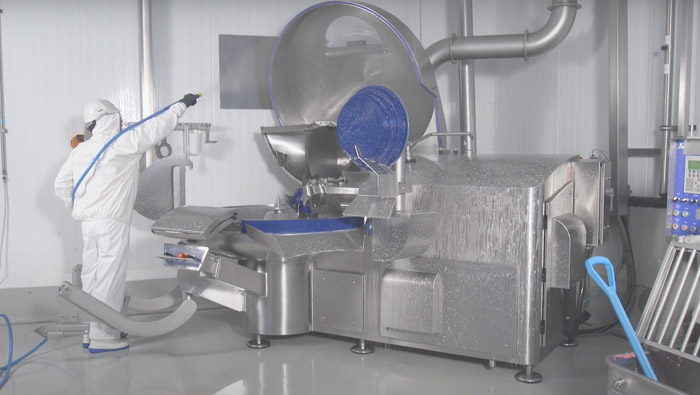 A Three-Part Series
Presented by EAS Independent Consultants David Blomquist and Jennifer Kane
This short course offers practical information on best practices, "real-world" examples and tips on how to enhance daily operations related to improving existing food safety and quality programs. The three-session training will focus on criteria for selecting, installing and maintaining processing equipment and utensils, how to effectively clean processing equipment and the processing environment, identification of employee practices that negatively impact operational food safety as well as how to upgrade existing food safety programs using industry "best practices" for compliance with FDA Food Safety Modernization Act (FSMA) regulations.
Your instructors will utilize extensive experience in auditing and troubleshooting wet and dry food processing environments to deliver real-world advice on upgrading food safety programs through the use of common sense, mining production records and associated data, the use of cutting-edge technology and tools, microbiological indicators, environmental testing programs and hazard detection systems. You will learn how to identify food safety "alarm bells" and how to silence them through the establishment of early warning systems alerting quality assurance, food safety and management before significant problems emerge.
This Short Course is perfect for
food safety, food quality, facility maintenance, equipment maintenance and operational supervisors and directors at the manufacturing and corporate levels
manufacturing facility plant and corporate management directly or indirectly responsible for food safety and quality
manufacturing facility and corporate management responsible for purchasing, installing, maintaining, operating, cleaning and sanitizing of food processing equipment
suppliers providing food processing equipment, cleaning and sanitation systems and equipment integrators services
New Dates to be Announced
Want to be the first to know of the new dates of the next seminar? Add your name and email address to be added to the notification list.
Discounts
Two or more registrants from same company – 10% (use GROUP10 discount code at checkout)
Federal or state employees – 50% discount (use GOV50 discount code at checkout)
* only one discount code may be used
Cancellations
Cancellations will be refunded minus a $25 processing fee up to two weeks prior to the start date of the seminar. After this date, no refunds will be given.
Terms and Conditions
By submitting this form you will be joining the nearly 20,000 who receive the monthly EASeNews regulatory newsletter. Please note EAS never shares your information and you may unsubscribe at any time.
Session 1
Presenter: Jenifer Kane
Introduction – Why is this important? (includes Case Studies, Recent Recalls, Lawsuits Impacting the Food Industry – Lessons Learned)
Regulatory Expectations: FDA Preventive Control's Sanitation Requirements
Allergens
Microbiology and pathogens
Hygienic zoning
Environmental monitoring program
Session 2
Presenter: David Blomquist
Hygienic Design, Installation and Maintenance of Food Processing Equipment Identifying "Harborage Traps" and Correcting
Sanitation Technology & Tools
Chemistry of Cleaning Different "Soils"
Chemistry of Sanitation on Different Surfaces and for Different Bacteria
Wet Cleaning Systems – Effective Use of CIP & COP Systems
Dry Cleaning Systems – Effective Use of Air, Vacuum, CO2, 7 steps of dry cleaning, etc.
Effective Use of Cleaning and Sanitation Data
Session 3
Presenters: Jenifer Kane and David Blomquist
Recognizing and Mitigation Key Sanitation Challenges Originating from the Processing Environment, Processing Equipment, Ingredients & Employees
Allergens
Pathogens
Common Physical Hazards
Tools for Validation and Verification of Food Sanitation Programs
Effective Environmental Monitoring
ATP Swabbing
Whole Genome Sequencing – Understanding the Value and Shortcomings
"Mining" Operational Records
David Blomquist
David Blomquist spent much of his career as a technical support specialist at the Ecolab food and beverage division. His early career included Quality Assurance and Quality Control roles in several food operations. He also served in the Peace Corps in Morocco and worked as a chemist, testing products in the Moroccan equivalent of the U.S. FDA.
Jenifer Kane
Jenifer Kane is a Food Safety and Quality professional with over 36 years of diversified technical and practical experience in the Quality and Food Safety field across multiple food categories. Her expertise includes quality systems, program and audit development and implementation with focus on training in food safety, allergen and HACCP requirements are key strengths. Jenifer has diverse food category experience with a focus on nuts, chocolate, cereal, confections, dairy and bakery products. She is a FSMA FSPCA Trainer and FSPCA Alliance lead instructor.
Posted in Foods, Seminar and tagged David Blomquist, Jennifer Kane.