Low Acid Canned Food and Acidified Foods
Current Topics for the Food Industry

Food and beverage manufacturers often find themselves working in the low acid or acidified food space. But what does this mean from a regulatory and food safety perspective? Our webinar delves into the latest challenges confronting low acid and acidified food manufacturing and provides valuable insights that will help Processing Authorities understand and comply with FDA regulations found in 21 CFR 113 and 21 CFR 114 for processing, handling, and labeling of these products.
Presenter Bio: Omar Oyarzabal, Ph.D., Senior Consultant for Food Services, develops food safety protocols per FSMA and HACCP regulations and facilitates client training… programs while collaborating with EAS consultants and clients to provide excellence in service. – Dr. Oyarzabal holds many food safety certificates through the Association of Food and Drug Officials (AFDO) including Processing Authority, Seafood HACCP Lead Instructor, Sanitation Control Procedures (fish, fish products), Foreign Supplier Verification Program Lead Instructor, Sprout Safety Alliance Lead Instructor. He is also an Acidified Products Lead Instructor for the Better Process Control School training. He is widely published in peer reviewed journals including International Journal of Molecular Science and industry publications. Dr. Oyarzabal's Ph.D. is in Microbiology/Poultry Science Ph.D. from Auburn University. Prior to consulting, Dr. Oyarzabal was an Associate Professor with the University of Vermont Extension. He was also the HACCP Coordinator for the State of Vermont USDA and Editor in Chief, Microbial Risk Analysis for Elsevier.
Enter Your Information to Watch Now 
By clicking submit above, you consent to allow EAS Consulting Group to store and process the personal information submitted above to provide you the content requested.
What Are the Main Hazards in Low-Acid and Acidified Foods?
The main hazard in these foods is Clostridium botulinum, which is a bacterial pathogen that produces one of the most potent toxins known to humans. Therefore, these products must be developed with specific formulation characteristics.
What Are Low-Acid Foods?
A low acid food has a pH level higher than 4.6 and a water activity greater than 0.85. A higher pH number indicates that the food is lower in acidity. These foods are manufactured with high heat and in hermetic containers. Examples of low-acid foods include:
Dairy products, like milk
Most vegetables
Whole grains
Protein products
What Are Acidified Foods?
Acidified foods are foods with water activity greater than 0.85 that contain low acid ingredients (pH above 4.6) mixed with acid ingredients (pH below 4.6), or acids, to achieve a finished product equilibrium pH of 4.6. Examples of acidified foods include:
Pickles
Salsa
Salad dressings
What Regulations Govern Low-Acid and Acidified Food Manufacturers in the US?
The main regulations covering these manufacturers are Title 21 of the Code of Federal Regulation (CFR), Part 113 for thermally processed low acid foods, and 21 CFR 114 for acidified foods.
What Will I Learn in This Webinar?
This webinar highlights the regulatory landscape for low acid canned food and acidified food manufacturers. Compliance with these regulations is crucial for ensuring product safety. You'll learn:
Safety Considerations and Process Controls that influence thermal processing, container closure integrity, equipment sanitation, and best practices for monitoring and controlling critical factors for product safety.
Recordkeeping and Documentation Necessities, both of which play a crucial role in regulatory compliance and traceability.
Emerging Trends and Future Outlook, including advancements in processing technology, packaging innovations, and the growing consumer demand for safe and convenient food products.
This comprehensive overview of regulatory requirements pertaining to low acid and acidified foods will provide a deeper understanding of both the challenges and best practices associated with these products. Viewers will gain insights that will help them to make informed decisions and ensure the safety and quality of their food offerings.
EAS Consulting Group
Developing a Food Safety Culture: Challenges and Best Practices
EAS Consulting Group
Foods, Including Seafood, LACF and Infant Formulas Service Information Sheet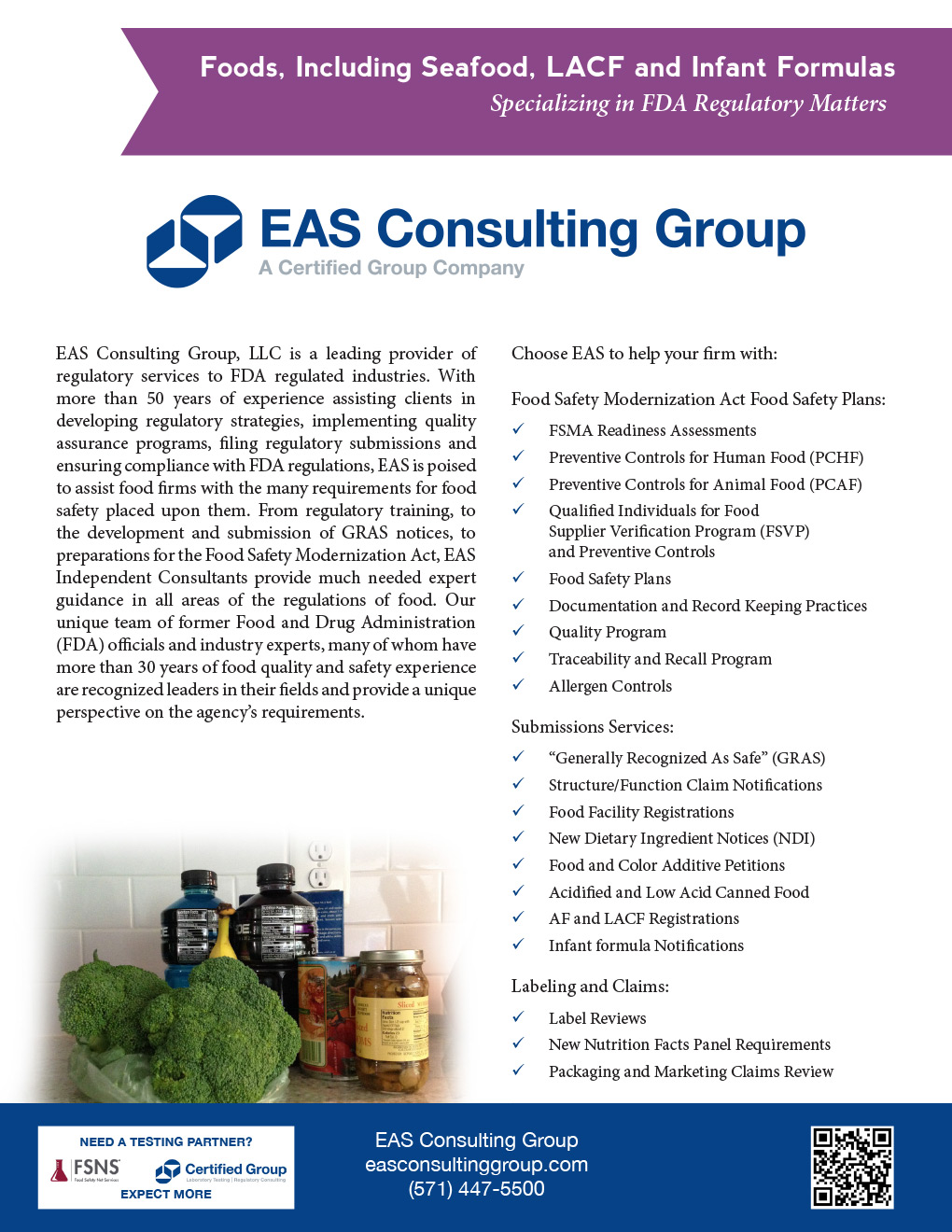 Certified Laboratories
Food Process Performance and Validation Services
Certified Laboratories Service Page
Posted in Foods, On Demand Webinar.