Meet With Us
EAS is speaking at some of the most prestigious industry events:
EAS University – On-Demand Web-based Learning
Examples of the Many EAS Authored Articles Found on our Website
As developers and manufacturers of pharmaceuticals, you know the rigorous requirements for bringing a new product to market.
EAS Consulting Group, with our global network of over 150 independent consultants, assists clients in all phases of product development and marketing. From design and review of safety studies, preparation and submission of applications such as DMF, NDA, ANDA and IDE, EAS provides you peace of mind. Our expertise helps you to meet and exceed FDA expectations for safety and efficacy. Let us help you with your drug products and experience the difference that our respected team of experts delivers.
Put GMP Compliance in Your Pocket!
EAS' handy Pharma GMP Pocket Guide includes regulations for 21 CFR 210, 21 CFR 211 and 21 CFR 11 for electronic signatures, all in an easy to reference pocket sized guide, perfect for the manufacturing floor. Find it on the EAS website.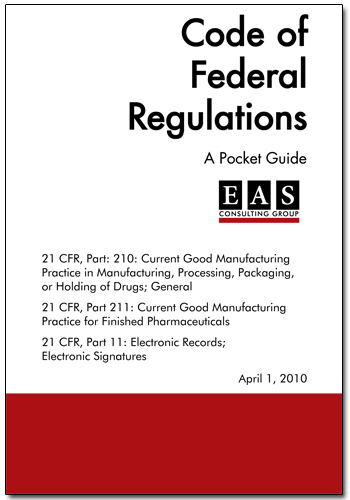 Posted in Drugs.