Foods · Dietary Supplements · Cosmetics · Veterinary · Medical Devices · Drugs · Tobacco · Cannabis
| | |
| --- | --- |
| 1700 Diagonal Road, Suite 750; Alexandria, VA 22314 · (571) 447-5500 | May 2019 |
From the Desk of the Chairman
Dear Reader,

Ed Steele, Chairman
and CEO

Welcome to the May 2019 edition of EAS-e-News, the free newsletter dedicated to FDA regulated industries. It has been a busy month at EAS, with the release of new complimentary On-Demand webinars, announcements of new training seminars, publication of numerous articles on a wide-variety of subjects as well as a fantastic attendance at the EAS booth during the recent Supplyside East. For those of you who had an opportunity to meet with Tara Couch, our senior director for dietary supplements and Heather Fairman, one of our expert independent consultants I am sure you came away with a lot of great information on EAS and how we can begin to assist your company with any number of FDA requirements. For those who were unable to attend, I invite you to take a look at our quick reference information sheets to learn more about EAS. We are always glad to speak with you about your GMP questions or concerns.

If you will be in Geneva for Vitafoods Europe, May 7-9 we invite you to come by the EAS booth, B149, to meet Tara Couch and Charles Breen, our Independent Advisor for FSMA. In addition to exhibiting at Vitafoods, EAS is a proud training partner for the show, offering a one-day comprehensive look at GMPs for the dietary supplement industry. Registration for this seminar, taking place May 6, the day before the official start of Vitafoods, is being handled through Vitafoods directly. In addition, Charles Breen will be speaking as part of the technical sessions on hygienic commitments for food safety.

FDA has OMB approval to initiate a short voluntary survey of the cosmetics industry, which will assess a variety of GMP aspects. This survey is important to help FDA gain a better understanding of the current state of industry GMPs, and the results provided to FDA will have no identifying information, nor will responses be used by the agency to initiate enforcement actions. A Federal Register notice regarding the survey can be found here and we encourage cosmetics firms to participate in this effort.

In other FDA news, a new effort to bolster the collaboration between FDA and the Customs and U.S. Border Patrol (CBP) is underway to better protect against illegal and harmful products from gaining entry into the U.S. through the mail system, or other ports of entry. More information on this effort can be found in the What's New at FDA section of this edition.

As mentioned earlier, we are pleased that numerous compliance seminars are both approaching and new on the horizon. Our next GMP One-day Refresher training will take place in Denton, TX on May 7, and then Andover, MA on August 13, just outside of Boston. This one-day session is designed as an opportunity to outsource your department's GMP refresher training. At just $300 per registration it is a great and cost-effective opportunity for your entire team to learn from our experts. More information about our August session as well as the November Refresher which will take place on Long Island can be found on the EAS website.

Additionally, we have two complimentary webinars coming up in May. On May 7 join Norma Skolnik for a look at how FDA eyes certain cosmetics claims and on May 14 join Jeff Roberts for a look at compliance with 21 CFR Part 11. Also, on June 13 we invite you to join EAS Senior Director for Pharmaceuticals and Devices, Bryan Coleman for a look at GMPs for OTCs.

Our issue of the month is written by John Brennan and looks at pharma big data, real world evidence and the Digital Revolution and our Ask the Expert on FDA's plans to revamp the 510(k) process is answered by George Yanulis. Finally, I am pleased to welcome a new independent consultant, Dennis Gaalswyck and a new office manager, Kate Gibson. Learn more in our Who's Who section of this edition.

As always, thank you for your interest in EAS and we invite you to share this newsletter with your colleagues.

Sincerely,

Ed Steele
Chairman and CEO

Upcoming Presentations and Conferences
| | |
| --- | --- |
| | |
Issue of the Month
By John Brennan
Executives from AbbVie, AstraZeneca, Bristol-Myers Squibb, Merck and Co., Johnson and Johnson, Pfizer and Sanofi were grilled on Capital Hill in February on topics ranging from drug pricing, reimbursement, rebates and patent extensions to executive compensation. Senators called for new actions to address the high cost of prescription drugs in America.
Costs to the consumer and healthcare systems ... [more]
Who's Who at EAS
| | |
| --- | --- |
| Kate Gibson | Kate Gibson is a graduate of UNC Chapel Hill with a degree in Psychology and Peace, War and, Defense. While at university, Kate was involved in the Triangle Institute for Security Scholars and UNC Neural Connections and has a passion for inclusive STEM Education. Prior to EAS she held a position at the UNC Gillings School of Global Public Health, specializing in tobacco marketing regulation research. Kate is originally from Denver, North Carolina. |
John J. Brennan, Ph.D.
(Drugs)

John J. Brennan, Ph.D. is a former Senior Project Leader in Global Pharmaceutical Research and Development at AbbVie in North Chicago, Illinois. At Abbvie he served as the Enterprise Leader for 3 Global Asset Development teams accountable for creating and executing development strategies in several therapeutic disciplines including exocrine pancreatic insufficiency, cystic fibrosis and diabetic nephropathy. His areas of interest include First-in-Man, Proof-of-Concept, Proof-of-Principle, and late-stage registration studies and lifecycle management. Prior to joining AbbVie, he worked at Solvay Pharmaceuticals, Inc. in Global Project Management and as a Therapeutic Area Leader in Women's Health, Men's Health and Clinical Pharmacology. Dr. Brennan is a graduate of Temple University and received the Ph.D. degree in Pharmaceutical Sciences from the Philadelphia College of Pharmacy and Science (now University of the Sciences).
Dennis Gaalswyk
(Foods)

Dennis Gaalswyk assists clients with food safety compliance requirements through development and implementation of FSMA and FSVP protocols. He is an expert in sanitation practices and sanitary equipment, SQF, HACCP and HARPC. Prior to consulting he was a consumer safety officer with CFSAN where he served on working groups responsible for developing regulations, guidance and implementation of the FSMA rules and accreditation of Third-Party Auditors. Additionally, he was a member of the Cadre Advisory Group that developed trainings for the Preventive Controls for Grade "A" Dairy Plant Regulators Course.
Did You Know
Increasing usage of electronic methods to capture and produce critical data, which are subject to regulatory scrutiny led to the effect of Title 21 CFR Part 11. This part of the Code of Federal Regulations establishes the United States Food and Drug Administration (FDA) regulations on electronic records and electronic signatures.
The aim of this regulation is to define the criteria under which ... [more]
Drug and Device Corner
It has come to EAS's attention that there is significant confusion regarding the exemption of Class 1 Medical Device products to comply with the 21 CFR 801.20 requirement for the label of a medical device to bear a unique device identifier. Per 21 CFR 801.30 A class I device that FDA has by regulation exempted from the good manufacturing practice requirements found at 21 CFR 801.20 is not required to comply with the UDI label requirement. You can check the FDA's Medical Device Exemptions 510(k) and GMP Requirements webpage for more specific information to determine if your product is indeed exempt. All other Class I devices will be required to bear the UDI number on the packaging/device beginning no later than September 24, 2020. If you have questions on UDI requirements, please contact EAS.
... [more]
Ask the Expert
By George Yanulis
Each month, EAS selects one question sent in by readers to be answered by one of our experts. This month's question is answered by George Yanulis D.Eng., an expert in medical device safety and the 510(k) process.
Question: Why is FDA proposing to change the 510(k) submission process for medical devices?
Yanulis: The rapid technological advances in the medical device arena have been dramatic. A 510(k), otherwise known as a Premarket Notification, is the mechanism by which device manufacturers notify FDA of their intent to market a medical device at least 90 days in advance of doing so. By reviewing the data in a 510(k), FDA is able to determine whether the device is equivalent to a device already placed into one of the three classification categories, ... [more]
What's New on FDA's Website
April Updates
Listed below are links to new additions to the FDA website for the month of April, 2019. Use of this section of EAS-e-News is intended to provide an "easy" way to keep current with FDA news and information.
FDA issued a Final Rule, effective April 13, 2019, which aims to ensure the safety and effectiveness of OTC hand sanitizers, formally known as topical consumer antiseptic rub products. These products are intended for use without water and marketed under the FDA's OTC Drug Review.
Active ingredients of ethanol, isopropyl alcohol, benzalkonium chloride, which the majority of hand sanitizer rubs on the market contain, have deferred action to allow for the ongoing study and submission of additional safety and effectiveness data to enable FDA's safety determination for use in OTC consumer antiseptic rub products. At this time, FDA states that it does not intend to take action to remove hand sanitizers containing these three active ingredients from the market and their status will be addressed either after completion and analysis of the studies or at another time, if these studies are not completed.
However, 28 other active ingredients, identified in the 2016 Consumer Antiseptic Rub proposed rule, including triclosan and benzethonium chloride, are no longer eligible for inclusion in any future OTC monograph.
This long awaited rule finalizes a June 30, 2016 proposed rule on consumer antiseptic rubs, where FDA requested additional scientific data to support the safety and effectiveness of active ingredients used in OTC consumer antiseptic rubs. FDA has determined that less than 3% of the marketplace will be affected by the issuance of this final rule, as most OTC consumer antiseptic rubs use ethyl alcohol as the active ingredient.
Concerned companies may contact EAS to learn more about how this Final Rule impacts product formulations and compliance with the OTC monograph.
FDA recently announced that verification of compliance with the Intentional Adulteration (IA) rule will begin in March 2020. Addressing hazards that may be intentionally introduced to foods, including by acts of terrorism, with the intent to cause wide-spread harm to public health, the IA rule requires the food industry to implement risk-reducing strategies for processes in food facilities that are significantly vulnerable to intentional adulteration. Those food facilities covered by the rule will be required to develop and implement a food defense plan, (which is part of the Food Safety Modernization Act (FSMA) requirements), identifying vulnerabilities and mitigation strategies for those vulnerabilities. Additionally, facilities will be required to ensure that the mitigation strategies are working. The first compliance date arrives in July 2019. EAS Consulting Group's FSMA team can help assess current food defense strategies and strengthen those that do not meet FDA's stringent requirements.
| | |
| --- | --- |
| | |
EAS in Action
EAS recently presented three complimentary webinars that are now available for on-demand viewing on the EAS website. The first, on the challenges of preparing infant formula notifications presented by EAS Independent Advisor Robert Martin, Ph.D., Independent Consultants Timothy Morck and Robbie Burns and Senior Director for Food Consulting Services Allen Sayler, covered an overview of filing and safety study requirements. It can now be viewed on-demand on the EAS website.
Next, The FSMA Foreign Supplier Verification Program requires a Qualified Individual, who has the pertinent education and on the job experience enabling him or her to perform their duties, overseeing FSVP. EAS Independent Advisors, Charles Breen and Domenic Veneziano presented an overview of the program as well as addressed common questions asked by the exporters of food products into the U.S. marketplace. Find this on-demand webinar here.
Finally, in late March, Susan Crane, EAS Independent Advisor for OTC Drugs and Labeling discussed cosmetics labeling and claims requirements. Those wishing for a deeper dive into Cosmetics Claims regulations are invited to join Norma Skolnik on May 7 for a look at how words do matter when it comes to marketing a product.

Senior Director for Pharmaceutical and Medical Device Consulting Services, Bryan Coleman, wrote a blog for the ISPE's iSpeak on opportunities ahead for the pharma industry as the Agency works to streamline processes for improved innovations.

EAS Senior Director for Food Consulting Services, Allen Sayler, was interviewed for an article published in Food Processing Magazine on the regulatory state of the food industry under the Trump administration. Published during Scott Gottlieb's tenure as FDA commissioner, Sayler discussed how Gottleib appeared to have the full confidence of the Trump administration. EAS continues to monitor Agency updates under the acting commissioner, Norman Sharpless.

Part-three of Dr. Mehrdad Tajkarimi's series on designing proper employee training programs to ensure FSMA compliance was published in Food Safety Magazine. In this final section, Mehrdad discusses important training parameter matrices as well as development of effective training assessments.
Independent Consultant, Jay Mansour, discussed the movement away from substantial equivalence in favor of performance testing for the 510(k) application process in a recent MedTech Intelligence. "Expanding on the Abbreviated 510(k) Program for demonstrating substantial equivalence for 510(k) premarket submissions, FDA is identifying certain "well understood" medical devices that may be cleared based on performance criteria," he says.
Senior Advisor for Dietary Supplements, Tim Stewart, discussed GMPs in Natural Products Insider. FDA has been asking for additional information beyond GMPs in recent inspections, inquiring on botanical forms and safety. Stewart discusses compliance challenges and best practices. In addition, Tim contributed to the Insider's recent Botanicals Digital Magazine.
Labeling expert, Gisela Leon, discussed supplement facts panel requirements in a recent Tablets and Capsules Spotlight on Nutraceuticals. If you would like more detailed information on requirements, Leon has written a handbook covering the specifics. This can be purchased directly from EAS on our Products page.

Independent Consultant Ronald Levine authored an article on the very serious subject of product recalls published in the Natural Products Insider illustrated through a fictitious conversation between a hypothetical company's CEO and their attorney as they plan for a recall response.
Senior Director for Pharmaceutical and Device Consulting Services, Bryan Coleman, will speak on recent inspection trends for cosmetic to OTC crossover products at the upcoming CHPA Regulatory and Scientific Affairs Committee Meeting on May 20 in Bethesda, MD. In addition, EAS is a proud sponsor of the Regulatory and Scientific Quality conference which takes place May 21-22, also in Bethesda.
EAS recently released the fall compliance seminar dates for our popular food labeling, dietary supplement labeling and dietary supplement GMP seminars. These will take place in Irvine, CA. Dietary Supplement Labeling is November 12-13, and Food Labeling and Dietary Supplement GMP will take place November 14-15, 2019. Join us in Irvine, CA!

EAS is a proud sponsor of the FDLI Annual Conference, taking place in Washington, D.C. May 2-3. In addition, Senior Director Tara Couch will be participating in a breakout session on day one covering a status update on Modified Risk Tobacco Applications. Also in attendance at the conference, Allen Sayler, Senior Director for Food Consulting Services and Cathryn Sacra, Director of Labeling and Cosmetics Cosmetic Consulting Services. Stop by the EAS table to learn more about our services.
Tara Lin Couch was interviewed for a Natural Products Insider podcast on her reflections of 25 years of DSHEA. Recorded at SupplySide East, she discusses how the dietary supplement industry, pre-DSHEA, was the "wild, wild west" and that 21 CFR 111, Current Good Manufacturing Practices, completely changed the way the dietary supplement industry operates, with "current" processes adapting as technology advances.
Order Publications and Regulatory Tools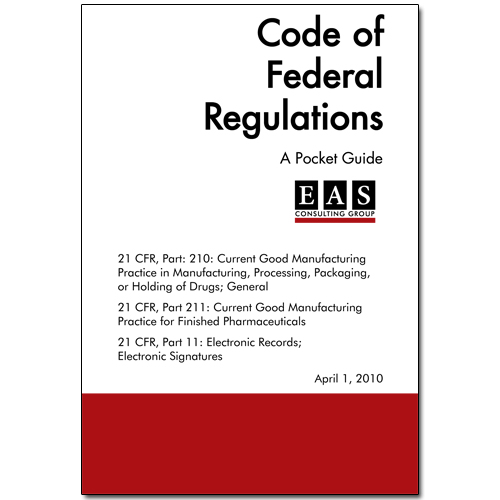 Pharmaceutical GMP Regulation – Pocket Guide
A 4″x6″ bound copy of 21 CFR Part 210, 211 and 11 designed to fit in shirt pockets of management and plant personnel. Bulk discounts available.
EAS has a wide array of products to aid in your company's regulatory compliance.
To view the products that EAS sells visit our products page.
Consulting · Submissions · Auditing · Training · Legal Support