Foods · Dietary Supplements · Cosmetics · Veterinary · Medical Devices · Drugs · Tobacco · Cannabis
| | |
| --- | --- |
| 1700 Diagonal Road, Suite 750; Alexandria, VA 22314 · (571) 447-5500 | March 2019 |
From the Desk of the Chairman
Dear Reader,

Ed Steele, Chairman
and CEO

Welcome to the March 2019 issue of EASeNews, the free newsletter for industries regulated by FDA. As you may have seen yesterday afternoon, FDA Commissioner Scott Gottlieb has resigned his post and will leave the Agency next month. Dr. Gottlieb has been a tireless advocate for promoting food safety as well as working with stakeholders to deter tobacco use among minors and finding a solution to the opioid epidemic. EAS of course will be monitoring the situation and will keep you informed as new updates are announced.

With snow still falling in parts of the country it is hard to believe that spring is right around the corner. If you haven't already signed up for your "spring training" I invite you to join EAS at one of our upcoming regulatory compliance seminars. Food and Dietary Supplement Labeling will be held in Philadelphia beginning March 12, 2019; the Dietary Supplement GMP two-day seminar will be held April 2-3, 2019 also in Philly; the Compliance with GMP Requirements for Dietary Supplement Laboratories seminar will take place April 23, 2019 in Denver and May 7 begins our series of four Dietary Supplement GMP one-day Refresher Series. The first Refresher takes place in Denton, TX, just outside of Dallas on May 7th, and the second takes place in Riverside, CA on May 14th. We invite you to join us!

In addition to seminars, we have a number of complimentary webinars this spring, with two new topics recently added. What Does the 2018 Farm Bill Mean for the Cannabis Industry? will take place on March 13, 2019, and Dietary Supplements and FSMA Compliance – Fallacy or Fact? will take place April 16, 2019. As you know, we take great pride in bringing you important regulatory information which can help you develop and improve practices to meet FDA requirements. To learn more about these two newest webinars or to see our entire line up of spring EAS webinars, please visit the webinars page of the EAS website. From OTCs, to Cosmetics, to Cannabis to Dietary Supplements, we have something for you.

I am very pleased to welcome a number of esteemed colleagues who are new EAS Independent Consultants. This month we welcome Janet Collins, Sophia Lily, Jay Mansour, Jeffrey Roberts, and George Yanulis. You may read more in the Who's Who section of this issue.

Our issue of the month is written by Kathy Knutson, Ph.D. and concerns a very real problem for the industry – that of the identification and storage of pathogen genomic information in database trackers which can years later reemerge as a problem for a facility, even when the pathogen is not isolated in a finished product. Dr. Knutson raises interesting questions and I encourage everyone to use this article as a starting point to renew your commitment to sanitary facilities and hypervigilance against contaminations.

Our Ask the Expert is answered by Ronald J. Levine, who is both an EAS Independent Consultant and General Counsel at the firm Herrick, Feinstein LLP and discusses the importance of finding an expert witness that will well represent your firm in litigation, mediation matters, the preparation of expert opinion papers and more. EAS has nearly 70 consultants who we recognize as experts who can act as an extension of legal teams. To learn more about our services, please view our industry services sheet which explains some of our capabilities in more detail. You may have also seen our recent press release discussing EAS capabilities acting in the capacity of an expert witness. If you missed it, I invite you to view it on our LinkedIn Page.

Lastly, I am very pleased to announce the release of our new short video discussing FSVP and Qualified Individual Requirements placed on the Food industry by FDA. We had a lot of fun putting this together and hope that you find it enjoyable as well as informative. Please, as always let me know if you have any questions on this service or any other that EAS provides.

Sincerely,

Ed Steele
Chairman and CEO

Upcoming Presentations and Conferences
| | |
| --- | --- |
| | |
Issue of the Month
By Kathy Knutson, Ph.D.
In October 2018 FDA suspended the registration of Working Cow Homemade, Inc., of Florida. Working Cow is an ice cream manufacturer, ceased operations, and has cooperated with FDA. As part of its decision to suspend their registration FDA determined:
Insanitary conditions were observed during inspections in both 2017 and 2018.
Following a 2017 inspection, an environmental sample tested positive for Listeria monocytogenes. Per FDA protocol, the whole genome sequencing ... [more]
Who's Who at EAS
| | |
| --- | --- |
| Kathy Knutson, Ph.D. | Kathy Knutson, Ph.D. is a microbiologist and certified lead instructor for Preventive Controls for Qualified Individuals through the Food Safety Preventive Controls Alliance. She consults with companies in meeting FSMA requirements, including manufacturers in the cannabis industry as she educates on issues surrounding cannabis infused food products for sale in states with medical and recreational use legislation. Kathy has a Ph.D. in Food Science from the University of Minnesota and prior to consulting worked as a Food Safety Educator and Proficiency Program Coordinator with the Northland Laboratories. |
Janet Collins, Ph.D.

Janet Collins, Ph.D.

Dr. Janet Collins assists EAS clients with all matters of food regulatory compliance issues. Her expertise includes product development with an eye towards global agricultural advocacy, appreciation for diversity, and strong expertise in human health science, nutrition and food regulation, and systems for global food acceptance. Janet demonstrates strong global communications/advocacy and leadership with measurable and collaborative results. She recently retired from the position of Executive and Senior Vice President, Science and Regulatory Affairs at CropLife America and was the President of the Institute of Food Technologists from 2008-2015.
Sophia Lily

Sophia Lily

Sophia Lily has over 25 years of experience in the regulated pharmaceutical, nutraceutical and food industry Quality Control, Quality Assurance. She is based in India and is experienced in handling inspections, validations, vendor audits and training. She routinely works with, including training, personnel in a range of GMP topics including Data Integrity. With expertise including GMP compliance, gap analysis and remediation and development of roadmaps to compliance, she has successfully implemented effective quality management systems for many companies both small and large.
Jay Mansour

Jay Mansour

Jay Mansour is a seasoned Medical Device regulatory consultant with 20+ years of experience. He has successfully filed more than 100 510(k) clearances across many technologies and assists clients with QMS turnkey projects, including personnel training, and CE marking products as well as responding to FDA's 483 and warning letters. He is an expert in Process Validations (software, sterilization and more).
Jeffrey Roberts

Jeffrey Roberts

Jeffrey Roberts is an expert in software and systems auditing/validation including compliance with 21 CFR Part 11, 21 CFR Part 820 and ISO-13485. He writes Software Development Life Cycle (SDLC) documents including Validation Compliance Plan (VCP), Functional Requirements Specification (FRS), System Design Specification (SDS), Installation Qualification (IQ), Operational Qualification (OQ), Performance Qualification (PQ), Requirements Traceability Matrix (RTM) and Validation Summary Report (VSR).
George Yanulis, Ph.D.

George Yanulis, Ph.D.

Dr. George Yanulis has consulted in Medical Device Product Development and Research for 20 years and has a Doctorate and Master's Degree in Biomedical Engineering. He has conducted cardiovascular device research at the Cleveland Clinic Foundation on cardiac pacing paradigms used in heart failure patients. In addition, Dr. Yanulis has been involved in the R&D Medical Device Consulting & Litigation Support as an Expert Witness for over 10 years and has been involved in numerous medical device liability and patent infringement cases. He provides expertise to attorneys, medical device companies, health care systems and insurance carriers related to FDA medical device controls, PMAs, post-market surveillance issues, medical device/product failures and IP medical device issues. In addition, he has reviewed MDR(s) and other adverse events related to implant device failure. Dr. Yanulis is highly motivated in maintaining and providing the highest level of quality in the design, development and safe and effective use of all types of cardiac device implants.
| | |
| --- | --- |
| | |
Did You Know?
Product development is more than just labeling, it is a holistic approach from ideation through commercialization that strategically looks at the category in which the product is intended to be marketed and those regulatory requirements surrounding it. Are there claims being made which have legal definitions? Is the product competing against similar products but with a unique competitive advantage? Does the product contain a new ingredient for which a GRAS submission must be filed? ... [more]
Drug and Device Corner
Sunscreen Innovation Act to Enhance Product Safety Requirements
On February 21, 2019 FDA issued a proposed rule that would update regulatory requirements for most sunscreen products in the United States. Aimed at bringing nonprescription, over-the-counter (OTC) sunscreens that are marketed without FDA-approved applications up to date with the latest science, the provisions address sunscreen active ingredient safety, dosage forms, and sun protection factor (SPF) and broad-spectrum requirements. It also proposes updates to how products are labeled to make it easier for consumers to identify key product information.
Per FDA, the agency is issuing this proposed rule to put into effect final monograph regulations for OTC sunscreen drug products as required by the Sunscreen Innovation Act. OTC monographs establish conditions under which the FDA permits certain OTC drugs to be marketed without approved new drug applications because ... [more]
Ask the Expert
By Ronald J. Levine
Each month EAS answers one question sent in by a reader. This month's question on how to choose an expert witness for FDA legal proceedings is answered by Independent Consultant, Ronald J. Levine. Ron has had a successful career history as a litigator at one of the top New York law firms and is available to EAS clients for assistance with compliance questions and risk assessments. We were interested in hearing Ron's thoughts since EAS provides consultants who can become a part of a legal team, by writing expert opinions, participating in depositions or being called to the stand as an expert witness. You can view EAS' Expert Witness Services Sheet to learn more. If you would like to ask a question of our independent consultants, please contact us.
How Do Legal Teams Find and Identify Good Expert Witnesses?
Thank you for an excellent question. As a litigator who has retained many expert witnesses during my 40- year career as a lawyer, I have found that finding the right expert for a case can make all the difference in the world.
In almost any investigation or litigation involving regulated products, an expert can help explain your position to the fact-finder and render opinions which an average person would not have the knowledge or experience to offer. The FDA expert's ability to offer a deep understanding of complex regulations and production protocols, such as Good Manufacturing Practices (GMP); and assistance with developing strategy in responding to the FDA; can make the expert a valuable extension of the legal team.... [more]
What's New on FDA's Website
February Updates
Listed below are links to new additions to the FDA website for the month of February, 2019. Use of this section of EAS-e-News is intended to provide an "easy" way to keep current with FDA news and information.
EAS in Action
The 2018 Farm Bill answered many questions for the cannabis industry, but its message has also been largely misunderstood. Misinterpretations as to the legality of including cannabis as an ingredient in foods, herbal products, and dietary supplements have erroneously lead firms to begin planning and production of illegal products, and, in the case of those which legally include (by state) CBD ingredients there is often little regard or understanding of how to manage the quality, including product specifications for the production of a consistent and safe product.
Join EAS Senior Tara Lin Couch, Ph.D., and special guest, Marc Ullman with Rivkin Radler, LLP on March 13, 2019, at 1 pm Eastern for a dynamic discussion on what the Farm Bill really means for the cannabis industry. What is FDA's position on cannabis and how are the states managing the patchwork of federal regulations that make this burgeoning industry so confusing? In those cases where companies are legally producing cannabis products, what steps should be taken to implement and improve upon sound quality systems? Register for the webinar here and learn more about EAS quality systems services for the cannabis industry here. You may also wish to view our CBD and Hemp Regulatory Fact Sheet here.
The submission stage of a New Infant Formula Notification may seem like the beginning of the end of a years-long process of research and strategic development. But, without all the right documentation in place, this last step prior to product launch can be unnecessarily delayed for those companies not well-prepared for the rigors of FDA review and assessment.
Learn the steps to NIFNs as well as the pitfalls and challenges companies face in leading up to the assembling of an Infant Formula dossier. EAS Consulting Group's experts will walk you through challenges and pitfalls which delay or prevent final FDA approval of this most important nutrient for growing infants. Join Robert Martin, Ph.D., Robert Burns, Ph.D., and Timothy Morck, Ph.D. on April 2, 2019, at 1 pm Eastern for a technical overview of one of FDA's most challenging applications. Register today and learn more about EAS services in infant formulas in this explainer video.
EAS Independent Advisor for Import Operations, Domenic Veneziano and EAS Independent Advisor for FSMA, Charles Breen are collaborating for a complimentary EAS webinar discussing the requirements of a Qualified Individual per FDA requirements. Join us on April 3, 2019, at 1 pm Eastern to learn about this important provision for food importers under the Foreign Supplier Verification Program (FSVP) Final Rule. Part 1 Subpart L, Section §1.503 requires that importers of human and animal food enlist a QI who has responsibility for developing a program and performing each activity to ensure the products they are importing are not adulterated or misbranded and have been produced in accordance with the preventive control regulations for human or animal food or the Produce Safety Rule. FDA has specific expectations of the QI. Does your company meet the mark? Join us for our webinar and learn more about FSVP and EAS services as a QI through this explainer video.
Since the passage of the Food Safety Modernization Act (FSMA) in 2011, dietary supplements are now subject to many aspects of the seven major regulations that were issued by FDA to support enforcement of FSMA. One of the most important of these regulations being 21 CFR 117, Current Good Manufacturing Practice (cGMP) and Hazard Analysis and Risk-Based Preventative Controls for Human Food (PCHF). Which aspects of FSMA's Preventive Controls for Human Foods, 21 CFR 117, apply to dietary supplements? What about other FSMA responsibilities like FSVP? How does the dietary supplement industry including raw material manufacturers and suppliers, dietary supplement manufacturers, and dietary supplement brand owners avoid enforcement actions?
Join EAS Consulting Group's FSMA and Dietary Supplement experts Heather Fairman and Maury Bandurraga for an overview of the FSMA regulation and a deeper dive into those aspects which specifically apply to dietary supplements. Register now for our April 16, 2019 webinar at 1:00 pm Eastern.
Independent Consultant, Mark Nelson, is an invited speaker for the upcoming Grocery Manufacturer's Association's Science Forum taking place March 26-27, 2019 in Washington, D.C. Mark will be speaking as part of a panel on Current Practices and Future Opportunities in Standards of Identity, March 27 at 2:45 pm.
Join EAS Independent Advisor for Food Law and Regulation, Steve Armstrong, at the upcoming FDLI Intro to Food Law and Regulation taking place in Washington, D.C., March 19-20, 2019. Steve will be part of an esteemed group of presenters and will discuss Food Safety and Unintended Components and Contaminants of Food. Click here to hear more. In addition, Steve will be speaking again at the FDLI Food Enforcement conference on March 21, 2019. He will be part of a panel discussion on FDA's FSMA enforcement.
EAS Independent Consultants David Blomquist and Jenifer Kane will present a one-day seminar at the upcoming SNAC International Annual Conference, SNAXPO, March 31-April 2, 2019 in Orlando, FL. The training which takes place on March 31 will provide practical information, "real-world" examples and tips on how to enhance daily operational practices related to improving existing food safety and quality programs for the snack food industry. Focusing on criteria for selecting, installing and maintaining processing equipment and utensils, how to effectively clean processing equipment and more. Participants will gain an appreciation of compliance requirements of the applicable FSMA regulations.
Thomas Dunn has authored an article for Natural Products Insider on sustainable packaging for natural foods. Packaging for natural food products must protect food quality and safety while also connoting clean labels and sustainability, he says.
EAS' recent webinar presented by Independent Consultant Steve Cammarn on how to develop VMS products for commercial and compliance success is now available on-demand. We invite you to view this as well as all of our on-demand webinars on the EAS website.
EAS Independent Consultant April Kates was interviewed for a recently published article on Food Labeling published in Supermarket Perimeter. EAS is very pleased to have such a strong team of labeling consultants who are often called upon for sharing their expertise.
Order Publications and Regulatory Tools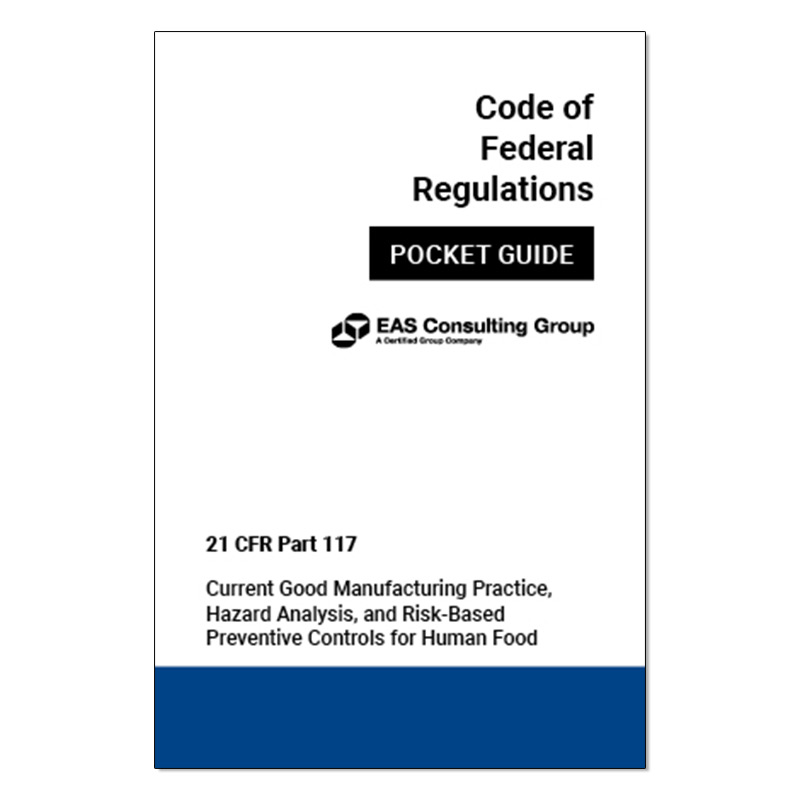 Current Good Manufacturing Practice, Hazard Analysis, and Risk-Based Preventive Controls for Human Food
A 4″x6″ bound copy of 21 CFR Part 117 designed to fit in shirt pockets of management and plant personnel. Bulk discounts available.
EAS has a wide array of products to aid in your company's regulatory compliance.
To view the products that EAS sells visit our products page.
Consulting · Submissions · Auditing · Training · Legal Support