Foods · Dietary Supplements · Cosmetics · Veterinary · Medical Devices · Drugs · Tobacco · Cannabis
| | |
| --- | --- |
| 1700 Diagonal Road, Suite 750; Alexandria, VA 22314 · (571) 447-5500 | January 2019 |
From the Desk of the Chairman
Dear Reader,

Ed Steele, Chairman
and CEO

Welcome to the January 2019 edition of EASeNews! We hope this year, as with each year, brings a renewed commitment to safety and innovation in the advancement of your product lines and business.

As the Government Shut Down continues, FDA recently announced that agency operations will continue to the extent permitted by law, maintaining core functions that address imminent threats to the safety of human life as well as activities funded by carryover user fee funds. If you missed our recent email which details how the shutdown affects FDA, click here.

At EAS we are committed to ensuring our message of compliance reaches the industry. Most recently, our initiative to create video shorts discussing industry challenges and EAS capabilities is well underway! I am pleased to announce the release of Senior Director of Pharmaceuticals and Medical Devices, Bryan Coleman's discussion of the importance of good preparation for FDA's GxP audits as well as our auditing services; and Senior Director of Food Consulting Services, Allen Sayler's discussion of challenges for the dairy industry, particularly in light of the many oversight organizations, as well as EAS' dairy capabilities. In December we also released our first Hot Topic Report, a short video with Bryan Coleman discussing CDRH increased numbers of medical device inspections and what that means for the industry. We plan to release new hot topic videos to coincide with important FDA announcements. Watch your inbox for these pertinent updates impacting to your industry.

For those who work in Dietary Supplements I am pleased to announce a new training effort aimed at employees and management who are looking to complete their annual GMP compliance refresher training. EAS will host a series of four one-day GMP Refreshers around the country and we invite you to consider outsourcing your quality department's training to our experts! Join us at one of our upcoming events taught by our internationally recognized compliance experts and gain a greater understanding of your requirements under FDA's 21 CFR 111.

For those looking for a deeper dive into GMPs we remind you of our two-day full GMP Compliance seminar, which will take place April 2-3, 2019 in Philadelphia, PA. Earlybird rates will expire on February 2, 2019.

In addition, our Food Labeling and Dietary Supplement Labeling Compliance seminars will also take place in Philadelphia, March 12-13 and March 14-15 respectively. More information is found on our EAS website.

Our Issue of the Month article, written by Independent Consultant Tamika Cathey who works in dietary supplement GMP compliance (and who is our trainer for the August 13 Refresher training in Andover, MA), discusses specifications development – which continues to challenge the manufacturing industry. Our Ask the Expert is written by Steve Armstrong, Independent Advisor for Food Law and Regulation, and discusses FDA's decision to delist seven synthetic flavors and how that decision impacts those firms still using them. Finally, our FSMA perspective, written by Independent Advisor for FSMA, Charles Breen, reminds all firms, (and specifically those working in produce and sprouts as new compliance dates for these industries arrive at the end of January), that food safety is a diligent and on-going process of review, redevelopment (as needed) and execution of pertinent practices to keep consumers safe.

As always, thank for reading our updates and for your interest in EAS. Feel free to share this newsletter with your colleagues and let me know if you have questions.

Upcoming Presentations and Conferences
Sincerely,



Ed Steele
Chairman and CEO
Issue of the Month
By Tamika Cathey
Specifications Development, as defined in FDA's Good Manufacturing Practices for dietary supplements (21 CFR §111) have posed one of the biggest challenges to industry since the inception of the requirements in June 2007. Specifically, 21 CFR §111.70 requires manufacturers to develop specifications for each component used in the manufacturing process and the finish product, including raw material components, in-process controls, packaging/labeling materials ... [more]
Who's Who at EAS
| | |
| --- | --- |
| Tamika Cathey | Tamika Cathey consults with an international client base on regulations pertaining to safety and quality of pharmaceuticals and dietary supplements. She evaluates client compliance readiness by conducting audits, risk assessments, and mock FDA/GMP investigations and works to design improvement programs based on findings. Tamika has a B.S. in Biology from Greensboro College in North Carolina. Prior to consulting, she held positions such as Associate Director, Regulatory Affairs for Charles River Laboratories, and Consumer Safety Officer at FDA's Atlanta District. She is a certified auditor with the Natural Products Association and holds FDA Level II certifications for the Clinical Bioresearch Monitoring Auditor and Drug Auditor Program. |
Timothy Morck, Ph.D.
(Dietary Supplements and Foods)

Timothy Morck, Ph.D.

Timothy Morck provides expertise in nutrition-related research, product development, regulatory and public policy and global scientific affairs. Dr. Morck's career includes clinical nutrition practice, research, and medical school faculty appointments, scientific association management, entrepreneurial personalized nutrition start-ups, and executive and senior management positions at several global food, nutrition and pharmaceutical companies including The Dannon Company, Mead Johnson Nutritionals, Abbott Nutrition, Nestle Health Science and Nestle Corporate Affairs. The interplay between the legal, scientific, and regulatory framework surrounding medical foods has been a particularly sharp focus for him. He received a B.S. in animal science from Penn State University, followed by MS and Ph.D. degrees in nutrition (biochemistry & physiology minors) from Cornell University.
Paula Trumbo, Ph.D.
(Dietary Supplements and Foods)

Paula Trumbo, Ph.D.

Paula Trumbo works with clients on food and dietary supplement labeling, claims, and other nutrition-related issues for compliance with FDA regulations. Prior to consulting, she led FDA's Nutrition Science Review Team responsible for the pre-market review of the scientific evidence for food labeling, including health claims, meeting the definition of dietary fiber, and amendments to the Nutrition and Supplement Fact label. She was the US delegate to the Codex Committee on Nutrition and Foods for Special Dietary Uses. Prior to joining the FDA, Dr. Trumbo served as Study Director for a number of study panels at the Institute of Medicine's Food and Nutrition Board and was Associate Professor of nutrition at Purdue University. Dr. Trumbo has a Ph.D. in biochemistry with minor in nutrition.
FSMA Perspective
By Charles Breen, EAS Independent Advisor for FSMA Consulting Services
Charles Breen
January 28, 2019, marks the compliance date for four categories of produce growers:
Sprouts from Very Small Farms (with certain exemptions),
Sprouts from Very Small Farms eligible for a qualified exemption to comply with other requirements in 112.6 and 112.7,
Other small farms, (except those with certain water requirements), and
Small Farms eligible for a qualified exemption to comply with other requirements in 112.6 and 112.7
must come into compliance.
FSMA's Final Rule on ... [more]
Drug and Device Corner
Guidance Document updates on the FDA website:
All centers:
CDER:
CDER & CBER:
Ask the Expert
By Steve Armstrong, Independent Advisor for Food Law and Regulation
Question: FDA's recent announcement delisting seven synthetic flavors caused a flurry of conversation and some confusion within the flavor and extract world. Would you clarify?
Armstrong: Thank you for the question and the opportunity to clear up confusion on FDA's October 8, 2018 Constituent Update on the removal or delisting of seven synthetic flavors from the list of approved food additives. FDA was clearly reluctant to take this action, but it did so because several activist groups had petitioned for the delisting and then went to court to force FDA to take the action.
FDA made clear in its announcement in the Federal Register that it was only de-listing the synthetic form of these substances, which are labeled as "artificial flavors." This means that a flavor manufacturer need only remove these synthetic substances from its flavor portfolio. These include synthetically-derived benzophenone, ethyl acrylate, eugenyl methyl ether (methyl ... [more]
What's New on FDA's Website
December Updates
Listed below are links to new additions to the FDA website for the month of December, 2018. Use of this section of EAS-e-News is intended to provide an "easy" way to keep current with FDA news and information.
EAS in Action
Join EAS Independent Advisor for OTC Drugs and Labeling, Susan Crane, as she explores the history of OTC Monographs and how OTC drug companies can expect updates to the Monograph system to impact their labels in a webinar series starting January 16, 2019. Part one will discuss the history of OTC monographs and why reforms are necessary. Part two is February 27, 2019 and will discuss understanding the FDA and FTC Labeling and Claim Requirements for Cosmetic and Homeopathic products in the OTC market. The final sessions, with dates to be announced will discuss what makes a drug an OTC and the Monographs Compliance System; and GMP obligations – understanding how the GMPs are Applied and how to prepare for FDA Inspection. Reserve your seat today!
Product development in the dietary supplement industry has never been more competitive. With new companies and products arriving in the marketplace at rapid speed, the pressure is on to develop something new and exciting for the consumer in order to stay ahead of the competition.
Join EAS Independent Consultant, Steve Cammarn, Ph.D., for a discussion on principles and techniques for a phased-approach of the development of vitamin, mineral, and supplements, incorporating product design, process development, supply chain establishment, and qualification. Dr. Cammarn weaves together the scientific principles as well as the overarching regulatory requirements that must be met for commercial and compliance success. Reserve your complimentary seat today!
The Good Manufacturing Practices (GMP) dictated in FDA's 21 CFR 111 require that "Each person engaged in manufacturing, packaging, labeling, or holding, or in performing any quality control operations, must have the education, training, or experience to perform the person's assigned functions". In order to maintain compliance with this requirement, most companies require that employees attend an annual GMP refresher training. Training programs ensure a deeper understanding of how to perform specific job responsibilities in a GMP compliant manner.
EAS Consulting Group, leaders in FDA regulatory is pleased to offer a new one-day refresher training to help firms meet their training requirements in an in-person personalized setting, providing an opportunity to learn directly from our GMP experts and ask specific questions regarding their GMP issues or situations.
Senior Director for Dietary Supplement and Tobacco Services, Tara Lin Couch, Ph.D. participated in a discussion with other industry leaders on best practices for contract laboratories in a recent Natural Products Insider. Contract labs are often enlisted to certify that products are fully and validly tested, and the relationship with these labs can sometimes be complicated by a lack of provided material and product matrix information to ensure that appropriate, scientifically valid test methodologies are used. Couch and her industry colleagues share thoughts on how to convey expectations and develop agreements.
EAS authored an article in MedTech Intelligence on FDA's efforts at encouraging innovation while keeping a close eye on safety as part of a medical device regulatory overhaul. FDA is working to retire outdated predicates for 510(k) submissions as well as improve their post-market surveillance system through a multi-collaborative effort called National Evaluation System for Health Technology (NEST).
The December American Herbal Products Association (AHPA) Report (subscription required) included an EAS authored article on steps to develop fully compliant Standard Operating Procedures. Though the development and detail of each SOP is at the discretion of individual companies, they should provide a thorough manual that enables each employee to understand their roles and responsibilities and how to perform and document them with regard to the cGMPs. As current practices evolve, so too should SOPs as they are designed to be living documents, representing best practices and required procedures.
Order Publications and Regulatory Tools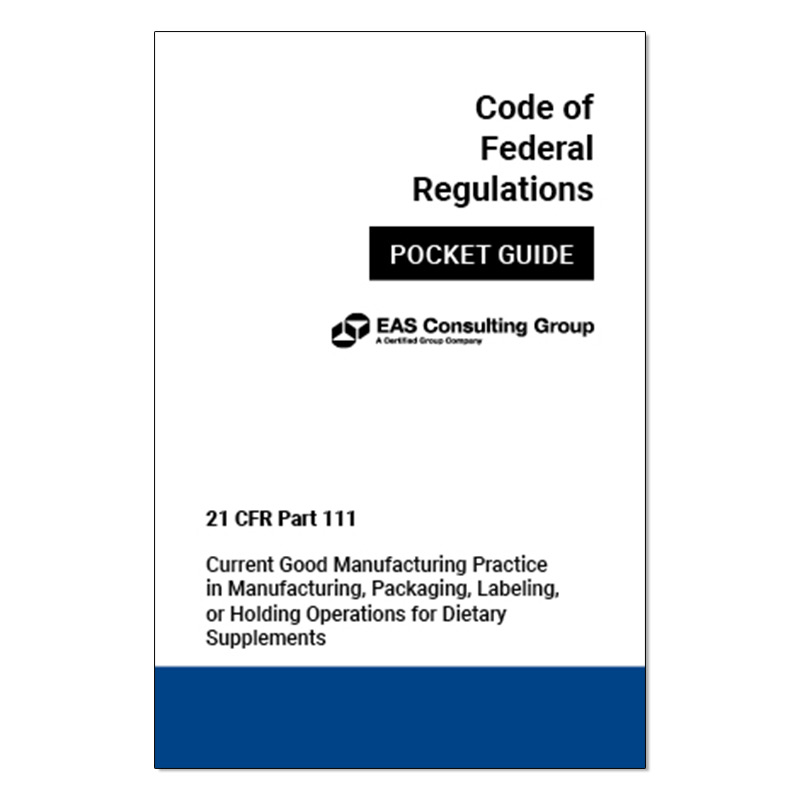 Dietary Supplement GMP Regulation – Pocket Guide
A 4″x6″ bound copy of 21 CFR Part 111 designed to fit in shirt pockets of management and plant personnel. Bulk discounts available.
EAS has a wide array of products to aid in your company's regulatory compliance.
To view the products that EAS sells visit our products page.
Consulting · Submissions · Auditing · Training · Legal Support