Foods · Dietary Supplements · Cosmetics · Veterinary · Medical Devices · Drugs · Tobacco · Cannabis
| | |
| --- | --- |
| 1700 Diagonal Road, Suite 750; Alexandria, VA 22314 · (571) 447-5500 | February 2019 |
From the Desk of the Chairman
Dear Reader,

Ed Steele, Chairman
and CEO

Welcome to the February 2019 edition of EAS-e-News, the free news publication dedicated to FDA regulated industries. I'd like to begin by bringing your attention to our many new educational opportunities. From our many complimentary webinars to regulatory compliance seminars EAS brings the best in regulatory education to you through our extensive network of independent experts. In this issue, you'll find numerous opportunities to learn in real time in addition to our wealth of on-demand webinars available for viewing at your convenience.

On that note, two recent additions to our complimentary webinar offerings include one on the requirements for Qualified Individuals, hosted by Independent Advisors Domenic Veneziano and Charles Breen, and regulatory challenges and opportunities for companies preparing New Infant Formula Notifications, presented by EAS Independent Advisor Robert Martin, Ph.D., and Independent Consultants Robert Burns, Ph.D. and Timothy Morck, Ph.D.. More information can be found in the EAS in Action section of this issue.

Our Issue of the Month is written by Independent Advisor for FSMA, Charles Breen, and discusses two very similar sounding terms, Qualified Individual and Preventive Controls Qualified Individual, which have two very different meanings. Our Ask the Expert is written by James Hoadley, Ph.D. and discusses the provision in the recently signed Farm Bill which covers "added sugars" and when the "includes X g added sugars" can be omitted from a label.

Also in this issue, we introduce a new section called "Did you Know?" which will provide a brief spotlight of concern to FDA regulatory industries. This month we discuss Slack Fill. Did you know this is a growing area of litigation for food manufacturers? The many regulations surrounding slack fill are confusing at best and EAS is here to help if this issue is one that your firm faces.

Further, EAS has just released our newest Video Short, on cannabis quality issues and how EAS Consulting Group can help companies navigate as the industry pushes for developing sound Good Manufacturing Practices.

Lastly, we are so pleased that there is at least a temporary solution to reopen the federal government after the longest shutdown in our nation's history and we hope for a lasting resolution that enables both sides of the aisle to find common ground. The shut down has had numerous negative impacts, including severely curtailing operations at FDA and USDA, are we are thankful, at least for the moment, that our federal employees are able to get back to the business at hand by serving the public.

Thank you as always for your interest in EAS and EASeNews. You are one of the 16,000 who receive our newsletter and we take great pride in bringing you relevant content and compliance solutions. Please let me know if you have any questions on this issue or other areas of FDA compliance.

Sincerely,

Ed Steele
Chairman and CEO

Upcoming Presentations and Conferences
| | |
| --- | --- |
| | |
Issue of the Month
By Independent Advisor for FSMA, Charles Breen
The Food Safety Modernization Act (FSMA) Preventive Control for Human Foods (PCHF) regulation (21 CFR 117) signed into law in 2011 offers a wealth of opportunity (and a requirement) for companies to improve their food safety procedures and protocols through the implementation of a preventive strategy against foodborne risks. As part of this regulation, food manufacturers must require that employees are qualified to perform their assigned tasks in a manner that protects ... [more]
Who's Who at EAS
Charles Breen

Charles Breen

Mr. Breen became available to EAS Consulting Group after a distinguished career at the FDA working in areas such as HACCP and LACF and BSE prohibited materials in the dairy. Mr. Breen has worked with the industry on compliance issues related to the Bioterrorism Act of 2003 and led the field and HQ professionals in developing and implementing surveillance and compliance programs, and initial FSMA training implementation. His attention to detail has garnered him an FDA Award of Merit, Outstanding Achievement and five Commissioner Special Citations.
Ronald J. Levine
(Foods)

Ronald J. Levine

Ron Levine has 40 years of experience advising consumer products companies in complex commercial matters. In addition to providing consulting services for EAS, he serves as the General Counsel of Herrick, Feinstein LLP, a law firm with offices in New York and Newark, NJ. He has practiced with Herrick since 1984, where he was a partner from 1985-2018. He served as Chair of the firm's Litigation Department for 15 years.

A pragmatic advisor who helps clients anticipate, minimize and resolve the financial and reputational damage arising from claims and potential claims, Ron specializes in crisis management, for food and beverage manufacturers, and advises on class action litigations and investigations, including serving as an expert witness, related to labeling, the Food Safety Modernization Act (FSMA), advertising claims, product recalls, FDA regulations and other concerns.

The EAS Expert Witness team is greatly enhanced with the addition of Ron. By strategically matching the regulatory purview of the case at hand with our former high-level FDA and industry executives, EAS offers in-depth analysis of FDA and other Federal and state laws as well as standard industry best practices. Ron, along with Steve Armstrong, EAS Independent Advisor for Food Law and Regulation and former Chief Counsel for Campbell Soup Company and Bruce Silverglade, an EAS Independent Consultant and a Principal with the law firm Olsson Frank and Weeda Terman Matz, PC, lead the EAS Expert Witness team of consultants providing detailed and critical services to firms in all FDA commodity areas.
| | |
| --- | --- |
| | |
Did You Know?
There has been an increasingly growing volume of litigation in the slack fill area. This is a daunting issue for food manufacturers and is complicated by a dearth of clear guidance which ultimately leads to a lack of understanding of the many competing requirements and increases a company's risk for legal challenges. In fact, there are at least five levels of law where one should look for guidance with slack fill, including international, federal, state, local and common law. Answers on how to interpret and piece the various laws and rulings together are not found on the FDA website, and moreover, it is very difficult to predict how a consumer attorney will interpret them as they attempt to bring suits against the industry.
If you are one of the many who have questions concerning how to find, understand, interpret and implement policies and practices regarding slack fill, call EAS' team of experts who can assist in navigating this very complicated and confusing issue.
Drug and Device Corner
With the Federal Register (FR) publication unavailable, the FDA has published Safety and Performance-Based Pathway on the Guidance Document webpage. Full details will be available in the Federal Register once that site is again functioning. The existing Docket Number for this document is
FDA-2018-D-1387. For questions about this document regarding CDRH-regulated devices, contact the 510(k) Staff at 301-796-5640. For questions about this document regarding CBER-regulated devices, contact the Office of Communication, Outreach, and Development (OCOD) at 1-800-835-4709 or 240-402-8010.
Guidance Document updates on the FDA website
Ask the Expert
By James Hoadley, Ph.D.
Each month EAS Independent Consultants answer one question sent in by our readers. This month's question is answered by James Hoadley, Ph.D., an expert in food and supplement labeling and content claims and long-time instructor for our popular Food and Dietary Supplement Labeling Compliance Seminar. Prior to consulting Jim was the Senior Regulatory Scientist, Nutrition at FDA's CFSAN Office of Nutritional Products, Labeling and Dietary Supplements.
If you'd like to ask a question of our experts, contact us here. To learn more information on our Food and Dietary Supplement Labeling Seminars please visit our webpage.
Question: I am a smaller company that produces maple syrup and honey sold in jars. Does the 2018 Farm Bill mean I no longer have to comply with the 2016 FDA Nutrition Facts requirements for these two single-source products?
Hoadley: One of the NUTRITION FACTS changes introduced in the FDA's 2016 revisions to nutrition labeling ... [more]
What's New on FDA's Website
January Updates
Listed below are links to new additions to the FDA website for the month of January, 2019. Use of this section of EAS-e-News is intended to provide an "easy" way to keep current with FDA news and information.
EAS in Action
The submission stage of a New Infant Formula Notification may seem like the beginning of the end of a years-long process of research and strategic development. But, without all the right documentation in place, this last step prior to product launch can be unnecessarily delayed for those companies not well-prepared for the rigors of FDA review and assessment. Learn the steps to NIFNs as well as the pitfalls and challenges companies face in leading up to the assembling of an Infant Formula dossier. EAS Consulting Group's experts, scientists, and leaders in their fields at FDA and industry will walk you through challenges and pitfalls which delay or prevent final FDA approval of this most important nutrient for growing infants. Join Robert Martin, Ph.D., Robert Burns, Ph.D. and Timothy Morck, Ph.D. for an informative and technical overview of one of FDA's most challenging applications on April 2, 2019, at 1:00 pm eastern. Reserve your seat today!
EAS has announced a new date for our Riverside, CA GMP One-Day Refresher Training. This California training, now hosted on May 14, 2019, and its sister one-day Refresher trainings in Texas, Massachusetts and New York, are designed to meet the annual requirements many companies have that enable employees to stay current in GMP requirements. EAS is hosting four GMP Refresher trainings around the country in 2019. Please join us and consider outsourcing your company's Refresher compliance trainings to EAS!
EAS Senior Director for Dietary Supplement Consulting Services, Tara Lin Couch, Ph.D. will instruct the next EAS seminar on Good Manufacturing Practices for Dietary Supplement Laboratories April 23, 2019 in Denver, CO. This one-day intensive program will discuss FDA's current GMP requirements for Research and Development and Quality Control of Laboratories including physical, analytical, and microbiological laboratories. Topics include analyst training and qualification; the labs' physical facility and environment; instrument qualification, calibration and maintenance programs and more.
EAS independent consultant, Steve Cammarn, is presenting a webinar on considerations for Developing Vitamin, Mineral and Supplement Products for Commercial and Compliance Success. Join EAS February 7, 2019, at 1 pm Eastern where Dr. Cammarn will share principles and techniques for a phased-approach of the development of vitamin, mineral, and supplements products incorporating product design, process development, supply chain establishment, and qualification. Dr. Cammarn weaves together the scientific principles as well as the overarching regulatory requirements that must be met for commercial and compliance success. Join us!
EAS is offering our popular Food and Dietary Supplement Labeling Seminars in Philadelphia March 12-13 and March 14-15, 2019 respectively. Join independent consultants and labeling experts Gisela Leon and Jim Hoadley, Ph.D. for an in-depth look at the various requirements surrounding the development of Nutrition and Supplement Facts Panels, including FDA's latest requirements. Join EAS for either the Food Labeling Seminar or Dietary Supplement Labeling Seminar, or both! Group discounts for two or more employees are available.
EAS Independent Consultant, Norma Skolnik and Advisor for OTC Drugs and Labeling, Susan Crane, has​ co-written an article on the OTC Drug Safety, Innovation, and Reform Act. Recently published in Solid Dose Digest, the article includes a proposed review and overhaul of the OTC Monograph process, eliminating inefficiencies and allows for better response times to safety concerns. Learn more in Solid Dose Digest and join Susan in Part 2 of her Five-part webinar series on OTC Monographs. Part 1 – an Overview of the OTC Monograph system, is available On-Demand now. Part 2 on OTC Labeling and Listing Requirements takes place on February 27, 2019.

EAS published a blog on the International Society of Pharmaceutical Engineers' iSpeak blog on how GMPs and data integrity align for safer products and swifter approvals. FDA has noted that in recent years, findings from pharma facility inspections show increasing challenges with meeting data integrity requirements, which has led to regulatory actions including warning letters, import alerts, and consent decrees.
Senior Director for Dietary Supplement and Tobacco Services, Tara Lin Couch, Ph.D. was interviewed for an article in Natural Products Insider on Own Label Distributors and challenges of industry to establish product specifications. According to FDA data, in fiscal year 2018, about 24 percent of the FDA Form 483 inspection reports cited firms for failing to establish specifications of finished dietary supplements. This issue is clearly a challenge for the industry and one in which OLDs should be well-versed and ensure compliance.
Independent Consultant Mehrdad Tajkarimi has published part two of his three-part series in Food Safety Magazine on designing food safety training programs to meet FSMA compliance expectations. Food safety training is critical, not only in meeting FDA requirements but in protecting consumers and the safety of our food supply. Whether training is designed and hosted in-house or delivered through expert training sources such as EAS, it is important that the content and delivery meet the audience where they are and deliver the information in an easily digestible format.
Independent Consultant Thomas Dunn discusses packaging trends in an article for Natural Products Insider. Packaging is an important component of overall product design as it protects, preserves, escorts and describes the products consumed. As consumers demand more sustainable packaging, companies are working hard to meet that demand with innovative and cost-effective products.
Order Publications and Regulatory Tools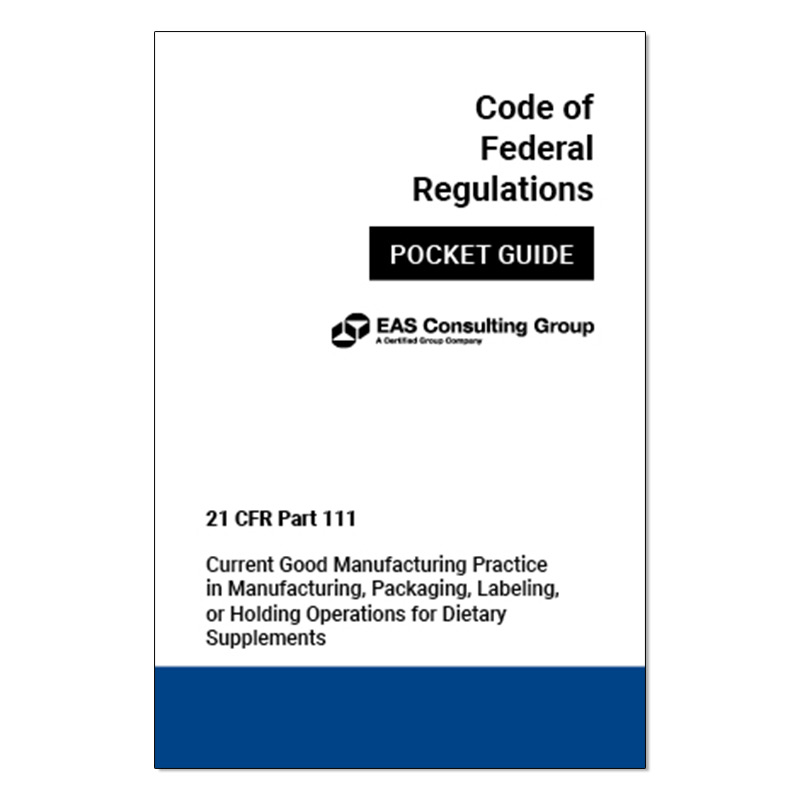 Dietary Supplement GMP Regulation – Pocket Guide
A 4″x6″ bound copy of 21 CFR Part 111 designed to fit in shirt pockets of management and plant personnel. Bulk discounts available.
EAS has a wide array of products to aid in your company's regulatory compliance.
To view the products that EAS sells visit our products page.
Consulting · Submissions · Auditing · Training · Legal Support