Foods · Dietary Supplements · Cosmetics · Veterinary · Medical Devices · Drugs · Tobacco · Cannabis
| | |
| --- | --- |
| 1700 Diagonal Road, Suite 750; Alexandria, VA 22314 · (571) 447-5500 | April 2019 |
From the Desk of the Chairman
Dear Reader,

Ed Steele, Chairman
and CEO

Welcome to the April 2019 edition of EASeNews, the free newsletter for industries regulated by FDA.


We are pleased to announce our latest short video describing the many services that EAS provides. This month our regulatory specialist, Victoria Pankovich, shares the various FDA requirements for company registrations and product listings. As you may know, the complexities of registrations differ by product category, and not all commodities are required to list their products. EAS helps you to sort through what is required and what information is needed to comply with FDA regulations in this regard. Should you wish to outsource this annual or biannual requirement, EAS is available to help.


If we missed you at our recent food and dietary supplement labeling compliance seminars in Philadelphia, it is not too late to purchase the companion handbook for the seminar. The Food Labeling Handbook and the Dietary Supplement Labeling Handbook were written by instructor Gisela Leon and share points on how to ensure label accuracy, from what and how information must be covered to more detailed specifics of FDA compliance. To purchase your copy please visit the EAS store.

If you haven't registered for our one-day seminar Ensuring Regulatory Compliance of GMP Laboratories seminar which will be taught by Senior Director Tara Lin Couch, Ph.D. in Denver on April 23, there is still time. This one-day intensive program will discuss FDA's current GMP requirements for Research and Development and Quality Control Laboratories and will highlight FDA issues of concern with emphasis placed on recent FDA regulatory or administrative actions. All of this will allow participants to gain an understanding of the importance of laboratory GMPs and how to meet FDA's requirements. Please join us in Denver!

Our Issue of the Month author is Joe Famiglietti who discusses preparing for a FDA Preventive Controls inspection. Our Ask the Expert is answered by Tim Hansen and discusses how seafood importers can protect themselves from unscrupulous suppliers. Lastly our new section, Did you Know? covers EAS expert witness considerations, an area in which EAS is proud to have deep roots with our over 50 independent consultants who can act in an expert witness capacity.

We welcome a number of new consultants this month: Robert Post, Heidi Stuttz, Jan Janson, William Scopa and Joel Martinez. I invite you to learn more about their backgrounds in Who's Who.

Thank you as always for your interest in EAS and please feel free to forward this newsletter onto a colleague or link with us on LinkedIn.

Sincerely,

Ed Steele
Chairman and CEO

Upcoming Presentations and Conferences
| | |
| --- | --- |
| | |
Issue of the Month
By Joe Famiglietti
The new rule on Preventative Controls for Human Food is mandated by the 2011 FDA Food Safety Modernization Act. Preventive Controls (PC) are steps that a food facility must take to reduce or eliminate food safety hazards. The rule also includes updates to the Current Good Manufacturing Practice (CGMP) requirements such as mandatory training and procedures to control allergen cross-contact. In general, the new rule applies to you if you are required to register with FDA ... [more]
Who's Who at EAS
| | |
| --- | --- |
| Joe Famiglietti | Independent Consultant, Joe Famiglietti, provides guidance to clients regarding FDA compliance matters. He has performed onsite audits at food manufacturing facilities and evaluated production and quality control operations for compliance with FDA regulations. Joe has experience in inspections of food manufacturing areas including low acid canned foods, acidified foods, infant formula and seafood HACCP. He assists in facility sanitation issues, provides in-house training to employees on food GMP issues and procedures for handling FDA inspections. Prior to consulting, Joe was a Compliance Officer at the FDA New York District, Import Operations Branch in Buffalo. |
Robert Post, Ph.D., MEd., MSc.
(Foods)

Robert Post, Ph.D., MEd., MSc.

Dr. Robert Post is a former food industry executive, White House and regulatory agency executive, and university instructor with expertise in food science and nutrition. His roles in the food industry have included leading nutrition and regulatory affairs; corporate health and wellness programs; and food and health communications to support marketing and customers/sales. He has also directed legislative affairs, food ingredient specifications and approvals, food product design and innovation, food labeling and nutrition labeling strategies, design, and compliance; and brand communications strategies for customers, consumers, and health professionals. In the Federal sector, Rob directed the agencies that set the Dietary Guidelines for Americans, created MyPlate(.gov), and the national nutrition evidence library, supporting the White House as a key nutrition advisor. All roles involved expert mining of food and nutrition research and setting research pipelines for product design and product and process claims substantiation. Prior to consulting Rob was the Senior Director for Chobani Health and Wellness and Regulatory Affairs. He also served as the Executive Director for Center for Nutrition Policy and Promotion in the U.S. Department of Agriculture.
Heidi Stuttz
(Biotech, Medical Device)

Heidi Stuttz

Heidi Stuttz is an expert in biotech and medical device oversight. She assists clients with a variety of projects including R&D programs, FDA submissions, EMEA dossiers, compliance enhancements and quality improvement initiatives. Assisting with product development processes from clinical trials to commercialization, Heidi demonstrates proven success with facilitating product development and moving regulatory programs forward. Heidi is experienced with auditing cGMPs for continuous process improvements, FDA ISO9000, records management as well as laboratory compliance/controls and validation and facilities and utility validation and remediation. She has worked as a Senior Project/Program Manager with Solution Systems and as a Quality Assurance Specialist at Wyeth Vaccines Division. Heidi has a M.S. from Johns Hopkins University, with degree in Biotechnology, Enterprise and Entrepreneurship, and concentration in Legal/Regulatory.
William Scopa
(Food, Medical Devices, Medical Foods)

William Scopa

Mr. Scopa has over 30 years at Customs and Border Protection (CBP) at both ports of entry and Headquarters. During 15 years at the ports, he processed both the import and export clearance of cargo and passengers. At Headquarters, as a Branch Chief, he led the development of policies and procedures. These policies and procedures addressed such areas as, Intellectual Property Rights, Anti-Dumping and Countervailing Duties, and revenue collections. He spent several years leading CBP's trade enforcement efforts in targeting evasion such as misclassification and undervaluation. His last position was CBP's liaison to other government agencies and he worked with the other agencies to develop CBP import processing of the other agency imports for such agencies as EPA, FDA, and DEA. These processes included clearing other agency cargo under the Automated Commercial Environment (ACE).
Jan Janson
(Medical Devices)

Jan Janson

Jan Janson is a quality consultant who provides assessments and recommendations on QMS development, Quality and Supplier Management. He conducts internal and supplier audits, develops product quality initiatives, supports CAPA and complaint analysis and more. In addition, Jan has extensive experience with audits against GMPs, Process Validation Reviews including process, software and methods and helps firms develop protocols for FDA 820, ISO 3485 compliance. Prior to consulting Jan was a Quality Manager at Biomet and Senior Quality Supplier Engineer at Medtronic.
Joel Martinez
(Drugs)

Joel Martinez

As a former certified ORA BIMO FDA Investigator, Joel Martinez has completed 20-25 BIMO inspections in all therapeutic areas, interacting with CDER's Office of Scientific Investigations (OSI) medical reviewers and BIMO Office of Compliance personnel for CBER, CDRH and CVM. He has significant experience in recognizing and understanding significant inspectional observations which would warrant further regulatory action and assists clients with understanding critical areas for a Sponsor/CRO in terms of being compliance with applicable 21 CFR regulations. Joel also conducts GLP audits domestically and internationally gaining inspectional experience of non-clinical laboratories.
Did You Know
An effective Expert Witness is more than one who can write expert opinions, be deposed or provide testimony in court. Experts must represent your company accurately, independently and objectively in matters of legal proceedings and do so in a manner that enables them to communicate to, connect with, and convince the decision maker, whether that decision will be made by a jury or mediator. Agencies, judges and juries want to hear from well-respected and knowledgeable expert witnesses. Whether the issue is recalls, labeling claims, safety audits, or almost any other challenge to a facility or a product, having a competent expert by your side can make all the difference. ... [more]
Drug and Device Corner
Implementation of reorganization to begin for CDRH
In order to create a smart and quick-moving infrastructure that can adapt to the needs of future organizational, regulatory and scientific requirements, the Center for Devices and Radiological Health (CDRH) is beginning the implementation of a reorganization.
The reorganization will integrate CDRH's premarket and post-market program functions along product lines, allowing their experts to leverage their knowledge to optimize decision-making across the product life cycle. This type of approach blends many of the current aspects of product review, quality, surveillance and enforcement into a new, team-based approach. With the implementation of reorganization, the FDA aims to enhance information-sharing across the Center, increase collective decision-making, improve work-life balance and increase professional opportunities for employees.
... [more]
Ask the Expert
By Timothy Hansen
Each month, EAS answers one question sent in by our readers. This month's Ask the Expert is answered by Independent Consultant and former head of the NOAA Seafood Inspection Program and Division Director in FDA's Office of Seafood, Timothy Hansen. Tim has extensive experience in seafood regulatory affairs, certification, and advises the seafood industry on science and technological matters. If you would like to ask a question of one of our experts, click here.
Question: As a seafood importer how can I protect myself from fraudulent suppliers?
Hansen: The seafood industry is mostly comprised of smart, hardworking, honest professionals that take regulatory compliance seriously, and a few unscrupulous operators who aim to misrepresent their products for financial gain or enhanced competitive advantage. It would be wise for all firms and particularly importers of seafood to be aware of some of the more common fraudulent practices so that you can protect your firm, your customers and ward off FDA enforcement action by perpetuating fraud to your customers. Some types of fraudulent activities to be aware of: ... [more]
What's New on FDA's Website
March Updates
Listed below are links to new additions to the FDA website for the month of March, 2019. Use of this section of EAS-e-News is intended to provide an "easy" way to keep current with FDA news and information.
EAS in Action
EAS is a proud event sponsor for the upcoming CHPA Regulatory Scientific and Quality Conference taking place in Bethesda, MD May 21-22, 2019. In addition, Bryan J. Coleman, Senior Director for Pharmaceuticals and Medical Devices will be speaking on Recent FDA inspection trends in Cosmetic to OTC cross-over products at a special Regulatory & Scientific Affairs Committee meeting which is being held May 20, before the kick-off of RSQ.
Tara Lin Couch, Ph.D. and Independent Consultant Heather Fairman will represent EAS at the upcoming SupplySide East in Secaucus, NJ April 9-10, 2019. This is a great opportunity to meet the EAS team to discuss your questions regarding dietary supplement regulations and how to prepare for cannabis GMPs. If you would like to schedule a meeting at SupplySide East please contact us.
EAS Independent Consultant, Brian Nadel, is an invited speaker on the subject of Pharma Data Integrity at the upcoming CPhI North America which will be held in Chicago April 30-May 2, 2019. Join Brian for a discussion on the reasons why once FDA considers some of a company's data to be inaccurate it considers all of their data to be inaccurate. Brian will also discuss methods for ensuring data integrity both now and in the future.
Steve Armstrong, EAS Independent Advisor for Food Law and Regulation, is co-author of an article published in the March 2019 Food Drug Law Institute Update Magazine covering FDA's recent decision to delist six synthetic ingredients as required by the Delaney Clause, a 60-year-old provision of the Food, Drug, and Cosmetic Act (FDCA) which states, in plain language that FDA may not approve any food additive—even one that is safe—if it is "found to induce cancer" in laboratory animals. Steve hypothesizes as to whether it is time to repeal the Delaney Clause.
Charlotte Peyton, a noted expert in cannabis, has published an article in a recent Cannabis Industry Journal. She discusses FDA's stance with Hemp, CBD versus Isolates, and good manufacturing practice considerations. You may also wish to view the recent 2018 Farm Bill and the Cannabis Industry webinar presented by Attorney Marc Ullman, Of Counsel with Rivkin Radler and Tara Lin Couch, PhD, Senior Director of Dietary Supplement and Tobacco Services. This webinar is available on-demand on the EAS website.
EAS Independent Advisor for OTC Drugs and Labeling, Susan Crane, published a blog discussing the future of Homeopathy on the International Society of Pharmaceutical Engineering (ISPE) blog page iSpeak. FDA and FTC are taking a more proactive approach to homeopathic drugs indicating that they will be held to the same standard as other products with regard to claims.
In the competitive cosmetics world, discerning consumers are carefully considering product purchases to determine which offer the results they are hoping to achieve. In response, the pressure on marketing and labeling teams may entice to push the envelope with regards to product claims. However, words do matter, particularly in the eyes of FDA. Learn how the words used on a cosmetic label can alter the intended meaning of a claim and FDA views on them. Ensure your cosmetic products are labeled and marketed in a compliant manner, offering consumers an accurate understanding of what they can expect and protecting your products from FDA concerns. Join Norma Skolnik on May 7, 2019 for a complimentary webinar and ensure your cosmetic product labeling and claims are compliant with FDA regulations.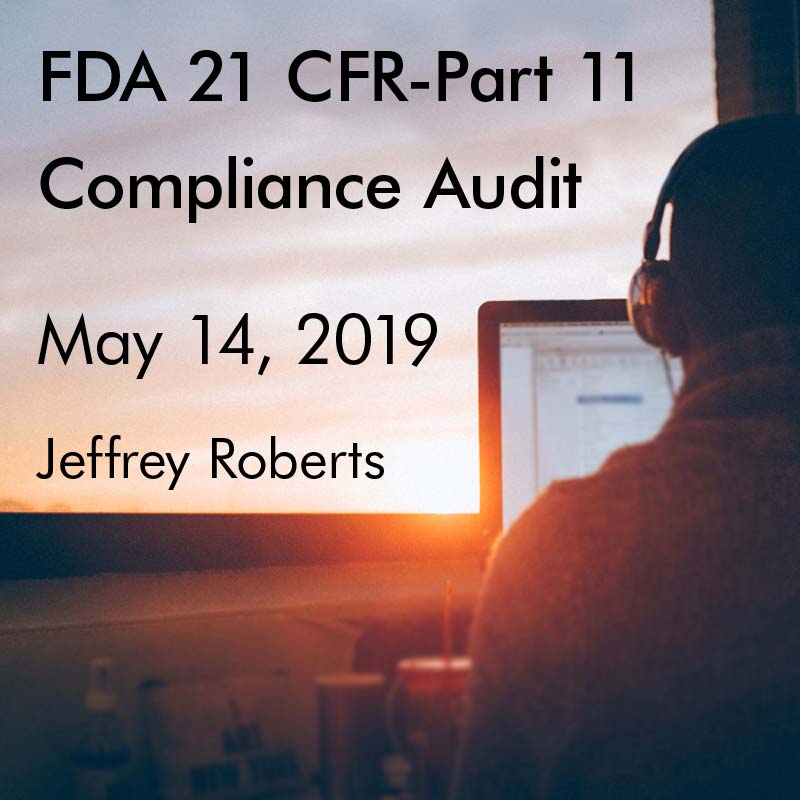 Regardless of the type of industry, if you are regulated by the FDA you are bound by the rules around electronic data integrity. Whether preparing to release a finished batch of material, making decisions on data and information that was created and generated electronically or preparing to file a technical dossier with the FDA; your electronic recordkeeping and other electronic data forms require more than just being available for review and inspection. The FDA requires these sources of evidence to be generated, processed and maintained in a manner that provides complete traceability, prevents unauthorized alteration and requires a verified electronic signature that ensures identity and authenticity. Learn the specifics of Part 11 requirements for electronic signatures with Jeffrey Roberts on May 14, 2019. This complimentary webinar will discuss how record keeping is inclusive of a larger focus on GMPs for electronic records that are created, modified, maintained, archived, retrieved, or transmitted as well the specifics of content that must be included in these records for verification and validation.
| | |
| --- | --- |
| | |
Order Publications and Regulatory Tools
Food Labeling Handbook: A Concise Guide for 21 CFR 101
This 115-page Food Label Handbook offers in-depth detail to assist companies in developing compliant food labels based on FDA's final rule. Developed by EAS Independent Consultant, Gisela Leon, the guide discusses how changes to nutrient values are listed and how those changes impact claims.
EAS has a wide array of products to aid in your company's regulatory compliance.
To view the products that EAS sells visit our products page.
Consulting · Submissions · Auditing · Training · Legal Support