Foods · Dietary Supplements · Cosmetics · Veterinary · Medical Devices · Drugs · Tobacco · Cannabis
| | |
| --- | --- |
| 1700 Diagonal Road, Suite 750; Alexandria, VA 22314 · (571) 447-5500 | September 2018 |
From the Desk of the Chairman
Dear Reader,

Ed Steele, Chairman
and CEO

Welcome to the EAS-e-News, a free newsletter for FDA-regulated industries. I am very pleased to report that the new EAS website, a project, that we have been working on for some time, is now live. We invite you to visit it at the same URL as our previous website – easconsultinggroup.com. There are a number of new features here which I am sure you will agree, provide for easier navigation, improved access to our and the Agency's information as well as a more attractive design. For example, those who work in the food industry will find our short videos which highlight just some of EAS services are easily accessible on the main Food Services tab. In addition, a newly created tab called Resources includes the latest press releases, recalls and enforcement reports from the Agency as well as valuable regulatory information authored by EAS staff and independent consultants and published in industry trade journals as well as current and past issues of what I hope is your favorite go-to regulatory newsletter, EAS-e-News. Please visit our new website! I hope you find this new layout to be easy to navigate and a great resource of information!

Our Issue of the Month article written by Independent Consultant James Evans covers Mutual Recognition Agreements (MRAs). Recently annexed in 2016, these MRAs between EU countries and the U.S. allow for better distribution of resources in cases where an EU country's facility inspection standards are equitable to FDA's. In such cases, more focus can be applied to those facilities that warrant a closer eye. These MRAs by no means suggest that Quality and GMP vigilance can be lessened in those facilities operating in countries with MRAs. EAS offers a thorough inspection and audit program specific to the requirements of pharmaceuticals and all FDA regulated industries. These audits, in some cases, are offered as "mock-FDA" inspections assist companies in understanding not only their responsibilities under the law but, also how they can improve areas of need to create a robust operational structure.

Our FSMA Perspective discusses the FSMA Preventive Controls, which are now beginning to see enforcement actions taken by the Agency. It is always the right time to assess compliance with these important safety protocols which aim to eliminate potential sources of contamination before they have a chance to enter into processing and production facilities. This is good for public health, operational efficiency, required by law and of course, the right thing to do.

Our Ask the Expert includes a question from one of our readers that sees a real challenge in the food industry about how to comply with the FSVP rules under FSMA. FDA is rapidly and significantly ramping up their inspections of FSVP requirements and finding that in many cases firms are failing to develop a foreign supplier verification program. This month's question gets to the heart of the challenge – what exactly is an FSVP?

We introduce new consultants Norris Alderson, Ph.D., Carl Custer, John Sawyer, Randy White and John Ziobro. EAS continues to recruit the best in regulatory talent to join our team of independent consultants enabling us to maintain our reputation as a leading consulting firm for FDA regulated industries. In addition to our new consultants, we welcome Jodi Burns, our new Office Manager and the voice behind the phones when calling the EAS home office as well as Shachi Shah, our regulatory intern. I invite you to read more about their backgrounds in the Who's Who section of this issue.

Thank you all for your interest in EAS and our EAS-e-News. I invite you to share any feedback on this issue or our website. As always, please feel free to share this newsletter with your colleagues.

Sincerely,

Ed Steele
Chairman and CEO

Upcoming Presentations and Conferences
| | |
| --- | --- |
| | |
Issue of the Month
By James Evans
FDA has been implementing the Safety and Innovation Act since it was passed by Congress in 2012. The Act requires FDA to establish Mutual Recognition Agreements (MRAs) which are agreements between two or more countries to recognize a specific process or procedure of the other country. The FDA's MRA was preceded by the 1998 signing of the U.S. and the EU Agreement on Mutual Recognition which included a Pharmaceutical Annex providing for recognition of each other's GMP ... [more]
Who's Who at EAS
James Evans
(Drugs, Medical Devices, Biologics)

James Evans has more than 30 years of experience as an FDA auditor and specializes in pharmaceuticals, medical devices, biologics, and biotechnology. His expertise includes pharmaceutical inspections, antibiotics, radiopharmaceuticals, parenteral, sterilization, clinical/non-clinical (GLP) laboratory studies, and computer systems validation and pharmacology. In addition, he is well-versed in HACCP inspections for low-acid canned food and infant food manufacturing operations.
| | |
| --- | --- |
| Jodi Burns | Office Manager, Jodi Burns, has extensive management experience in non-profits and for-profit firms, overseeing projects, human resources and developing policies and procedures. She has worked for organizations such as Clear Chanel Radio, Noell Clevenger & Company, CBS Radio, Loving Couples, Loving Children, Inc., among others in her career. Jodi is the front-line manager of the EAS home office and provides assistance to both consultants and clients in a variety of areas. |
| | |
| --- | --- |
| Shachi Shah | Shachi Shah is an intern at EAS and a graduate from the Georgetown University BioBusiness Master's Program. Her coursework focused on bioinformatics, Molecular Medicine, cGMPs. Shachi will begin her career in the fall when she begins working at a biotechnology company that develops vaccines protective against malaria. |
Norris Alderson, Ph.D.
(Animal Foods, Animal Drugs)

Norris Alderson, Ph.D.

Norris Alderson is an expert in the approval process for veterinary products and assists clients with understanding FDA guidance for data requirements for animal drugs to include additives for animal feeds and process for review by FDA. He also helps clients understand processes for interacting with FDA in the development of products and has experience in managing and understanding functions of institutional review boards including the National Nanotechnology Coordination Office. Prior to consulting, Dr. Alderson spent his career at FDA, most recently as the Associate Commissioner for Science and the Director of the Office of Science and Health Coordination.
Carl Custer
(Foods)

Carl Custer

Carl Custer is an expert in HACCP, microbiology of dried meat products and special processes for retail foods and spent his career at USDA/FSIS investigating foodborne outbreaks. He consults in problem-solving on issues including contamination by Listeria spp., Salmonella, and foreign materials and serves as an expert witness for legal firms on spoilage factors.
John Sawyer
(Medical Devices)

John Sawyer

John Sawyer is a regulatory and quality professional with over 30 years of experience in the medical device, electronic and aerospace industries. He is a Senior Member of ASQ and a registered Lead Quality Management Systems Auditor with the International Register of Certificated Auditors out of London. His current work focuses on providing FDA QSR, ISO-13485-2016, EU MDD, EU MDR, CMDCAS and other regulatory/quality consulting services.
Randy White, Ph.D.
(Biologics)

Randy White, Ph.D.

Randy White is a consultant for medical devices, pharmaceuticals, biologics, nutritional supplements. Prior to consulting he worked for WuXi AppTec and Baxter Healthcare Corporation overseeing the performance of toxicology and safety studies to include testing strategy, study design, and animal model development, as well as preparation of toxicology reviews for regulatory submissions and toxicity/risk assessments, study director for GLP studies. He has a Ph.D. in Animal Science Nutrition from Oregon State University.
John Ziobro
(Medical Devices)

John Ziobro

John Ziobro is an experienced professional in the medical device industry. His expertise includes engineering and new product development from concept-through-completion, design controls, design traceability, technical files including 510(k) submissions, device history records, and design dossiers. John's background includes vast experience in electromechanical design, verification and validation; component selection and vendor audits.
FSMA Perspective
By Charles Breen, EAS Independent Advisor for FSMA Consulting Services
Charles Breen
With the recent issuance of a Warning Letter citing violations of Part 117 subpart C (preventive controls), implementation of FDA's Preventive Controls rule takes its next step – FDA will cite food facilities for preventive control failures. Everyone paying any attention to FSMA knew this would happen, and as long as it happens to someone else, it can be a low pain, high gain learning opportunity.
For example, we now know FDA objects to food facilities that make a ready to eat ... [more]
Drug and Device Corner
The FDA recently sent a reminder email to registered drug establishments regarding the Drug Supply Chain Security Act's (DSCSA) impending requirements. Production of a prescription drug that meets the definition of "product" (see section 581(13) of the FD&C Act noted below), now requires manufacturers to affix or imprint a product identifier to each package and homogenous case of a product intended to be introduced into commerce by November 28, 2018. A product identifier ... [more]
Ask the Expert
Allen Sayler
Ask the Expert offers a chance for our readers to submit questions to EAS regarding areas of regulatory confusion. This month's question is answered by Allen Sayler, Senior Director of Food Consulting Services. If you'd like to submit a question, please use the "contact us" link on our website.
Question: FDA is cracking down on enforcement of the Foreign Supplier Verification Program (FSVP) through inspections of US-based FSVP importers with almost 200 FDA 483s issued stating "failure to develop an FSVP" which allows FDA to designate the imported food as "adulterated" and demand it be removed from the US marketplace. FDA has budgeted over 2000 foreign inspections/investigations during the coming year so "failure to develop an FSVP" is likely to become more common, forcing FDA's hand to strengthen its regulatory enforcement. The question is, "When will FDA remove the "soft glove", training and educational approach and move toward active enforcement of the FSVP regulation?" The second related question is, "How does the FSVP Importer know if their FSVP meets FDA expectation?"
Answer: Interesting questions and one thing I have learned during my long regulatory career is that one can never accurately predict when FDA will publish a new regulation, direct their field investigators to intensify their regulatory ... [more]
What's New on FDA's Website
August Updates
Listed below are links to new additions to the FDA website for the month of August, 2018. Use of this section of EAS-e-News is intended to provide an "easy" way to keep current with FDA news and information.
EAS in Action
Companies looking to ensure employees understand of the most up to date FDA requirements may look to EAS for their training solutions. With three upcoming seminars
Our expert trainers will provide a detailed approach to complicated and often confusing challenges enabling take-aways that can be readily applied to improve compliance. Training seminars can also be offered in-house and customized to specific needs.
EAS Independent Consultant, Kathy Knutson, Ph.D. will host a complimentary webinar on the importance of Environmental Monitoring on September 17, 2018, at 11:00 PM Eastern. Given the hot-button issue of pathogen contamination, even with the best of safety controls, it is imperative that companies have a robust environmental monitoring program that includes vigilant and regular testing. Join Dr. Knutson for this complimentary webinar!
EAS President and COO, Dean Cirotta and Senior Director for Dietary Supplements and Tobacco Services, Tara Lin Couch, Ph.D. will present a free webinar on October 9, 2018, at 1:00 PM Eastern on Preparing for the Tobacco Product Manufacturing Practices Rule (TPMPs). This webinar is hosted in cooperation with the Tobacco Merchants Association. Since CTP Director, Mitch Zeller's announcement at the 2018 TMA Annual Meeting that the Agency is prioritizing a TPMPs, the industry has been speculating regarding what these rules may encompass. Join us October 9th for this informative webinar, which will provide an overview of expectations for the TPMP rule and how you can begin assessing your current quality systems.
Andrea Yablunosky will be speaking on Food Labeling: Nutrient Content, Health, and Other Claims on September 24, 2018 at the upcoming FDLI Introduction to Food Law and Regulation which will be held in Washington, D.C. She'll discuss a variety of claims including Natural, Organic and Fresh as well as the effects of state law litigation on use of Health Claims.
Priya Jambhekar will be presenting the session on Regulations of Biologics Manufacturing on October 4, 2018, at the FDLI Introduction to Biologics and Biosimilars, taking place in Washington, D.C. She'll discuss standards of inspections, the scope of pre-approval inspections as well as responding to FDA 483 forms and warning letters.
We had an overwhelming response to our recent webinar "Quality Systems for the Cannabis Industry" presented by Tara Lin Couch, Ph.D., Senior Director for Dietary Supplement and Tobacco Services. Independent Consultant, Peter Saxon, presented a webinar for foreign firms to understand how to manage FDA inspections. Also, April Kates presented a webinar on Temporary Marketing Permits Opportunity and pitfalls of the Specialized FDA Application. All recordings are available on the EAS website under the On-Demand Webinars tab and are available for viewing.
Robert Lavieri authored a guest column in Food Safety News on the important and often overlooked "human element" to food safety planning and programs. Companies spend much time and effort designing and cross-checking procedures to protect against food safety issues, but the human element or employee training and assurance of appropriate training to the job function is equally important. Make sure you "test, verify and regularly evaluate and hold accountable the human elements as you do your equipment i.e. Process Control, Automatic Sampling, CIP, Calibrations, etc," he says.
Mehrdad Tajkarimi discusses the importance of food safety training as a solution to FSMA challenges in Part One of a three-part series for Food Safety Magazine. "There are several challenges ahead for proper food safety training at all levels," he says. "These challenges include, but are not limited to, numbers of training hours, type, content, and facilitation procedures." The types and applications of training have dramatic impacts on food safety management systems, improvements in FSMA compliance, and employee productivity.
Senior Director for Dietary Supplements, Dr. Tara Lin Couch was interviewed for a Natural Products Insider podcast on contract manufacturing partnerships. Dr. Couch is one of two EAS presenters for the upcoming SupplySide West trade show taking place in Las Vegas. Stay tuned for more information on EAS presentations by Dr. Couch and EAS Independent Consultant Heather Fairman.
Independent Consultant Mehrdad Tajkarimi and Senior Director Allen Sayler co-wrote an article for Natural Products Insider discussing Cause, Effect and Impact of RTE Operations on complying with FDA's draft Listeria guidance. Food manufacturers are expected to operate within an entirely new scheme of "design out" of potential entry and harborage of Listeria, develop "hygienic zoning", enhance monitoring and record keeping for cleaning and sanitizing a food processing facility and more. As FDA inspectors use draft FDA guidance for Control of Listeria Monocytogenes in Ready to Eat Foods during routine and targeted investigations, these new criteria, as well as others found in the guidance, will become the new benchmark of safety against Listeria in RTE operations.
Senior Director for Food Consulting Services, Allen Sayler, has written an article for Food Safety Tech on FDA Fast-Track Unified and Listing Systems (FURLS) program and whether it is expediting or impeding access to overseas markets. "The FDA recently released a notification that their FURLS system has been updated to include an Export Listing Module (ELM)," he says. This allows U.S. food manufacturers to electronically submit, and for FDA to receive and process requests for inclusion on the export lists for FDA-regulated food products and present these lists to countries that require them, whether a company is participating in this program or is looking for new markets outside the U.S.
EAS authored an article discussing options for dietary supplement ingredient submissions – New Dietary Ingredient (NDIs) and Generally Recognized as Safe (GRAS) on August 8, 2018, of the AHPA Report (AHPA membership required to view). Botanical chemicals may be isolated and also sold as dietary supplements, and in some cases, FDA's interpretation of botanical and plant parts would qualify them for an NDI submission. In some cases, GRAS is a more appropriate submission for this unique category of botanicals. EAS can discuss your particular situation and help you to determine the right path for your product.
Order Publications and Regulatory Tools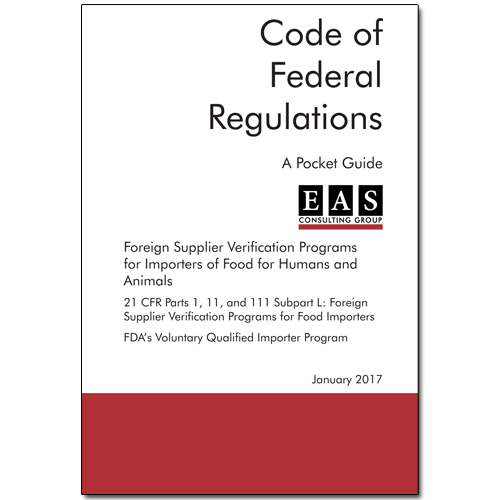 Foreign Supplier Verification Pocket Guide
A 4″x6″ bound copy of 21 CFR Parts 1, 11, and 111 Subpart L, Foreign Supplier Verification Programs for Food Importers as well as FDA's Voluntary Qualified Importer Program, designed to fit in shirt pockets of management and plant personnel. Bulk discounts available.
EAS has a wide array of products to aid in your company's regulatory compliance.
To view the products that EAS sells visit our products page.
Consulting · Submissions · Auditing · Training · Legal Support