Foods · Dietary Supplements · Cosmetics · Veterinary · Medical Devices · Drugs · Tobacco · Cannabis
| | |
| --- | --- |
| 1700 Diagonal Road, Suite 750; Alexandria, VA 22314 · (571) 447-5500 | October 2018 |
From the Desk of the Chairman
Dear Reader,

Ed Steele, Chairman
and CEO

Welcome to the October 2018 edition of the EAS-e-News, a free news publication for industries regulated by FDA. I'd like to invite you to view our latest video discussing EAS services in the infant formula industry. These short videos are a few minutes in length and designed to give you a better understanding of EAS capabilities and expertise of our many talented consultants. You may find all of our capability videos at the bottom of the page under the food tab of the EAS website.

We have a number of new webinars planned for the month of October and early November that we invite you to sign up for. From Preparing for Tobacco TPMPs, to Own Label Distributor Responsibilities and Pharma Data Integrity our complimentary webinars offer the latest regulatory information in a concise one-hour format with time for Q&A.

Independent Consultant, Priya Jambhekar will be speaking at FDLI's Introduction to Biologics and Biosimilars Law and Regulation on the Regulation of Biological Marketing. This event is being held October 3-4, 2018 in Washington, D.C.. Dean Cirotta will be moderating a panel at the upcoming FDLI Tobacco and Nicotine Products Regulation and Policy Conference which is also being held in Washington, D.C. on October 25-26, 2018. Independent Advisor for OTC Drugs and Labeling, Susan Crane, will be presenting a session as part of the CHPA Academy's OTC 101 course on OTC drug labeling regulations. This course is being offered in Wilmington, DE October 9-10, 2018.

Our Issue of the Month article is written by Independent Consultant Norma Skolnik and is on the legislation to reform the OTC Drug Monograph System called the OTC Drug Safety, Innovation, and Reform Act. EAS has a strong team of consultants who have in-depth knowledge of the OTC monograph process as well as the Rx to OTC switch. Our FSMA Perspective written by EAS Independent Advisor for FSMA, Charles Breen is on FDA's new fee-based program Export Certifications for certain food products.

We hope you enjoy this issue of EAS-e-News and we hope that you'll join us at one of our many webinars and presentations in the coming weeks. It is always a pleasure to meet those who also have a vested interest in ensuring the safety and compliance of FDA Regulated products. We welcome your questions and comments and please feel free to share this newsletter with your colleagues.

Sincerely,

Ed Steele
Chairman and CEO

Upcoming Presentations and Conferences
| | |
| --- | --- |
| | |
Issue of the Month
By Norma Skolnik, Independent Consultant
With the aim of overhauling the regulation of over-the-counter (OTC) monograph drugs, U.S. Senators Johnny Isakson and Bob Casey recently sponsored bipartisan legislation, the Over-the-Counter Drug Safety, Innovation, and Reform Act of 2018, S.2315. The bill, which has already passed in the House of Representatives, was approved by the Senate Health, Education, Labor, and Pensions committee on April 24, 2018, and was received by the Senate at large on July 17, 2018. ... [more]
Who's Who at EAS
Norma Skolnik
(Pharmaceutical, OTC Drug, and Dietary Supplement)

This month's Issue of the Month on Serious Adverse Events Reporting is written by Independent Consultant, Norma Skolnik. Norma has over 35 years of regulatory experience working with the pharmaceutical, OTC drug, and dietary supplement industries. Prior to consulting, she served as Director of Regulatory Affairs for the Americas for Cadbury Adams until her retirement. She also held the positions of Director of Regulatory Affairs for the Adams Division of Pfizer and Associate Director of Regulatory Affairs for the Warner-Lambert company.
FSMA Perspective
By Charles Breen, EAS Independent Advisor for FSMA Consulting Services
Charles Breen
On August 31, 2018, FDA announced a new voluntary export certification option for certain foods as authorized under FSMA, similar to that available for qualified pharmaceuticals and medical devices. This new export certification program and its associated fees will allow the agency to collect up to $175 for export certifications for food for human consumption, with the exception of dietary supplements, medical foods, and foods for special dietary use. The issuance and ... [more]
Drug and Device Corner
EAS would like to remind clients, the FDA FY 2019 establishment registration renewal period begins this month. With reference to Drug Establishments, please make sure you are aware of your obligations under the Drug Supply Chain Security Act (DSCSA) during this drug listing certification period. The FDA has released several guidance documents to assist.
In the event you not already seen the Statement from FDA Commissioner Scott Gottlieb, M.D, EAS highly recommends you ... [more]
What's New on FDA's Website
August Updates
Listed below are links to new additions to the FDA website for the month of September, 2018. Use of this section of EAS-e-News is intended to provide an "easy" way to keep current with FDA news and information.
EAS in Action
EAS Senior Director for Dietary Supplement and Tobacco Services, Tara Lin Couch, Ph.D., Independent Consultant Heather Fairman, and President and COO Dean Cirotta will represent EAS at the upcoming SupplySide West show November 6-10, 2018 in Las Vegas. You may find EAS at booth #5641. EAS is also well represented in the SupplySide West technical sessions as Tara will discuss Effectively Partnering with a Contract Laboratory as part of a panel on Wednesday, November 7 from 1:30-4:30 pm; and Tara and Heather will present on Contract Manufacturing scheduled for Saturday, November 10 from 8:30am-11:30 am. In addition, President and COO, Dean Cirotta will moderate a panel as part of the 7thannual AHPA Botanical Congress in Cooperation with ABC on how 21 CFR 111 applies to the Dietary Supplement industry.
Dean Cirotta will moderate a panel at the upcoming FDLI Tobacco and Nicotine Products Regulation and Policy Conference concerning "The Latest on Product Standards and Other Potential Regulatory Action". The conference, which takes place October 25-26, 2018 in Washington, D.C., will address issues of effectively regulating the broad spectrum of tobacco and nicotine products both in the U.S. and globally.
Senior Director, Tara Lin Couch, Ph.D. will attend the Rocky Mountain Dietary Supplement Forum taking place in Boulder, CO October 23-24, 2018. EAS will also exhibit at this event where leaders from the dietary supplement industry will convene to discuss best practices in regulatory compliance. Please stop by the EAS exhibit table to say hello and discuss any questions you may have.
EAS is offering a number of complementary regulatory webinars this fall. Please join us for these live sessions or view one of our On-Demand webinars found under the Resources tab of our website.
Preparing for Tobacco TPMPs – October 9, 2018, at 1:00 pm Eastern
Join EAS President and COO, Dean Cirotta and Senior Director for Dietary Supplement and Tobacco Services, Tara Lin Couch, Ph.D. for a discussion of expectations for FDA's in-development Tobacco TPMP Rule and how you can assess your current quality systems in preparation. This webinar is hosted in Cooperation with the Tobacco Merchants Association.
Own Label Distributor Responsibilities – October 11, 2018, at 1:00 pm Eastern
As more and more OTC drug and dietary supplement companies are contracting out manufacturing, packaging, laboratory testing, and distribution services, it is imperative that those in responsible positions for OLDs gain a full understanding of FDA's requirements for knowing what and how these contracted activities are performed. Learn more about your "OLD" responsibilities and how to document that you are meeting them with EAS Independent Consultant, Bruce Elsner.
Problems with Pharma Data Integrity – October 18, 2018, at 1:00 pm Eastern
FDA takes data Integrity very seriously and their many Warning Letters and Import Alerts to dosage form and Active Pharmaceutical Ingredient (API) manufacturers in the past several years indicate that validation is a consistent problem. Join EAS Independent Consultant Brian Nadel to better understand the Agency's expectations for data integrity as well as how your company can assess your compliance. Learn critical strategies and processes that each firm should undertake to limit data integrity risk and demonstrate reliable data every time.
Independent Advisor for FSMA, Charles Breen has co-authored an article with Stacey Stevens, Senior Vice President of FoodMinds, a food PR firm with which EAS has a collaborative partnership on responding to a food safety emergency. The article, published in Food Quality and Safety magazine discusses the many issues of responding to an emergency and how to focus messaging on that response.
Norma Skolnik discussed Adverse Events Reporting (AER) requirements for the dietary supplement industry in Natural Products Insider. The requirements as well as the Guidance for Industry: Questions & Answers Regarding Adverse Event Reporting and Recordkeeping for Dietary Supplements as required by the Dietary Supplement & Nonprescription Drug Consumer Protection Act," published in 2007 cover SAE reporting for manufacturers and OLDs as well as FDA notification to companies when FDA receives an SAE involving one of their products.
Senior Director Tara Lin Couch, Ph.D. shared Own Label Distributor (OLD) responsibilities in a recent article published in Technoscienze - AgroFOOD Industry HI Tech. Regardless of whether an OLD is domestic or international, the FDA is clear that the OLD is responsible for compliance with the regulatory requirements in 21 CFR 111, she says. "The development of critical OLD processes should include procedures such as qualification of OLD contractors; demonstration that the quality unit is fulfilling obligations of finished product specifications; a complaint system for evaluating all reported consumer concerns for the identification and reporting of Serious Adverse Events (SAEs) to FDA; and change control processes to ensure revisions are tracked and monitored."
EAS Independent Consultant Heather Fairman discussed Own Label Distributor audits of contract manufacturers as well as steps for ensuring their compliance in the Natural Products Insider. "Own label distributors performing contract supplier and/or contract manufacturer audits often have critical blind spots that may result in products not meeting specifications or their quality and safety expectations," she says.
Order Publications and Regulatory Tools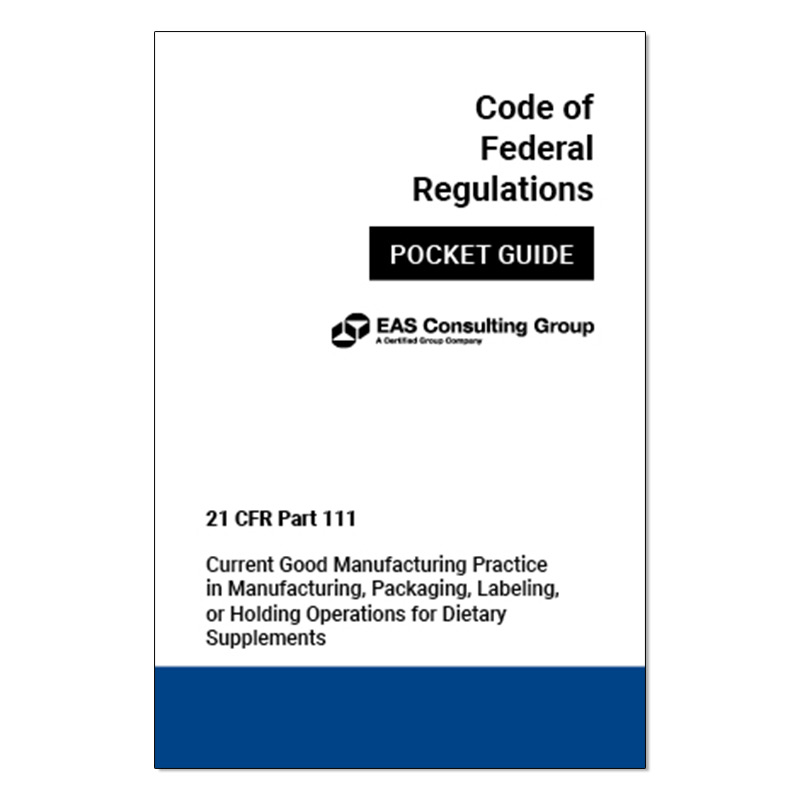 Dietary Supplement GMP Regulation – Pocket Guide
A 4″x6″ bound copy of 21 CFR Part 111 designed to fit in shirt pockets of management and plant personnel. Bulk discounts available.
EAS has a wide array of products to aid in your company's regulatory compliance.
To view the products that EAS sells visit our products page.
Consulting · Submissions · Auditing · Training · Legal Support