Foods · Dietary Supplements · Cosmetics · Veterinary · Medical Devices · Drugs · Tobacco · Cannabis
| | |
| --- | --- |
| 1700 Diagonal Road, Suite 750; Alexandria, VA 22314 · (571) 447-5500 | November 2018 |
From the Desk of the Chairman
Dear Reader,

Ed Steele, Chairman
and CEO

Welcome to the November edition of EAS-e-News, the free newsletter for industries regulated by FDA.

I am pleased to say that our three October webinars, on Responsibilities of Own-Label Distributors, Preparing for Tobacco TPMPs and Problems with Data Integrity are now available on-demand on the EAS website. These webinars, as well as all of our regulatory webinars, are a great opportunity to dig into a particular topic and do so in under an hour. Feel free to peruse our current offerings and join us for one of our newly scheduled webinars:

Declaring Dietary Fiber in Nutrition Information (presented along with FDA for IFT)
Foreign Supplier Verification and How to Protect Your Business (presented for NCBFAA)

Learn more in the EAS-in-Action section of this issue.

We have just announced our Spring compliance seminars which will take place in Philadelphia, PA. Food Labeling will take place March 12-13; Dietary Supplement Labeling will take place March 14-15 and Dietary Supplement GMP will take place April 2-3. With FDA's new requirements for food and dietary supplement labels including fiber, there have been many questions on how to comply. Additionally, FDA's continued enforcement of GMPs requires hyper-vigilance by industry. We hope you'll join us!

We welcome two new consultants and a new regulatory intern from Georgetown University. Welcome to consultants Charlotte Peyton who is an expert on cannabis GMPs and Steven Kurtz, an expert in dairy. In addition, our new regulatory intern Neha Mookuparambil is completing an M.S. in Biotechnology.

EAS just completed a major office expansion and redesign which includes photographs of our hometown, historic "Old Town" Alexandria, VA, taken by award-winning photographer, Carol Jean Stalun. I invite you to learn more about Ms. Stalun in this issue as well as stop by our newly redesigned offices whenever you are in the D.C. area.

As FDA is increasing its numbers of FSMA and FSVP inspections as well as issuing warning letters and 483s, we focus our attention on the subject of FSMA in our Issue of the Month, written by Bryan Armentrout who discusses common pitfalls when choosing new testing methods; Ask the Expert on how to respond to food recalls under FSMA; as well as our FSMA Perspective, where Charles Breen shares more information on FDA's decision to release retailer information in some circumstances during a food recall. The industry is certainly a-buzz now that the effective date of the new FSMA rules have passed, (minus some very small businesses), and firms are assessing which rules apply to them and how to comply. If EAS can help with your FSMA readiness please feel free to reach out me.

I am very pleased to announce that EAS President and COO Dean Cirotta was an invited speaker to the United Nations, speaking to the SIDS DOCK IWON on EAS regulatory capabilities. Dean was accompanied to the UN by Tara Lin Couch, Ph.D., Senior Director of Dietary Supplement and Tobacco Services and Heather Fairman, EAS Independent Consultant and SIDS DOCK IWON Advisor and Technical Coordinator and Lisa Cirotta, who assists in EAS accounting department. If you have not already read our press release, it is included in this issue for your information.

Thank you as always for choosing to subscribe to EAS-e-News. We invite any comments that you may have and feel free to share this issue with colleagues.

Sincerely,

Ed Steele
Chairman and CEO

Upcoming Presentations and Conferences
| | |
| --- | --- |
| | |
Issue of the Month
By Bryan Armentrout
We are now firmly in the era of the Food Safety Modernization Act. It's no longer theoretical, it's real world, and FDA is auditing and asking questions about what they are seeing.
I think we can all agree on one thing. The way we looked at environmental pathogen testing in the past is out the window. Gone are the days of testing the same 10 sites every few months for generic Listeria and calling it good. Sometimes, you would get a hit and do an investigation, but that was the extent of ... [more]
Who's Who at EAS
Bryan Armentrout
(Foods)

Bryan Armentrout is an expert in dairy, quality, system development, Safe Quality Foods, (SQF), Hazard Analysis and Critical Control Points (HACCP), design control, auditing, troubleshooting, recall, and crisis management, and process improvement. Prior to consulting he was the Vice President of Quality Assurance and Food Safety with Boulder Brands and the Vice President of Quality Assurance and Food Safety at CSC Sugar, LLC. He has a history of benchmarked success leading companies to more efficient and compliant processes.
Charlotte Peyton
(Cannabis, Dietary Supplements and Drugs)

Charlotte Peyton has 30 years of industry experience in analytical chemistry working under FDA, EPA and Colorado Marijuana Enforcement Division regulations. She has been a bench chemist, method development chemist and overseen quality management. She has extensive laboratory experience as well as experience with stability programs, cleaning validations, process validations, and SOPs.
Steven Kurtz
(Food)

Steven Kurtz supports EAS dairy clients with the interpretation of regulations and development of policies to maintain compliance with FDA, USDA and state requirements. He has an in-depth understanding of dairy equipment and processes including NCIMS, 3-A Sanitary Standards.
| | |
| --- | --- |
| Neha Mookuparambil | EAS is very pleased to welcome our new intern from Georgetown University, Neha Mookuparambil, who is completing an M.S. in Biotechnology.  Her career interests include the fields of Drug Regulatory Affairs, Clinical Research, and Biopharmaceutical Business Development. Prior to Georgetown, she completed a PharmD degree at the Bharati Vidyapeeth University in Pune, India.  She has worked as a healthcare blogger and intern clinical pharmacist at the Bharati Hospital and Research Centre.  |
FSMA Perspective
By Charles Breen, EAS Independent Advisor for FSMA Consulting Services
Charles Breen
In an effort at greater transparency as well as consumer safety, FDA issued Draft Guidance this month proposing how and when FDA would publicize the identities of retail consignees that may have received recalled human or animal foods. This release of retailer information would only occur in cases where a food recall presents a serious adverse health consequence or death to humans or animals (SAHCODA), i.e., Class I recalls. The intention is to provide information to ... [more]
Ask the Expert
Charles Breen
This month's Ask the Expert is on how to prioritize planning for food safety emergencies, particularly in light of the challenges of not only the emergency itself but recovering from it with your company's reputation intact. It is answered by Charles Breen, EAS Independent Advisor for FSMA and Stacey Stevens, a Senior Vice President at FoodMinds, a division of Padilla. FoodMinds is EAS' newest cooperative partner, and together our services help our clients working in the food industry to tackle regulatory and public relations challenges.
Question: As part of FSMA I am working to develop our company's food safety contingency plans. How do I prioritize and plan for the first steps we need to take – investigations, recall communications and managing our public relations?
Answer: Great question and one worthy for all companies to consider, especially, as you point out on the regulatory side, FSMA mandates include both a hazard analysis risk assessment and if hazards in need of control exist, a recall plan. ... [more]
What's New on FDA's Website
October Updates
Listed below are links to new additions to the FDA website for the month of October, 2018. Use of this section of EAS-e-News is intended to provide an "easy" way to keep current with FDA news and information.
EAS in Action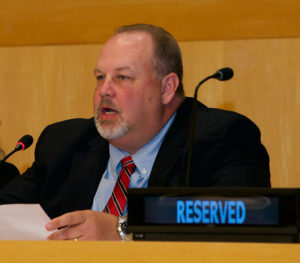 Dean Cirotta presenting at U.N. Assembly.
Photo Credit: @gregmorrisphotographer
EAS Consulting Group is honored to announce that Dean Cirotta, EAS President and COO, was an invited key speaker to the September 29, 2018 Fourth Session of the SIDS DOCK Assembly – the Sustainable Energy and Climate Resilience Organization, at the United Nations Headquarters in New York City, to discuss EAS regulatory capabilities in support of 32 small islands and low lying nations seeking to export US Food and Drug Administration (US FDA) regulated raw material ingredients and products into the United States. ... [more]
EAS Independent Consultant and labeling expert, James Hoadley, Ph.D. will present a webinar focusing on Declaring Dietary Fiber in Nutrition Information along with Douglas Balentine, Ph.D., Director, Office of Nutrition and Food Labeling, and Sarah Gebauer, Ph.D., Nutritionist at the Center for Food Safety and Applied Nutrition, FDA. The webinar will take place on December 6, 2018, at 9:00 AM - 10:00 AM CT and will be hosted by the Institute for Food Technologists (IFT).
FDA's release of two Guidance documents in 2018 on labeling of dietary fiber, as well as the prior publication of a scientific review of non-digestible carbohydrates being evaluated for the physiological benefit, have created a need for clarification of these guidance documents to solve industry confusion. Most of the fiber ingredients currently used by industry and declared on labels as fiber have been acknowledged as fiber either by regulation or by enforcement discretion, but what next? FDA, EAS and IFT will join forces to discuss the policy on labeling dietary fiber and unravel challenges facing the food industry as it considers the path forward. The webinar is free for IFT members, non-members may register for $20. Join us!
EAS Independent Advisor for FSMA, Charles Breen and EAS Independent Consultant, Bryan Armentrout are presenting a webinar focusing on FSVP requirements for the National Customs Brokers and Forwarders Association, NCBFAA. Titled "Foreign Supplier Verification and How to Protect Your Business" the webinar is open to members and non-members of NCBFAA and will take place November 8, 2018, from 12-1 pm Eastern.
FDA's recently increased inspections of importers to evaluate their compliance with FSVP requirements is a reflection of FDA's commitment to making FSVP work. FDA inspections are also revealing that a significant number of importers do not understand what is needed to comply nor how. Customs brokers and freight forwarders, if not importers themselves, can help clients know what FDA is looking for, and who can assist them. Learn actionable steps and protect not just your food, but your business as well. The cost of registration is $50.00 for members of NCBFAA and for non-members, $75.00. For more information or to register, visit the NCBFAA registration page.
We have just scheduled our spring compliance seminars for Philadelphia, PA. Join us March 12-13 for the Food Labeling Compliance Seminar; March 14-15 for the Dietary Supplement Labeling Compliance Seminar and April 2-3 for the Dietary Supplement GMP Compliance Seminar. These are great opportunities to learn the new details of FDA labeling requirements as well as how to comply with GMP provisions for dietary supplements. Early-bird discounts apply as do multiple employees from the same company. Visit our registration pages to learn more.
EAS Senior Director for Dietary Supplement and Tobacco Services, Tara Lin Couch, Ph.D., Independent Consultant Heather Fairman and President and COO, Dean Cirotta will represent EAS at the upcoming Supplyside West show November 6-10, 2018 in Las Vegas. You may find EAS at booth #5641. EAS is also well represented in the SupplySide West technical sessions as Tara will discuss Effectively Partnering with a Contract Laboratory as part of a panel on Wednesday, November 7 from 1:30–4:30 pm; and Tara and Heather together will present on Contract Manufacturing scheduled for Saturday, November 10 from 8:30 am–11:30 am. In addition, President and COO, Dean Cirotta will moderate a panel as part of the 7thannual AHPA Botanical Congress in Cooperation with ABC on how 21 CFR 111 applies to the Dietary Supplement industry.
EAS will be presenting two sessions at the upcoming Food Safety Tech's Food Safety Consortium taking place November 13-15, 2018 in Schaumburg, IL. Independent Consultant Andrea Yablunoksy will present on Recall Readiness: Understanding Requirements, Similarities & Differences in a USDA and FDA Program and Kathy Knutson, Ph.D. will discuss Lessons Learned in Food Safety and Applied to Cannabis-infused Edibles as part of the Cannabis Quality track. Both presentations take place on November 15th.
Independent Advisor for Food Law and Regulation, Steve Armstrong, JD, has written an article on the Good Food Movement for Natural Products Insider. "Consumers are increasingly looking for foods with clean labels," he says. Unfortunately, there is no regulatory definition to guide the terms "clean label" and "good foods".
Senior Director for Dietary Supplement and Tobacco Services, Tara Lin Couch, Ph.D. discussed challenges facing Own Label Distributors in the Natural Products Insider. Although a firm may contract certain dietary supplement manufacturing operations, it cannot contract out ultimate responsibility for compliance with GMP requirements.
Beth Crozier-Dodson published an article in Meating Place discussing top tips for proactive pathogen control in poultry processing. "One of the most significant aspects of any poultry food safety plan is the implementation of pathogen control measures at each critical control point identified in the processing plant. Those who do this in a proactive manner will be able to reduce the risk of microbial contamination that could prompt a costly recall."
James Evans expanded on his September 2018 issue of the month article on MRAs in an article published in Tablets and Capsules magazine. He discusses MRAs in-depth, as well as Field Action Reports, Med-Watch Reports, and Drug Quality Sampling and Testing as methods of monitoring the U.S. drug product supply chain.
Carl Custer wrote about the challenges of Listeria, Salmonella, extraneous materials and worse in an article published in Food Safety Magazine. Carl also shared some of his experiences at problem-solving both while at FSIS and working with clients as a consultant, observing plant practices as "third-eye" in order to solve food safety problems.
Senior Director for Pharmaceuticals and Medical Devices, Bryan J. Coleman discussed innovations and the regulatory landscape in an AdvaMed MedTech blog. Bryan shared his thoughts as FDA continues to harmonize and leverage existing regulatory approaches in increasingly more creative ways that allow the industry to grow and flex along with innovation. Still based in sound science and documented evidence, FDA expects sponsor and contract manufacturers to tighten controls over raw materials and component quality equal to internal design and production. Now more than ever companies must plan and prepare for meeting quality requirements and ensure quality measures are weaving design, supporting technologies, supply chain and feedback mechanisms into one cohesive program.
EAS Headquarters has just undergone a renovation to add additional space to its headquarter offices in the heart of Old Town Alexandria. Included in the buildout is more office space to accommodate expanding staff and the inclusions of a larger conference and training room equipped with state of art audio visual equipment. EAS now has the facility to hold in-house training course and to conduct video training programs and conferences with clients throughout the world. The office is conveniently located across from the King Street Metro Station within minutes of Reagan Airport and downtown Washington.
The corridors are lined with photographs taken of historic Old Town Alexandria by a local award-winning photographer, Carol Jean Stalun. Ms. Stalun was recently invited to the office to view her work and to thank her for her contribution to the appearance of our new headquarters. Her photographs can be viewed at https://www.caroljeanstalun.com/.
We welcome all of you to visit us whenever you are in the area. We would be happy to show off our updated space and to meet you in person.
| | |
| --- | --- |
| | |
Order Publications and Regulatory Tools
Current Good Manufacturing Practice, Hazard Analysis, and Risk-Based Preventive Controls for Food for Animals
A 4″x6″ bound copy of 21 CFR Parts 11, 16, 117, is designed to fit in shirt pockets of management and plant personnel. Bulk discounts available.
EAS has a wide array of products to aid in your company's regulatory compliance.
To view the products that EAS sells visit our products page.
Consulting · Submissions · Auditing · Training · Legal Support