Pharmaceuticals · Medical Devices · Biologics · Foods · Dietary Supplements · Cosmetics · Tobacco Products
| | |
| --- | --- |
| 1700 Diagonal Road, Suite 750; Alexandria, VA 22314 · (571) 447-5500 | June 2018 |
From the Desk of the Chairman
Dear Reader,

Ed Steele, Chairman
and CEO

Welcome to the June edition of the EAS-e-News. Summer is upon us but FDA is not slowing down with updates, enforcement, and improvements to efficiency.

On the OTC monograph front, reforms are moving forward which will allow for a more streamlined regulatory process, faster safety label changes, and resources for agency oversight of OTCs as well as to enable innovation. Approximately 60% of medicines sold in the U.S. are OTCs, according to the Consumer Healthcare Products Association, and improvements to the process of OTC regulation will greatly enhance the industry from both and manufacturer and consumer perspective. You may read more about this reform in the Drug/Device Corner.

EAS has added two new training seminars scheduled for October in Alexandria, VA. The FSPCA Preventive Controls for Human Foods (PCHF) and FSPCA Foreign Supplier Verification Programs (FSVP) will take place October 1-3 and October 3-4 respectively. EAS is proud that many of our independent consultants are lead instructors for this FDA recognized training which meets the FSMA intent of a having a "Preventive Controls Qualified Individual" on staff who is able to oversee FSMA compliance at a facility.

Our FSMA Perspective, written by Charles Breen, our Independent Advisor for FSMA, discusses training requirements for GMPs which apply to all industries and is now mandated under FSMA. Meeting this training requirement can be challenging, particularly to those segments which newly fall under the FSMA umbrella such as the craft beer industry. Charles lays out some important training considerations and EAS offers opportunities to meet the requirements through the FSPCA training, as well as providing webinars which offer a broad overview of regulatory requirements.

Registrations for our upcoming Food Labeling and Dietary Supplement Labeling seminars which are taking place in Kansas City, MO at the end of September are strong. If you are in need of compliance training in these areas please join us. The Food Labeling Compliance Seminar also offers 16 CECs through the Commission on Dietetic Registration.

In our Issue of the Month, Dawn Wydner discusses the regulatory landscape for medical devices saying that new technologies are rapidly changing the way device manufacturers operate. The increase in minimally invasive methods, devices that reduce lengthy recoveries, tissue engineered devices, advances in diagnostic and "smart" products all offer substantially better-informed diagnoses and treatments, as well as unique compliance challenges.

Our Ask the Expert is answered by Senior Director for Food Consulting Services, Allen Sayler, and addresses the question of why Codex standards are important, even when companies don't export product or import ingredients and materials from outside the U.S. You may remember, Allen recently returned from a Codex food additive meeting in China, where over 500 new food additive provisions were adopted while another 200 were blocked from adoption or removed from the Codex General Standard for Food Additives (GSFA). Paying close attention to Codex standards definitely does matter.

EAS welcomes new Independent Consultants Charles Otto, Robert Kapp, Ph.D., Sanaullah Khan, John J. Brennan, Ph.D. and Robert Lavieri. I invite you to read more about their backgrounds in the Who's Who section of this issue.

EAS is speaking and moderating in a number of industry events in the next few months, from the American Dairy Safety Association (ADSA), International Association of Food Protection (IAFP), Council for Responsible Nutrition (CRN) to two panels at the Institute for Food Technologists (IFT), EAS continues to be invited speakers, providing the latest regulatory information to a wide industry audience. If you are planning to attend any of these events, please stop by and say hello.

Lastly, I wish to recognize two consultants who have been named to the USDA National Advisory Committee on Microbiological Criteria for Foods, Dr. Omar Oyarzabal, who is a returning member and Dr. Kathy Glass who is a newly elected member. Those who participated in our hugely popular webinar on FSMA's impact on Acidified Foods will remember Dr. Oyarzabal. This webinar generated so many questions that EAS authored a Q&A published in Food Safety Tech Magazine, based on the presentation. Dr. Glass was one of a panel of presenters that included Mickey Parish, a senior science advisor with FDA CFSAN and Elizabeth Fawell, counsel at the law firm Hogan Lovells in a webinar covering FDA enforcement for Listeria in food processing. Congratulations to both Dr. Oyarzabal and Dr. Glass!

Thank you as always for your interest in EAS and I hope you enjoy this latest edition of EAS-e-News. Please feel free to share this newsletter with your colleagues and please feel free to reach out should you have any questions.

Sincerely,

Ed Steele
Chairman and CEO

Upcoming EAS Seminars

Food Labeling Compliance Seminar
Kansas City, MO
September 24-25, 2018

Dietary Supplement Labeling Compliance Seminar
Kanas City, MO
September 26-27, 2018

FSPCA Preventive Controls for Human Food Course
Alexandria, VA
October 1-3, 2018, 2018

FSPCA Foreign Supplier Verification Programs (FSVP) Course
Alexandria, VA
October 3-4, 2018, 2018

Upcoming EAS Webinars

Foreign Supplier Verification Program – What Does it Mean for You?
(En Espanol)
Gusatvo Gonzalez, Ph.D.
June 6, 2018

Voluntary Qualified Importer Program – An Expedited FDA Food Import Release Program
Domenic Veneziano
June 26, 2018

Quality Systems for the Cannabis Industry – Preparing for State GMP Regulations
Tara Lin Couch, Ph.D.
August 6, 2018

Upcoming Presentations and Conferences
| | |
| --- | --- |
| | |
Issue of the Month
By Dawn Wydner, Independent Consultant
I'm amazed as I watch a Health Care System and then a Spectrum commercial to what our future holds with the sophisticated, interactive medical device and technology innovations and how they will enhance the capabilities of diagnosis and treatment. My regulatory mind then kicks in and wonders how these amazing innovations will pose operational and data reliability challenges for both industry and regulators in areas ranging from clinical trials to device design and ... [more]
Who's Who at EAS
Dawn Wydner
(Pharmaceutical and Medical Device)

Dawn Wydner, consults in pharma and medical devices, providing proactive compliance and application of quality oversight in all aspects of operational strategy, coordination and conduct. Prior to consulting she was the Senior Director of BioResearch, Quality, and Compliance at Janssen Research & Development, LLC where she oversaw GxP regulatory requirements and compliance issues and provided guidance on GCP/GLP mock inspections and audits of clinical investigators, CROs, SMOs, sponsors/monitors, animal laboratories and IRBs. She is a sought-after speaker, sharing her expertise on topics such as Sponsor Monitor Inspection Management and Expectations, Inspection Readiness and FDA Trends, Analytical Risk Management.
Charles Otto
(Food)

Charles Otto

Charles Otto is a former Environmental Health Officer and Deputy Chief at the CDC where he provided guidance on all aspects of environmental health to the CDC Vessel Sanitation Program staff, member cruise lines, shipyards, and other global collaborators for the prevention of environmentally-related illnesses. He has worked at FDA as the Assistant Director in the Division of Cooperative Programs as well as the Retail Food Protection Branch where he developed national Hazard Analysis Critical Control Point (HACCP) implementation strategies for retail food protection, interstate travel program, milk safety and shellfish sanitation programs and furnished comprehensive field training on proper interpretation and implementation of the model food code standardization exercises conducted in every region of the U.S.
Robert Kapp Ph.D.
(Food and Pharmaceutical)

Robert Kapp Ph.D.

Robert Kapp, Ph.D. has over 30 years' experience as a toxicologist involved with the management, development, and safety of new and existing products in a broad spectrum of industries including chemical, petrochemical, food, consumer products, and pharmaceuticals. He has experience in preclinical program study design, study reports, occupational and industrial toxicology, evaluating clinical and product safety data; in training and managing staff in laboratory operations; evaluating contract research organizations and various compliance issues in the US as well as abroad. Dr. Kapp has experience in writing critical position papers, GRAS notifications, 510(k) submissions, US EPA Premarketing Notifications, toxicology profiles, Safety Data Sheets and labels in the US and in global markets. Prior to consulting Dr. Kapp worked as Director, Toxicology Laboratory at Exxon Biomedical Sciences, Inc. He has a Ph.D. in toxicology from George Washington University.
Sanaullah Khan, Ph.D.
(Pharmaceutical)

Sanaullah Khan, Ph.D.

Sanullah Khan has a Ph.D. in Analytical Chemistry from the University of Kansas, MBA from Rutgers University and MS in Bioscience Regulatory Affairs from Johns Hopkins University. He has worked in the Pharmaceutical industry since 1996, in the areas of R&D, technical operations and worldwide quality and compliance. His expertise in GLPs and GMPs range from discovery to filing and post-market quality oversight. R&D functions include developing and validating analytical methods to support non-clinical and clinical studies, and Worldwide Quality and Compliance responsibilities have included investigation of out of specification (OOS) and out of trend (OOT) results. As a quality consultant, Dr. Khan provides support for overseeing QC laboratory operations, conducts investigations of OOS results and manufacturing deviations and data integrity. He performs manufacturing and laboratory equipment qualifications, cleaning validation and batch record review, drafting of SOPs, qualification protocols and Master Production Records for pharmaceutical and Biologics companies.
John J. Brennan, Ph.D.
(Pharmaceutical)

John J. Brennan, Ph.D.

John J. Brennan, Ph.D. is a former Senior Project Leader in Global Pharmaceutical Research and Development at AbbVie in North Chicago, Illinois. At Abbvie he served as the Enterprise Leader for 3 Global Asset Development teams accountable for creating and executing development strategies in several therapeutic disciplines including exocrine pancreatic insufficiency, cystic fibrosis and diabetic nephropathy (SONAR Phase 3 Trial). His areas of interest include First-in-Man, Proof-of-Concept, Proof-of-Principle and late-stage registration studies and lifecycle management. Prior to joining AbbVie, he worked at Solvay Pharmaceuticals, Inc. in Global Project Management and as a Therapeutic Area Leader in Women's Health, Men's Health and Clinical Pharmacology. Dr. Brennan is a graduate of Temple University and received the Ph.D. degree in Pharmaceutical Sciences from the Philadelphia College of Pharmacy and Science (now University of the Sciences).
Robert P. Lavieri
(Food)

Robert P. Lavieri

Robert P. Lavieri is an expert in the development and delivery of Governance programs for the development of sustainable compliance systems. His expertise in design, development, and implementation of Standard Operating Procedures, Best Practices, Good Manufacturing Practices (CGMP's) and technical expertise across a broad range of compliance areas such as OSHA, EPA, FDA (Food Safety), DOT enable him to offer benchmarked results for clients. Mr. Lavieri is also a frequently requested trainer, educating manufacturers on HAZWOPER, Process Safety Management, Risk Management Program, Process Hazard Analysis (HAZOP, FMEA, FMCA, etc.) as well as Hazardous Communication (chemical safety).
FSMA Perspective
By Charles Breen, Independent Advisor for FSMA
Charles Breen
The explosion in the numbers of new breweries is a blessing for beer drinkers and their communities. In FDA's eye, beer is food, and while exempt from preventive control requirements, brewers must comply with good manufacturing practice regulations, GMPs.
The FDA Food Safety Modernization Act (FSMA) is transforming the nation's food safety system into one that is based on the prevention of foodborne illnesses by putting into place measures that will effectively prevent ... [more]
Drug and Device Corner
In the ongoing effort to make more affordable drugs available to the public, FDA Commissioner Scott Gottlieb, MD issued a statement on the FDA's efforts to assist in this process. Of particular note is the FDA's commitment to ensuring generic drug developers have access to brand drug samples for their development process. You can read the commissioners statement here.
The U.S. House Energy and Commerce Committee has progressed with legislation to reform and modernize the ... [more]
Ask the Expert
Allen Sayler
(Food)
This month's Ask the Expert is answered by Senior Director for Food Consulting Services, Allen Sayler, who recently returned from the 50th session of the Codex Committee on Food Additives held in Xiamen, China where 53 countries and 32 food industry observer organizations participated. Mr. Sayler has been an active food industry representative attending various Codex Committee meetings since 1997. Each month EAS experts tackle one question sent in by readers. To ask your question, please use our Contact Us form on the website.
Question: As a small, medium or large food manufacturer, why are Codex food standards important to me? I don't export outside of the US and I don't use imported materials in my production.
Sayler: The adoption of Codex food standards is intended to result in a similar change to individual country food standards, so they are similar or identical to Codex standards. This will affect all US food manufacturers, even those ... [more]
What's New on FDA's Website
May Updates
Listed below are links to new additions to the FDA website for the month of May, 2018. Use of this section of EAS-e-News is intended to provide an "easy" way to keep current with FDA news and information.
What's New at FDA
The names of new and returning members of the National Advisory Committee on Microbiological Criteria for Foods (NACMCF) have been announced and the committee now includes two EAS Independent Consultants. Returning member, Dr. Omar Oyarzabal who is a professor at the University of Vermont and newly elected member, Dr. Kathy Glass, a professor at the University of Wisconsin at Madison. The NACMCF was established in 1998 by the USDA's Food Safety and Inspection Service (FSIS), the U.S. Department of Health and Human Services, Food and Drug Administration, Centers for Disease Control and Prevention, the Department of Commerce's National Marine Fisheries Service, and the U.S. Department of Defense and the committee provides impartial scientific advice on issues pertaining to food safety. Says Sonny Perdue, US Secretary of Agriculture, "The committee members represent a diverse group from academia, consumers, the food industry, laboratories, consultants and government agencies, all of which play an important role in providing scientific advice and expertise to USDA on food safety and wholesomeness."
A new section of the FDA Data Dashboard has been launched to help importers and manufacturers/processors meet supply-chain requirements under the FDA Food Safety Modernization Act (FSMA) by helping them more easily find compliance and enforcement information related to specific firms. Three of the FSMA rules contain supply-chain requirements: the Foreign Supplier Verification Programs rule, the Preventive Controls for Human Food rule, and Preventive Controls for Animal Food rule.
The Data Dashboard allows users to search multiple databases. The data used to generate the dashboard graphs and search results are based on data already available to the public through the FDA.gov website. The datasets and data include the Inspections Database, Recalls, Import Alerts and selected data elements from the compliance and enforcement related information on FDA.gov. Additional data will be included in future releases of the Dashboard. You may find the location and additional information about each dataset and other data sources by clicking on the Compliance Dashboards or FSMA Data Search options above.
To assist with the evaluation process, FDA created a Supplier Evaluation Resources page to help importers and manufacturers/processors find relevant compliance and enforcement information for their suppliers, but that page required them to search multiple databases.
EAS in Action
EAS Independent Consultant and FSPCA recognized lead instructor, Jenifer Kane, will co-instruct two FSPCA courses with Independent Consultant and trainer Susan Moyers, Ph.D. on the intricacies of Preventive Controls for Human Food as well as the Foreign Supplier Verification Program. Both courses will take place in early October in Alexandria, VA.
The Current Good Manufacturing Practice, Hazard Analysis, and Risk-based Preventive Controls for Human Food regulation (referred to as the Preventive Controls for Human Food Regulation) is intended to ensure safe manufacturing/processing, packing and holding of food products for human consumption in the U.S. and requires that certain activities must be completed by a "preventive controls qualified individual" who has "successfully completed training in the development and application of risk-based preventive controls". This course meets FDA's requirement. Join EAS October 1-3, 2018 in Alexandria for this 2.5 intensive training. Earlybird discounts are available through August 14, 2018.
Next, the "Foreign Supplier Verification Program (FSVP)" requires importers to verify that their foreign suppliers of food, food ingredients and food additives imported into the US market are compliant with all parts of the FSMA and its "Preventive Controls for Human Foods (PCHF) and "Preventive Controls for Animal Feeds (PCAF") regulations. EAS' two-day intensive FSVP Compliance Seminar will explain in detail FSVP rules, risk exposure by importers as well as US-based food processors using foreign sources of foods, food ingredients and food additives. Join us October 3-4, 2018 for this 1.5-day training. Earlybird rates are in effect through August 14, 2018.
Tara Lin Couch, Ph.D.
Senior Director for Dietary Supplement and Tobacco Services, Tara Lin Couch, Ph.D., will be speaking at the upcoming Council for Responsible Nutrition Conference on Implementing Compliance Controls to Meet New Sophisticated cGMP Standards. This conference is taking place June 18-20, 2018 in New York City at the InterContinental New York Times Square and Dr. Couch, speaking as part of a panel, will present on June 19 at 4:45 pm. The panel will discuss items such as:
Understanding the FDA's more sophisticated approach to dietary supplement cGMPs
Petitioning the FDA for an exemption to the 100% identity requirement for ingredient testing
Assessing the impact of program alignment under Dr. Gottlieb
Reassessing cGMPs in the context of cleanliness, safety, and testing for raw materials as based on this new approach
Identifying the right test for the right ingredient within the context of cGMP standards
Comprehending how this potential enforcement ramp-up may lead to an uptick in 483 observations
We hope you'll join Dr. Couch at this informative event!
Independent Consultant Steven Murphy will speak at the upcoming June 24-27, 2018, American Dairy Science Association Annual Meeting in a session called "Time for Change; Indicators of Public Health Concern for Raw Milk and Processed Dairy Products". Mr. Murphy's presentation will take place on June 26 at 2:45 pm. Says Murphy, "Regulatory standards used as indicators of conditions considered public health risks for Grade "A" milk and milk products fall under FDA's Grade "A" Pasteurized Milk Ordinance (PMO). These standards have not changed in decades and this overview will present a perspective based on current science on where changes are warranted."
Independent Consultant, David Blomquist, will speak on "Rapid Testing Methods for Safety and Spoilage in the Dairy Industry - What Is Needed, What Works and What Does Not" on July 9, 2018, at the International Association of Food Protection Conference. Says Blomquist, "The dairy industry has been a leader in sanitation and hygiene for over a century. As food safety becomes more critical for all industries, methods to determine the quality of dairy products rapidly becomes more critical." This session will focus on different technologies that have potential to determine low levels of spoilage organisms in a variety of dairy products and will discuss the strengths and weakness of each. If you are attending the IAFP, we hope you will join us for this session.
EAS has much expertise in regulatory assistance to the dairy industry. For more information on our capabilities view our Dairy Industry Services Sheet.
EAS will be well represented at the upcoming IFT Annual Meeting taking place in Chicago, July 15-18, 2018. EAS Chairman and CEO, Ed Steele, President and COO, Dean Cirotta and Senior Director for Food Consulting Services, Allen Sayler, will be manning the EAS booth (#S322) and taking questions from conference attendees about the latest compliance requirements of FSMA as well as new services such as our Strategic Product Development and Labeling and our collaboration with FoodMinds on challenging marketing initiatives.
Charles Breen
In addition, Charles Breen, EAS Independent Advisor for FSMA will moderate two session panels as part of the IFT technical program, one on the Foreign Supplier Verification Program and another on Preventive Controls for Human Food. EAS Independent Consultant Susan Moyers, Ph.D. will be a panelist on both. Both sessions will be held in McCormick Place - S502AB.
The first session, Preventive Controls for Human Foods: Successes and Challenges for FDA and the Food Industry, will take place Monday, July 16 at 10:30 - 12:00 pm. In addition to Dr. Moyers, panelists will include Jeffrey Acker, Vice President of Food Safety and Compliance, Dairy Farmers of America; Joanne Givens, Director of the Office of Human and Animal Food Operations-West, Office of Regulatory Affairs, Food and Drug Administration and Robert Brackett, Ph.D., Illinois Institute of Technology Vice President and Director of IIT Institute of Food Safety and Health.
The next session, Food Importing – Green Light Strategies for Compliance with Game-Changing FSVP Requirements will take place Tuesday, July 17 at 10:30 am - 12:00 pm. In addition to Dr. Moyers panelists will include Robert Brackett and Gabriel Pascual, Founding Director & Managing Officer, Agency for Development of Export Markets (ADEM).
We look forward to seeing you at IFT and invite you to contact us in advance at asayler@easconsultinggroup.com to set up an appointment at the show to discuss your particular regulatory challenges.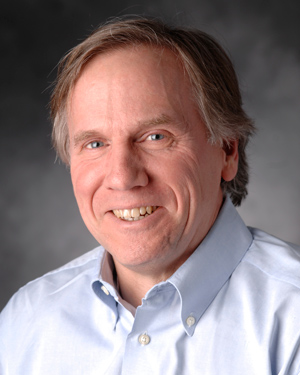 Steve Armstrong
Independent Advisor for Food Law and Regulation, Steve Armstrong, has authored an article for Natural Products Insider on buying a 21st-century food company and mergers and acquisitions. "A health and nutrition startup should resolve any potential issues with its quality control, labeling and advertising practices before it is acquired," he says.
EAS offers a number of services to attorneys working in the area of due diligence and mergers and acquisitions. For more information on these services please review our Food and Drug Attorney Services Sheet.
EAS authored an article for MedTech Intelligence on FDA's new approach to the regulatory pathway for De Novo medical device classification which simplifies the approval process for the class I or class II devices for which there is no one-to-one precedent or predicate. De Novo applications are appropriate in cases where it appears that the device meets the statutory standards for classification into Class I or Class II under section 513(a)(1) of the Food Drug & Cosmetic Act, and when the sponsor has determined that the device does not fall within any existing classification regulation.
EAS offers a number of services to the medical device industry. For more information, click here.
EAS Senior Director for Dietary Supplement and Tobacco Services, Tara Lin Couch, Ph.D., along with attorney Marc Ullman from Rivkin Radler, and EAS Independent Advisor for Quality and Compliance, Robert Fish, held a Dietary Supplement Short Course, consisting of four hours of regulatory content, recently. It is now available to view as an on-demand webinar on the EAS website. This video is $99 to view for non-EAS clients and free to view for EAS clients.
The GMP short course is a great tool for those seeking a broader overview of GMPs, as it covers the basics of working in a GMP environment including personal hygiene, sanitation, the use of Standard Operating Procedures (SOPs), and Good Documentation Practices (GDPs) and addresses the top 5 observations cited in FDA Warning Letters since 2010. To access the short course, click here. EAS clients may use discount code [clientwebinar], non-EAS clients will be billed upon viewing.
As you may be aware, Congress is currently working on legislation to update the Over-the-Counter (OTC) monograph system. This legislation, the Over-the-Counter Drug Safety, Innovation and Reform Act, has bipartisan support in Congress as well as the backing of the FDA, industry and other public health organizations. As such, it is expected to pass and be signed into law by the President before the mid-term elections in November.
Due to the significant changes ahead, EAS has decided to postpone the webinar "The OTC Monograph System – Past, Present and Future originally scheduled for July, and will instead monitor this legislation and present the webinar after passage of the bill. This will enable us to provide you with better information in how to market your OTC products going forward.
Order Publications and Regulatory Tools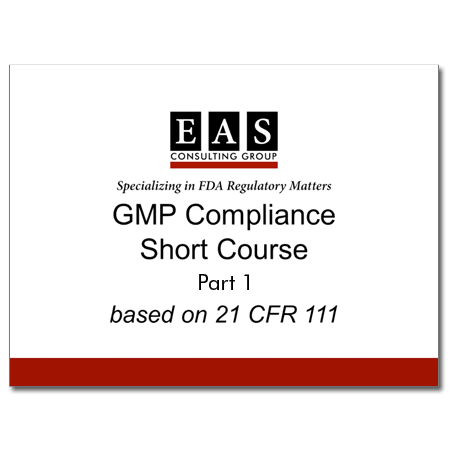 Good Manufacturing Practice Compliance Short Course – Part 1 & 2
The GMPs dictated in 21 CFR 111 have been in place for over a decade, but the FDA continues to issue numerous Warning Letters to the industry for a failure to comply with even the basic tenants of the regulation. In light of this, EAS Consulting Group, leaders in regulatory consulting services and educational seminars, hosted an online exclusive GMP Compliance Short Course. The two-part course covers the basics of working in a GMP environment including personal hygiene, sanitation, the use of Standard Operating Procedures (SOPs), and Good Documentation Practices (GDPs). It also addresses the top 5 observations cited in FDA Warning Letters since 2010 which are Specifications, Master Manufacturing and Batch Production Records, Quality Unit (collectively Quality Assurance and Quality Control) Responsibilities, Product Complaints, and Holding and Distribution Operations.
EAS has a wide array of products to aid in your company's regulatory compliance.
To view the products that EAS sells visit our products page.
Consulting · Auditing · Training · Submissions · Label Reviews · Expert Witness · Import Procedures, Recalls