A free monthly newsletter published by EAS Consulting Group, LLC for the industries regulated by FDA.
Pharmaceuticals · Medical Devices · Biologics · Foods · Dietary Supplements · Cosmetics · Tobacco Products
| | |
| --- | --- |
| 1700 Diagonal Road, Suite 750; Alexandria, VA 22314 · (571) 447-5500 | February 2018 |
From the Desk of the Chairman
Dear Reader,
Important Dates to Remember
Dietary Supplement GMP Seminar>
Earlybird Deadline: February 15, 2018

GMP Compliance Online Short Course
Part 1: February 22, 2018

Role of a US Agent
EAS Free webinar: February 27, 2018

GMP Compliance Online Short Course
Part 2: March 1, 2018

Food Labeling Compliance
Earlybird Deadline: April 10, 2018
Upcoming EAS Seminars
Dietary Supplement Labeling Compliance Seminar
Logan, UT
March 5-6, 2018

Dairy Processing 101
Logan, UT
March 7-9, 2018

Dietary Supplement Good Manufacturing Practices (GMP) Compliance Seminar
Denver, CO
April 4-5, 2018

Food Labeling Compliance Seminar
Alexandria, VA
May 29-30, 2018
Upcoming EAS Webinars
Good Manufacturing Practice (GMP) Compliance Short Course
Part 1
February 22, 2018

The Role of Your US Agent
February 27, 2018

Good Manufacturing Practice (GMP) Compliance Short Course
Part 2
March 1, 2018
Upcoming Presentations and Conferences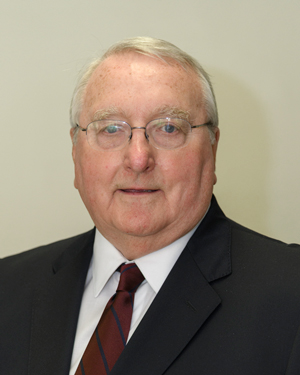 Ed Steele, Chairman
and CEO
Welcome to EAS-e-News, the free news update for FDA regulated industries.
There has been quite a bit of movement from the agency on FSMA, including the creation of FDA's new FSMA landing page on the FDA website. Those companies which fall under the FSMA compliance rules should make note and save this new bookmark.
The agency also released draft guidance #245 in the area of Hazard Analysis and Risk-Based Preventive Controls for Animal Foods. This particular draft guidance includes food safety plan requirements; recommendations for conducting a hazard analysis; hazards associated with the manufacturing, processing, packing, and holding of animal food; examples of preventive controls that may be used to significantly minimize or prevent animal food hazards; and preventive control management components. Public comment is due to the agency no later than July 23, 2018.
FDA also released new guidance in January indicating the agency is extending the enforcement for a few very specific parts of FSMA. Specifics include:
a two-year extension to complete required documentation for any food manufacturer that relies on their customer to control "reasonably foreseeable hazards"
a two-year extension for importers of food contact substances to comply with the Preventive Controls rule
September 17, 2018 for all Grade "A" dairy plant's to be in compliance with the Preventive Controls rule
a number of extensions for certain farm-based activities including holding, packing or coloring of raw agricultural commodities as well as cotton ginning and farm water sampling.
One area that the agency will work to improve is addressed in the GAO report indicating the agency's inadequate oversight and follow-up on voluntary food recalls and is the subject of this month's FSMA Perspective. FDA's oversight continues to be a challenging issue for all commodity areas as GAO has also identified challenges in the medical device industry.
Our Issue of the Month article, on how FDA defines Medical Foods is written by our Independent Advisor for Labeling and Claims, Betty Campbell. Medical foods are a very narrow category of foods prescribed by physicians, intended for patients who cannot otherwise meet their nutritional needs and is a commonly misunderstood and misused term.
I have shared previously in EAS-e-News a new strategic service that we provide to our clients – Product Development and Labeling which combines the resources of some of our most experienced independent consultants to collectively assist companies in determining best paths forward when considering claims such as GMO and other trending claims as well as competitive challenges. There are many second and third order effects to the use of these claims and we at EAS feel that the most successful companies look at these challenges holistically and develop complimentary approaches that consider multiple aspects. I'll bring to your attention a short video, hosted by EAS Independent Advisor for Food Law and Regulation, and former Chief Food Law Counsel at Campbell Soup, Steve Armstrong which discusses this service. More details can also be found in this issue.
EAS has a number of seminars coming up that we invite you to attend - Dietary Supplement Labeling Compliance, March 5-6 in Logan, UT, and Dairy Processing 101, March 7-9 in Logan, UT, Dietary Supplement GMP Compliance April 4-5, in Denver, CO and Food Labeling Compliance May 29-30 in Alexandria, VA. We are also offering a new GMP On-line Short Course based on 21 CFR 111. This two-part online training begins February 22.
EAS welcomes our new regulatory intern, Georgetown University student Youthika Gokaraju, who is pursuing a masters degree in Biotechnology with an emphasis in BioBusiness. It has been EAS' good fortune to have hosted a series of students from this prestigious program over the years and we are pleased to provide a window into the important world of regulatory affairs in the early days of their career.
I'd also like to congratulate EAS Independent Consultant Madhu Soni who was named one of the top five most prolific GRAS experts based on an independent group analysis cited in the prestigious journal Food Chemical Toxicology. The process of submitting a GRAS dossier to FDA can be a daunting process with numerous safety studies and required background documentation. Dr. Soni has been one part of the EAS GRAS team who has facilitated "no objections" for over 18 ingredients and many other self-determinations submitted directly by companies. For a listing of our successful GRAS submissions click here. If your company is considering submitting a GRAS dossier, please consider EAS to help in this process. We would be happy to discuss your project needs and help you to determine the best path forward for your specific situation.
Thank you as always for your interest in EAS and please feel free to reach out to me if you have any comments or questions.
Sincerely,



Ed Steele,
Chairman
Issue of the Month
By Elizabeth Campbell, EAS Independent Advisor for Labeling and Claims
"Medical food" is a commonly misunderstood term as it is used on FDA regulated products. Many manufacturers want to market their products as medical foods because medical foods are exempt from the disease statement limitations for health and structure/function claims and are allowed to name the diseased population for whom they are designed. The following paragraphs provide details on FDA's approach to medical foods, but the policy can be summarized as: a medical food is ... [more]
Who's Who at EAS
Elizabeth Campbell
(Food Labeling)

Independent Advisor for Labeling and Claims, Elizabeth "Betty" Campbell, is a former Acting Director in the FDA's Office of Food Labeling who played a leading role in writing the regulations implementing the Nutrition Labeling and Education Act (NLEA) in the 1990s. She joined EAS as a vice president in October 2006 after a 35-year career with FDA. In the role of independent advisor she provides expert consulting advice and guidance to clients on complex labeling and claims issues including foods, medical foods and infant formula. Betty has also served as an expert witness in numerous high profile labeling cases.
Yuthika Gokaraju
(regulatory intern)

Yuthika Gokaraju is pursuing her Masters in Biotechnology with an emphasis in BioBusiness at Georgetown University, Washington DC. She has an undergraduate degree in Pharmacy from Osmania University in Hyderabad, India. Yuthika has industry experience working as a student trainee at a nutraceutical company and hopes to expand her knowledge of the FDA regulatory industries through the assistance in a variety of projects.
FSMA Perspective
By Charles Breen, Independent Advisor for FSMA
Charles Breen
The December 2017 Department of the Inspector General report on FDA's food recall process included some particularly harsh criticisms of the agency including inadequate authority, oversight and follow-up on voluntary food recalls. These criticisms came as little surprise as a number of issues surrounding agency oversight of recalls have been identified in recent years. A 2012 GAO report indicated that both FDA's food advisory and recall processes need strengthening ... [more]
Drug and Device Corner
EAS would like to remind all DMF holders that the FDA DEADLINE for eCTD submissions is fast approaching. As of 5 May 2018, the FDA will only accept eCTD submissions to ALL DMF files. If you have not already made plans for conversion, you should do so immediately. If you have any questions, feel free to contact EAS. While on the topic of DMFs Albert Yehaskel, EAS Independent Advisor for Pharmaceutical Submissions, has written a very informative white paper, "An Overview of Drug Master Files". ... [more]
Ask the Expert
EAS is pleased to introduce a new column in our EAS-e-News called Ask the Expert. Each month our expert consultants and Senior Directors will answer one question sent in by readers (edited if applicable to remove identifying information). If you'd like to submit a question, please use the "contact us" link on our website.
Tara Lin Couch, Ph.D.
Senior Director for
Dietary Supplement
and Tobacco Services
This month's question answered by Tara Lin Couch, Ph.D., Senior Director for Dietary Supplement and Tobacco Services and the topic is whether there is crossover between ISO certifications and GMPs in the laboratory.
Question: If a contract Laboratory is ISO certified, can we bypass an on-site audit if we incorporate this statement in our SOPs?
Couch: Absolutely not, ISO certification does not equal GMP compliance. I have seen many labs that are ISO certified and have terrible GMP compliance. Remember, ISO 17025 is not looking at the whole lab, it is looking at a specific test method or operation. It will dictate that the lab can run a particular test, Vitamin C for example, or operate a balance, ... [more]
What's New on FDA's Website
January Updates
Listed below are links to new additions to the FDA website for the month of January, 2018. Use of this section of EAS-e-News is intended to provide an "easy" way to keep current with FDA news and information.
EAS in Action
Product development is a competitive challenge whereby companies attempt to best posture themselves as an attractive option to consumers, an effective competitor against similar products on retail shelves and do so in a manner that meets FDA, USDA and FTC requirements. EAS' strategic product development and labeling service help companies with all of these challenges and more, providing a comprehensive and holistic approach to product development from ideation to commercialization. A successful product is about more than designing the right label, it must take into account marketing objectives as well as the current regulatory, compliance, and enforcement environments. EAS is proud of this service and the many companies for which we have provided proactive solutions.
We invite you to view a short video on this Strategic Product Development and Labeling service as well as our Industry Service Sheets detailing some of the many challenges within product development and how a partnership with EAS experts would be of benefit.
EAS' popular Good Manufacturing Practices for Dietary Supplements Compliance Seminar has just been announced for April 4-5, 2018 in beautiful downtown Denver, CO. Instructed by Senior Director for Dietary Supplement and Tobacco Services, Tara Lin Couch, Ph.D., EAS Independent Advisor for Quality and Compliance, Robert Fish and Partner at the law firm Rivkin Radler, LLP, Marc Ullman, this is a dynamic opportunity to gain a deeper understanding of GMP requirements, how to develop and update action plans to meet and exceed those requirements as well as FDA's approach to inspections.
Though the GMPs dictated in 21 CFR 111 have been in place for over a decade, FDA continues to issue numerous Warning Letters for a failure to comply with even the basic tenants of the regulation. Out of 483 inspections conducted in 2015, the agency issued approximately 290 Warning Letters. In light of increased FDA oversight, a thorough review on new industry rules on good manufacturing practices (GMPS) is warranted.
Earlybird rates are in effect through February 15, 2018. Sign up today!
For those seeking a broader overview of GMPs, EAS is offering a new two-part on-line short course which will cover the basics of working in a GMP environment including personal hygiene, sanitation, the use of Standard Operating Procedures (SOPs), and Good Documentation Practices (GDPs). It will also address the top 5 observations cited in FDA Warning Letters since 2010.
This Short Course, based on the 21 CFR 111, Current Good Manufacturing Practice in Manufacturing, Packaging, Labeling, or Holding Operations for Dietary Supplements, provides a great initial training for personnel unfamiliar with GMPs, and can serve as a refresher and annual GMP training requirement.
Each session runs 2.5 hours in length and the dates are February 22nd and March 1st from 1:00-3:30pm ET and is FREE to EAS clients. Registration is $99 for both sessions for non-clients.
Just announced, EAS's popular Food Labeling Compliance Seminar will take place May 29-30, 2018 in Alexandria, VA. This two-day event, which offers 16 Commission on Dietetic Registration continuing education credits, is an opportunity for greater understanding of the requirements of the new nutrition facts panel. Though FDA has delayed enforcement of the new formatting and chemistry reporting requirements, many companies are finding a strategic benefit in understanding the requirements now so that labels can be updated in advance of the compliance date. Learn more about this seminar here. Earlybird discounts rates are in effect through April 10, 2018.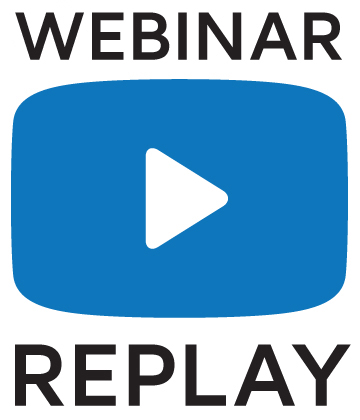 Independent Consultant George Gary Calafactor presents our first EAS On-Demand webinar on Medical Device Quality Audits. Medical Device manufacturers understand the tight FDA regulations and legal obligations surrounding devices. From initial safety and effectiveness study design through Pre-Market Applications (PMAs), Pre-Market Notifications (PMN), registration, Good Manufacturing Practices (GMPs) through reporting of adverse events, every detail must be attended to in a thorough and documented quality system. Quality systems are key indicators of a company's commitment to producing a safe and effective product as well as a company's good record keeping practices as records are tested and maintained to provide transparency to FDA inspectors in the case of an audit. This webinar focuses on detailed coverage of Medical Device Quality Auditing including:
Learning about the types and purposes of audits
How FDA and EU audits differ in scope
How quality systems link to other systems within the business practices such as

Accounting and Finance
Purchasing
Customer Service
Marketing and Sales
Informational Technology

FDA's enforcement requirements of quality systems
Quality Assurance
Quality Control Testing and Evaluation Against Standards
How FDA enforces regulations and gaps found during audits
Trends found in FDA enforcements for medical devices in recent years

As part of the series EAS is presenting on behalf of CHPA's OTC Academy, Norma Skolnik will speak to Serious Adverse Events Reporting on February 20th at 2pm ET. Serious Adverse Events are an important FDA requirement for over-the-counter (OTC) drugs and dietary supplements in the United States. In this webinar, participants will learn the background and history of SAE reporting regulations, the challenges of deciding what constitutes a SAE, when and how to report an Adverse Event as well as the differences between reporting requirements for OTC drugs and dietary supplements vs. requirements for cosmetics.
On March 6th, Senior Director of Dietary Supplements, Tara Lin Couch, Ph.D. will present on Conducting a Scientifically Sound Out of Specification (OOS) Investigation. More information on both webinars can be found in the hyperlinks or by contacting the Consumer Healthcare Products Association.

Keller and Heckman's Second Annual E-Vapor and Tobacco Law Symposium takes place in Irvine, CA February 6-7, 2018. This comprehensive 2-day course will address regulatory issues relevant to e-vapor, e-liquid and tobacco product manufacturers, distributors and retailers including FDA ingredient listings, premarket applications, business and IP issues, environmental issues, litigation, state laws (including Prop. 56 and 65), CPSC, EU TPD and global regulations. Topics Include:
FDA Deeming Rule and Tobacco Control Act Requirements
Business and Intellectual Property Issues for Vapor Companies
Environmental Issues
Litigation
State Laws
Global Laws
Click here for more information

Due to overwhelming response at the December FDLI Enforcement, Litigation and Compliance Conference on the topic of First Amendment Issues in Advertising and Product Packaging, FDLI will be hosting a webinar on subject February 13, 2018 from 2:00-3:30pm ET. EAS Independent Advisor Steve Armstrong will moderate and panelists include Johan Verheij, Director, Center for Business Law & Regulation, Case Western Reserve University School of Law, August T. Horvath, Partner, Kelley Drye & Warren LLP and David A. Kluft, Partner, Foley Hoag LLP. For more information on this webinar, click here.
Order Publications and Regulatory Tools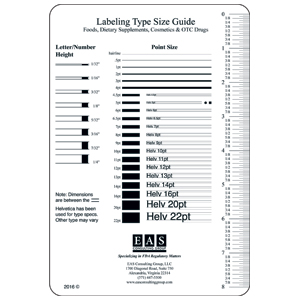 Our highlighted product this month is our handy labeling type-size guide which is applicable for food, dietary supplement, OTC and cosmetic labels. Thousands of companies have found the type-size guides to be of great benefit over the years and it is one of top sellers!
EAS has a wide array of products to aid in your company's regulatory compliance.
To view the products that EAS sells visit our products page.
Consulting · Auditing · Training · Submissions · Label Reviews · Expert Witness · Import Procedures, Recalls