Pharmaceuticals · Medical Devices · Biologics · Foods · Dietary Supplements · Cosmetics · Tobacco Products
| | |
| --- | --- |
| 1700 Diagonal Road, Suite 750; Alexandria, VA 22314 · (571) 447-5500 | April 2018 |
From the Desk of the Chairman
Dear Reader,
Important Dates to Remember
Food Labeling Compliance Seminar
Early Bird Deadline: April 10, 2018

Food Regulatory Update Seminar – FDA's New Food Labeling Requirements
Early Bird Deadline: April 15, 2018

Food Labeling Compliance Seminar
Early Bird Deadline: July 1, 2018

Dietary Supplement Labeling Compliance Seminar
Early Bird Deadline: July 1, 2018
Upcoming EAS Seminars
Dietary Supplement Good Manufacturing Practices (GMP) Compliance Seminar
Denver, CO
April 4-5, 2018

Developing and Implementing SQF Systems – a Training Partnership with HACCP Consulting Group
Stillwater, OK
April 10-11, 2018

Developing and Implementing SQF Systems – a Training Partnership with HACCP Consulting Group
Philadelphia, PA
May 21-22, 2018

Food Labeling Compliance Seminar
Alexandria, VA
May 29-30, 2018

Food Regulatory Update Seminar – FDA's New Food Labeling Requirements
Alexandria, VA
May 31, 2018

Food Labeling Compliance Seminar
Kansas City, MO
September 24-25, 2018

Dietary Supplement Labeling Compliance Seminar
Kansas City, MO
September 26-27, 2018
Upcoming Presentations and Conferences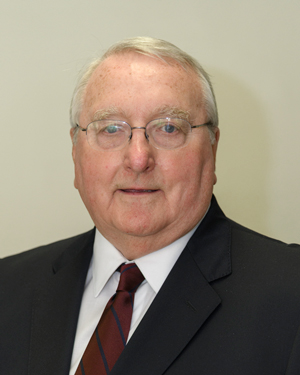 Ed Steele, Chairman
and CEO
Welcome to the EAS-e-News, the free newsletter dedicated to FDA regulated industries.
As international agencies work to find commonalities that would align food safety data where able, FDA and the European Commission are each proposing actions that would open each other's markets to limited shellfish exports. U.S. shellfish imports have not been allowed by the EC since 2010 and FDA has not permitted the import of live, fresh, or fresh-frozen molluscan shellfish from the EU since the 1980s. FDA is seeking public comment on a proposed determination that the EU food safety control system for raw bivalve molluscan shellfish is equivalent in sanitary protection to that of the U.S. If finalized, shellfish harvested from the Netherlands and Spain and processed by establishments that have been listed on FDA's Interstate Certified Shellfish Shippers List (ICSSL) may be imported. The European Commission (EC) is also in the process of finalizing proposed equivalence that would permit the importation of shellfish harvested from approved growing areas in the states of Massachusetts and Washington, with additional states possibly being added over time. These announcements come on the heels of our March EAS-e-News issue of the month article written by Tim Hansen, a former director of the seafood division in FDA's CFSAN and a former director of the seafood inspection program for NOAA Fisheries on the 20th Anniversary of Seafood HACCP and the role it has played in improving the safety of seafood in the U.S..
FDA also released the 2017 edition of the Voluntary National Retail Food Regulatory Program Standards which defines key elements of an effective program for state, local, tribal, and territorial food regulatory agencies. The FDA encourages enrollment in this voluntary standards program for all government agencies with oversight of retail food establishments that sell, serve or vend food directly to the public. Enrollment conveys intent to actively use the Retail Program Standards as a tool to assess and improve regulatory programs.
There is much effort at international collaboration between FDA and like-agencies, including standards developed by the UN food body, Codex Alimentarius Commission, commonly known as Codex. Bruce Silverglade, an attorney with the firm Olsson Frank Weeda Terman Matz, PC and independent consultant to EAS by special arrangement, has written an article on the US Codex office's recent relocation within the USDA to the Office of the Undersecretary for Trade and Agricultural Affairs. This move provides new opportunities for the food industry, particularly in the area of food labeling and food additives.
These continued efforts at enhancing food safety are a prime focus area for EAS and our clients in the food industry. Our Independent Advisor for FSMA and author of FSMA Perspective, Charles Breen, discusses EAS services in the area of FSMA in a newly produced video which can be found on the EAS YouTube channel. We invite you to view this along with our other regulatory topics, including free on-demand webinars at your convenience.
Continuing with the theme of harmonization between agencies, FDA is also hard at work developing a set of standards with Health Canada on International Harmonization of technical requirements for pharmaceuticals for human use. FDA is holding a public meeting April 6, 2018, at 10:00 am to provide information and solicit public input on current activities. The meeting will address topics such as Nonclinical Safety Testing in Support of Development of Pediatric Medicines as well as Bioanalytical Method Validation. More information on the public meeting can be found here.
Our Issue of the Month is written by Independent Advisor for OTC Drugs and Labeling, Susan Crane. She discusses the future of homeopathics after a recent FDA draft guidance document indicating a future where any product labeled as homeopathic could potentially be subject to enforcement action.
Thanks to numerous requests, EAS is bringing back a one-day seminar Food Labeling Regulatory Update covering the new FDA food labeling requirements, which will take place May 31, 2018, in Alexandria, VA, immediately following our two-day Food Labeling Compliance Seminar. This new seminar is a great opportunity to dig deeper into how your company's products will be affected by the new regulations and can be an independent learning opportunity or in combination with our two-day Food Labeling Compliance Seminar. We have also added two new fall compliance seminars which will take place in Kansas City, MO. Food Labeling Compliance is scheduled for September 24-25 and Dietary Supplement Labeling Compliance is scheduled for September 26-27. We invite you to join us!
Lastly, I am very pleased to announce an expansion of collaboration and services offered by our long-standing partner FoodMinds. This strategic partnership is aimed at helping the food industry navigate complicated issues surrounding the science of food and nutrition, the development of products to meet consumer demand and the many regulatory hurdles of ensuring safe and compliant product-lines. Together EAS and FoodMinds can help identify and mitigate of risks to branding and regulatory compliance as well as the development of forward-thinking strategic plans and operating procedures, engaging the most up-to-date industry guidance, practices, and technology to meet government and customer expectations. More information on this partnership can be found in our Press Release. I am fully confident that this partnership will be of great value particularly to those firms who manufacture high-risk foods as regulatory challenges become more complicated.
Thanks as always for your interest in EAS. We invite your comments and feedback and feel free to share this newsletter with your colleagues.
Sincerely,



Ed Steele
Chairman and CEO

EAS has teamed up with FoodMinds to offer food firms a new solution to the many product and marketing challenges of this highly regulated and litigious climate. From acceptable claims, to new requirements for compliant labels, to how products are marketed, the industry is faced with new challenges daily. EAS and FoodMinds combine the best in regulatory and marketing talent to develop a targeted approach for promoting brand awareness and integrity while meeting the many federal requirements of FDA and/or USDA and FTC. Learn more about this collaboration by reading our Press Release and learn more about how this collaborative effort can benefit your organization.
Who's Who at EAS
Susan Crane
(OTC Drugs and Labeling)

Susan Crane is EAS' Independent Advisor for OTC Drugs and Labeling. She is an experienced professional in the pharmaceutical industry specializing in quality and regulatory compliance for over-the-counter (OTC) and dietary supplement products and has a thorough knowledge of federal regulations pertaining to the marketing, labeling and distribution. Susan's guidance for clients ranges from Good Manufacturing Practices, Labeling, Enforcement Policy (Recalls), Dietary Supplement and Nonprescription Drug Consumer Protection Act, Consumer Product Safety Commission (CPSC) – Poison Prevention Packaging Act, Consumer Product Safety Improvement Act and OSHA Hazard Communication Standards. She is a frequent instructor for CHPA's OTC Academy, presents webinars and publishes articles in industry publications on a variety of OTC related issues.
FSMA Perspective
By Charles Breen, Independent Advisor for FSMA
Charles Breen
Although six months have passed since the compliance date for large animal food facilities to meet Good Manufacturing Practices (GMPs) and Preventive Controls requirements, and for small animal food facilities with fewer than 500 full-time equivalent employees, to meet the GMPs, the pet food industry in particular continues to struggle with the FSMA Final Rule for Preventive Controls for Animal Foods. Despite FDA having indicated that the industry should expect ... [more]
Drug and Device Corner
EAS would like to bring to your attention, the Statement from FDA Commissioner Scott Gottlieb, MD regarding drug compounding outsourcing facilities. The Drug Quality and Security Act (DQSA) was enacted by Congress in 2013 in response to a significant safety issue experienced by the public as the result of poor drug compounding practices. As seen with recently issued warning letters, the FDA is also prioritizing enforcement of section 503B of the Federal Food, Drug and ... [more]
Ask the Expert
Norma Skolnik
(Pharmaceutical,
OTC Drug and
Dietary Supplement)
This month's Ask the Expert question on Serious Adverse Events Reporting is answered by Independent Consultant, Norma Skolnik. Norma has over 35 years of regulatory experience working with the pharmaceutical, OTC drug and dietary supplement industries. Prior to consulting she served as Director of Regulatory Affairs for the Americas for Cadbury Adams until her retirement. She also held the positions of Director of Regulatory Affairs for the Adams Division of Pfizer and Associate Director of Regulatory Affairs for the Warner-Lambert company.
Question: Should you report an Adverse Event if you're not sure whether or not it's really "serious"?
Answer: If in doubt, you should always report an adverse event for any prescription drug, OTC drug or dietary supplement. FDA's definition of "Serious Adverse Event" per 21 CFR 310.305(b) covers "any adverse experience that results in any of the following outcomes: Death, a life-threatening adverse experience, hospitalization, a persistent or significant disability ... [more]
What's New on FDA's Website
March Updates
Listed below are links to new additions to the FDA website for the month of March, 2018. Use of this section of EAS-e-News is intended to provide an "easy" way to keep current with FDA news and information.
U.S. Codex Office Relocated within USDA
By Bruce Silverglade, Independent Consultant EAS Consulting Group, LLC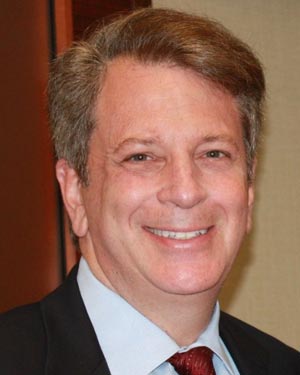 Bruce Silverglade
The Codex Alimentarius Commission (Codex) is a United Nations food standards setting body working under the auspices of the Food and Agriculture Organization and the World Health Organization (WHO). The official mission of Codex is to protect consumers' health and ensure fair practices in the food trade. Codex standards are relied upon by exporters to set a level competitive playing field. Many countries incorporate Codex standards into their national laws and Codex ... [more]
EAS in Action
Due to much industry confusion regarding FDA's changes to Nutrition Facts Panel, EAS will conduct one-day regulatory update seminar, FDA's NEW Food Labeling Requirements, on May 31, 2018, in Alexandria, VA. This one day update will immediately follow our two-day Food Labeling Compliance Seminar and can be taken as a stand-alone course or a follow-on after attending the two-day seminar. Instructed by EAS Independent Advisor for Labeling and Claims, Elizabeth Campbell and EAS Independent Consultants, April Kates and Gisela Leon, with invited participation by FDA/CFSAN, this course will offer an interactive forum for a deeper dive into some requirements that have presented particular challenges related to applying the new Nutrition Facts Panel requirements. Early-bird pricing is in effect for both courses through April 15, 2018, and the two-day seminar provides 16 CEU credits through the Commission on Dietetics Registration. We have also recently added a second Food Labeling Compliance Seminar in Kansas City, MO on September 24-25, 2018.
Those with oversight of labeling compliance of dietary supplements may wish to register for our next Dietary Supplement Labeling Compliance Seminar which will take place September 26-27, 2018 in Kansas City, MO. Immediately following the food labeling compliance seminar, this intensive two-day session will cover the latest FDA requirements and be taught by our expert trainers James Hoadley, Ph.D. a former FDA Senior Regulatory Scientist in the Office of Nutritional Products, Labeling and Dietary Supplements who participated in the development of NLEA-implementing nutrition labeling and health claim regulations, and Gisela Leon, an internationally recognized expert who has reviewed hundreds of labels for US compliance and helps international products to come into compliance with US regulations.
EAS President and COO, Dean Cirotta and Independent Consultant Karen Dixon will attend the Tobacco Manufacturers Association's Annual Meeting and Conference taking place April 9-11, 2018 in Leesburg, VA. EAS is also a Marquee Sponsor of the event. The meeting will discuss FDA's new policy direction for the tobacco industry, including a Nicotine Product Standard, the Cigar Exemption, FDA Premarket Submissions and Harm Reduction.

EAS Senior Director for Dietary Supplement and Tobacco Services, Tara Lin Couch, PhD. and Independent Advisor for Dietary Supplements, Timothy Stewart, Ph.D. will attend SupplySide East in Secaucus, NJ April 10-11, 2018. Please come by the EAS exhibit booth, F152, to discuss regulatory challenges impacting your business and opportunities for solutions provided by EAS' extensive network of over 150 independent consultants.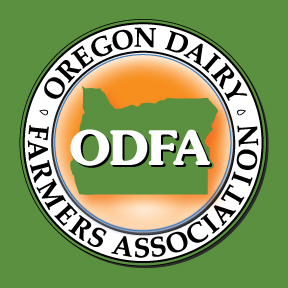 Senior Director for Food Consulting Services, Allen Sayler will present two sessions at the upcoming Oregon Dairy Industry Association's 107th Industry Conference taking place in Salem, OR April 10, 2018. Allen's first discussion will be on FDA's Enforcement of the FSMA Preventive Control, Sanitary Transport and Food Defense Programs in Dairy Plants. Later in the day, he will moderate a breakout session on the Biggest Changes to Grade "A" Dairy Plant Requirements in the last 50 Years.

Independent Advisor for Food Law and Regulation, Steve Armstrong, will discuss Innovative Claims, as part of a USDA Review at the April 19-20, 2018 third annual CLE Food Law Conference in Denver. His co-presenter is Jeffrey Canavan, Deputy Director, Labeling & Program Delivery with the Food Safety Inspection Services, USDA. Up to 12 Hours of MCLE Credit are available for attending this conference, including one hour of Ethics​.

EAS Consulting Group is proud to be an invited speaker at the upcoming CPhI North America, April 24-26, 2018 in Philadelphia. You can find EAS at exhibit booth 856 where Senior Director for Pharmaceuticals and Medical Devices, Bryan J. Coleman and Regulatory Specialist, Victoria Pankovich will be available to discuss questions and concerns surrounding your business. We also invite you to attend Bryan's session as part of the CPhI technical program on Regulatory Considerations, Strategy and Best Practices for Choosing a CMO which will be Tuesday, April 24th at 3:30 pm.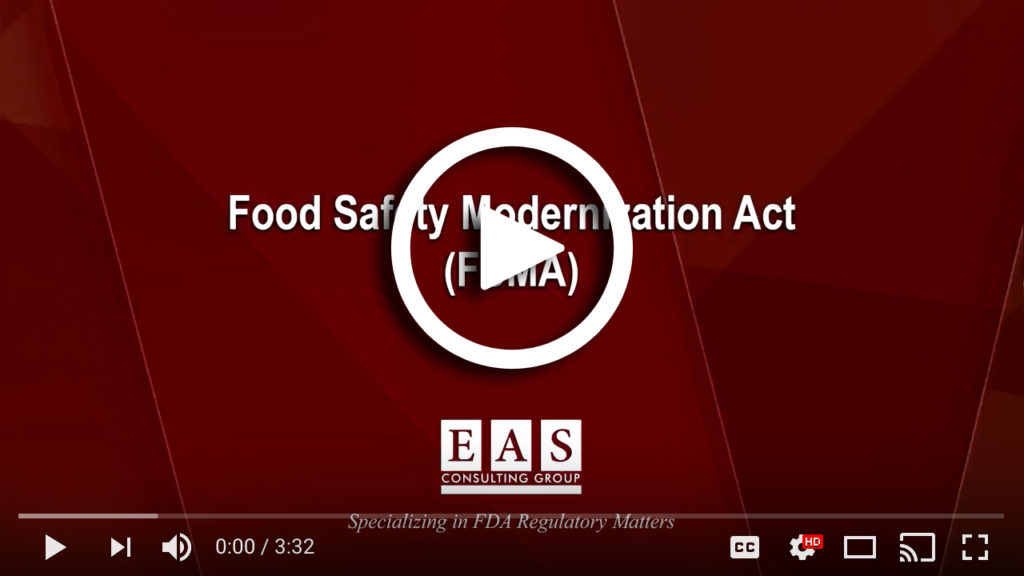 EAS Independent Advisor for FSMA, Charles Breen, hosts a new informational video on EAS services in the complex area of the Food Safety Modernization Act, including FSVP, VQIP and more. FSMA is the largest overhaul to FDA's food regulations in the last 70+ years and EAS is proud that our assembled team of independent regulatory consultants has such vast expertise in the many areas under the FSMA umbrella.

q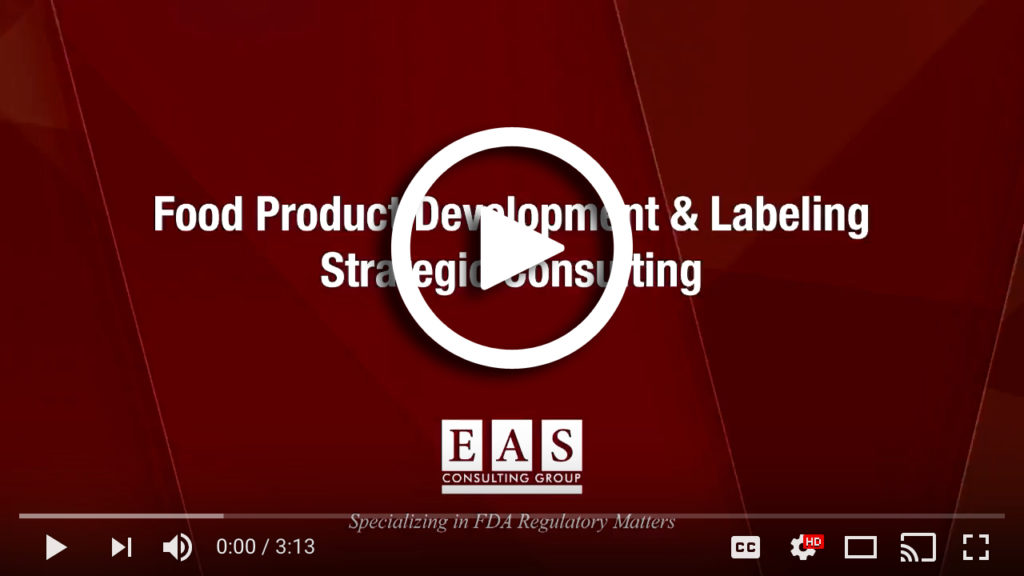 EAS Independent Advisor for Food Law and Regulation, Steve Armstrong produced a similar video recently on our services in the area of product development and labeling, a challenging area as companies work to build strategic development and marketing strategies in a very competitive international marketplace.
A great number of EAS webinars are available on YouTube channel. Please join us for any of our on-demand webinars on a variety of topics, from SQF to dietary supplement laboratory compliance to drug establishment and registration listing information. As always EAS and our team of over 150 regulatory consultants are here to assist.

The final webinar as part of the EAS presented series for CHPA's OTC Academy will take place on April 17, 2018, at 2 pm when Independent Advisor for Quality and Compliance Robert Fish, will discuss Responding to 483s and Warning Letters. Fish says that it is extremely important to promptly respond to any correspondence from FDA, particularly the FDA-483 or a Warning Letter. If a foreign firm receives a Warning Letter from FDA the company will most likely be placed on an Automatic Detention list which means that none of their products will be permitted entry into the U.S. until the issues are corrected and FDA has verified the corrections. This webinar will explain the FDA processes and provide guidance on how to manage these issues.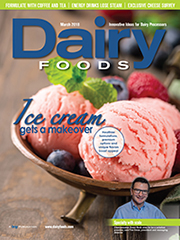 EAS Independent Consultant, Rudy Westervelt, discussed fulfilling quality assurance potential and generating net profit in a recent article published in Dairy Foods Magazine. Quality assurance could — and should — drive revenue by providing information that allows plant leadership to control costs, improve operational efficiencies and maximize finished product output, he says. Westervelt specializes in problem-solving related to dairy food quality, loss reduction, employee safety results, throughput and cost control.

Independent Advisor for Food Law and Regulation, Steve Armstrong discussed how FSMA implementation has impacted food safety systems during its first year of enforcement in the prestigious FDLI Update. Mr. Armstrong is the former Chief Law Counsel for Campbell Soup Company and works with EAS client on product development issues.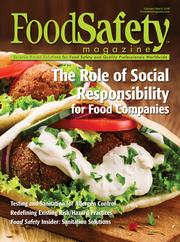 Independent Advisor for Labeling and Claims, Betty Campbell and Senior Director for Food Consulting Services, Allen Sayer have co-written an article on how FDA interprets and enforces regulations of Medical Foods in Food Safety Magazine. This narrow product category sees a lot of confusion within the industry as to what constitutes a medical food, how it can be labeled and its ingredient requirements.
Order Publications and Regulatory Tools
This 115-page Food Label Handbook is a must-have for food companies working to develop labels that comply with FDA's final rule. Developed by EAS Independent Consultant, Gisela Leon, the guide includes information on how changes to nutrient values are listed and how those changes impact claims. The Food Label Handbook is just one of the resources included as part of our comprehensive two-day Food Labeling Compliance Seminar.
EAS has a wide array of products to aid in your company's regulatory compliance.
To view the products that EAS sells visit our products page.
Consulting · Auditing · Training · Submissions · Label Reviews · Expert Witness · Import Procedures, Recalls