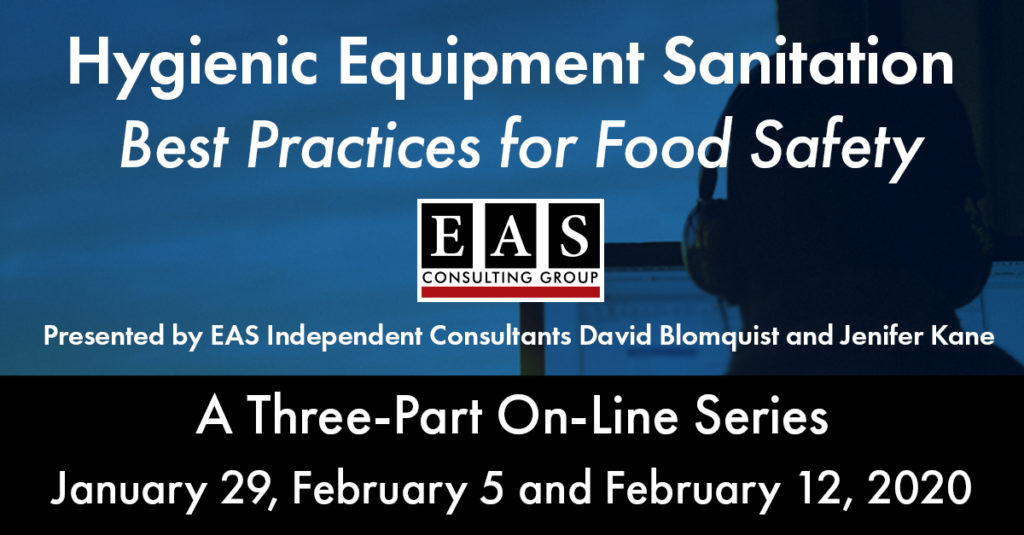 Join EAS Consulting Group's Independent Consultants, David Blomquist and Jenifer Kane for a detailed look at how to identify potentially troublesome practices that negatively impact operational food safety and how upgrading existing food safety programs using industry "best practices" can result in compliance with applicable FSMA regulations.
This three-part on-line short course is a must all who play a role in manufacturing food safety, food quality, facility as well as equipment maintenance. Join EAS January 29, February 5 and February 12 for our on-line short course and gain valuable actionable knowledge to improve your programs today. Registration fees apply. Click here to learn more.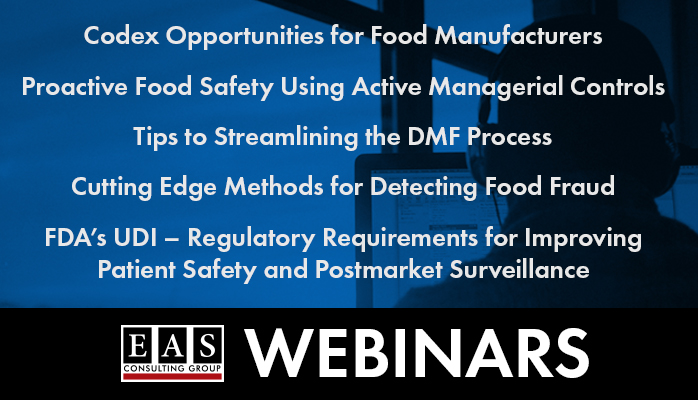 EAS has a packed webinar schedule this winter. From Codex requirements to streamlining Drug Master Files to how Unique Device Identifiers can facilitate your product safety to using Active Managerial Controls in food safety oversight, our consultants can help you to better understand your business… and your FDA requirements. Click here to see our full schedule and to register.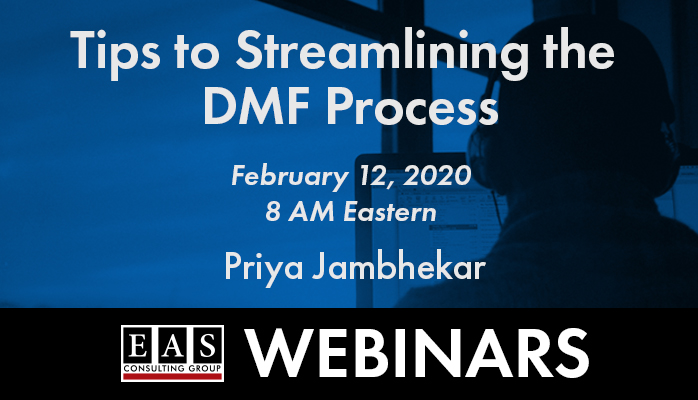 The preparation of a DMF to support a variety of pharmaceutical applications to FDA is lengthy and cumbersome to develop and produce. But just what documentation and how much detail is required of a DMF and where do companies commonly run into issues during the FDA review of their dossiers? Join EAS Consulting Group independent consultant and expert in DMF preparations, Priya Jambhekar, for a complimentary webinar and overview of the details DMFs should contain and tips for getting it right. Register today.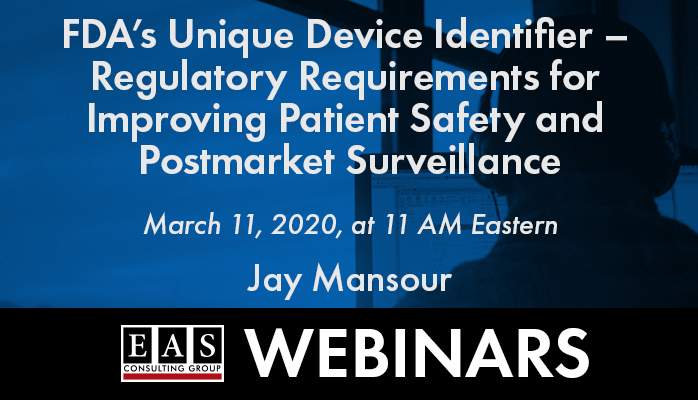 Unique Device Identifiers (UDI) appearing on device labels, packaging, and sometimes directly on the device itself allows for improvements to patient safety, facilitates and modernizes postmarket surveillance as well as provides for product innovation in an industry that is seeing rapid advancement. Learn the regulatory requirements of UDIs including how to obtain a UDI number, proper measures to update device listings and how to implement best practice systems for ensuring appropriate data tracking. Join EAS independent consultant Jay Mansour on March 11, 2020 at 11 am eastern for this complimentary webinar. Register today.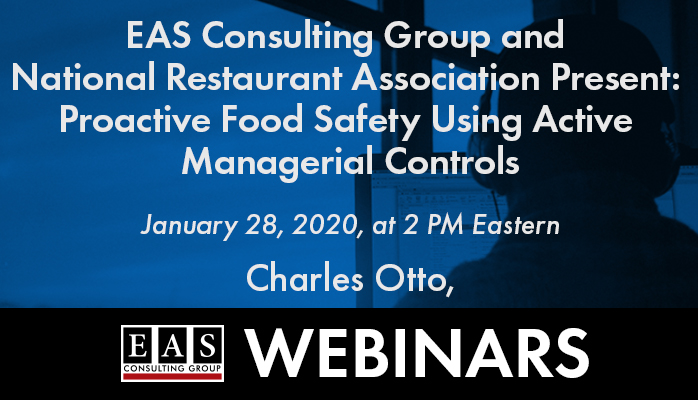 You might think your routine food safety protocol is doing the job, keeping your food and guests safe. This webinar, presented by Charles Otto and hosted by the National Restaurant Association, will show you how your system really stacks up and if it's as preventative as it should be. You'll learn how to use self-assessment results to design a system of policies that head off risks. You'll hear effective ways to train employees and establish an ongoing verification process to ensure the system is being followed. Click here to register for this January 28, 2020 webinar.

FDA CTP's Public Meeting on PTMAs updated stakeholders on a variety of issues pertaining Premarket Tobacco Product Applications for Deemed Products, including items such as scientific content ensuring applications and information contained are Appropriate for the Protection of Public Health (APPH). FDA reviews chemistry, microbiology, toxicology and more and applicants must ensure establishments referenced in a PMTA submission are "inspection ready" at the time of submission. In addition to chemistry, microbiology and toxicology, FDA will observe the manufacturing process for the proposed APPH product ensuring compliance with FDA-regulated facility Current Good Manufacturing Practice (cGMP) inspection per sections 902 and 906(e)(1) of the FD&C Act. Learn more in FDLI's Update where Tara Couch, Ph.D., Senior Director for Dietary Supplements and Tobacco Products, co-authored a meeting summary.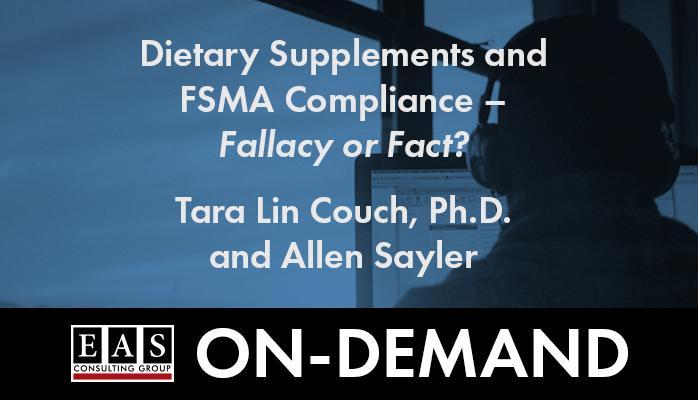 Senior Directors Allen Sayler and Tara Lin Couch, Ph.D. presented a webinar on dietary supplements and FSMA. Now available on-demand, this webinar is a must to understand where dietary supplement GMPs (21 CFR 111) and food's FSMA (21 CFR 117) intersect so that your firm can ensure compliance.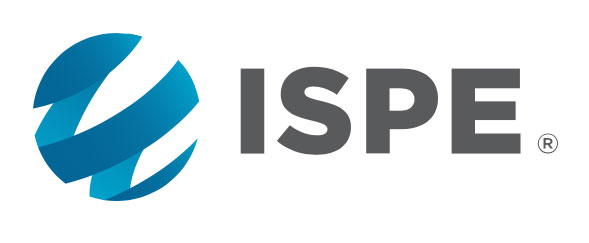 From Big Data, to Real World Evidence to Value Proposition and Reimbursements, regulators and sponsors must guide new pharma product development and promotion to be consistent with product labeling as the regulatory approval environment becomes more complex. Read on in ISPE's iSpeak blog written by EAS independent consultant, John Harbell.